Exercise Bike Reviews - Choose the Upright or Recumbent That's Right for You
To help you select the right model, we have put together exercise bike reviews covering the wide variety of indoor stationary bicycles. This resource covers price, options, features, warranties and more to help you select a model that fits your budget and exercise needs. Hopefully, we have covered all your questions, including the difference between an upright exercise bike and recumbent exercise bike, which are the popular brands, what type of drive system is better, what is a comfortable fit, what features you need, what is a good warranty, and where to find exciting workout programs to put some spice into your routine.
Click here to read the reviews
Opinions and Reviews from Fitness Experts & Consumers
Our exercise bike reviews are based on several criteria including the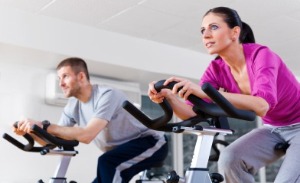 opinions of fitness equipment experts. We researched each manufacturer thoroughly and gathered pertinent details about each bike from several sources, then included user reviews and reviews submitted by visitors to this website. Our ratings and reviews are unbiased, based on facts and information we've confirmed from a variety of sources so that you can make your comparisons with accurate and up-to-date information. In addition, we believe an exercise bike should offer interesting features and solid frames to attract you to work out regularly.
Exercise Bike Comparison Shopping Made Easy
In addition to our reviews of leading brands such as Horizon, Life Fitness, Nordictrack, Proform, Schwinn, and Stamina, we also include bike styles you might not have considered including dual action bikes, spinning bikes, mini and portable bikes.

As for the main types of exercise bikes, uprights and recumbents, we give you complete and comprehensive charts for comparison shopping. The charts include all key points including warranty, features, and price. Where each bike is individually reviewed, you will find ratings plus comments on ease of use, durability, comfort, adjustability, company reputation for customer service, user reviews, and more.



Click on the company logo for a review of the particular brand.



Use our Upright Exercise Bike Comparison Chart to compare prices, features and warranties of upright stationary bikes.



Use our Recumbent Exercise Bike Comparison Chart to compare prices, features and warranties of recumbent (reclining) stationary bikes.



Click on the model number to read the review that interests you.


AFG Exercise Bikes
AFG 2.0 AR Recumbent
AFG 4.0 AR Recumbent

Bladez / BH Fitness
Bladez Aero PRO
Bladez Master Bike
Bladez Jet Upright

Cybex Reviews
Cybex Cyclone 530r Recumbent
Cybex Cyclone 530c Upright
Cybex 700r Recumbent
Cybex 700c Upright
Cybex 750r Recumbent
Cybex 750c Upright
Diamondback 510Sr Recumbent
Diamondback 910Sr Recumbent
Diamondback 510Ub Upright
Diamondback 910Ub Upright
Endurance B2R Recumbent
Endurance B2U Upright
Endurance B2.5R Recumbent
Endurance B3R Recumbent
Endurance B3U Upright
Epic A17R Recumbent
Epic A17U Upright

Fitnex Reviews
Fitnex R50-S Recumbent
Fitnex R70 Recumbent
Fitnex B50 Upright
Fitnex B70 Upright
Fitnex Momentum
Fitnex X Series Velocity Spin Bike

HealthRider
HealthRider H30x Upright
HealthRider H35xr Recumbent


Horizon Exercise Bikes
Horizon RC-30 Recumbent
Horizon M4 Upright


Kettler
Kettler HKS Polo M Upright
Kettler Race Indoor Trainer
Kettler X1 Upright
Kettler EX3 Upright

Lifecore Reviews
Lifecore LC1050UBs Upright
Lifecore LC850RBs Recumbent
Lifecore LC950RBs Recumbent
Lifecore LC1050RBs Recumbent

Life Fitness/LifeCycle
LifeFitness Club Series Upright
LifeFitness Club Series Recumbent
LifeCycle C1 Upright
LifeCycle 9500HR Recumbent

Lifespan Exercise Bikes

Lifespan S2 Indoor Cycle
Lifespan S4 Indoor Cycle
Lifespan C3 Upright
Lifespan R3 Recumbent



Livestrong

Livestrong LS7.0B Recumbent
Livestrong LS9.9IC Indoor Cycle
Livestrong LS28IC Indoor Cycle
Livestrong LS5.0R Recumbent
Livestrong LS6.0R Recumbent
Livestrong LS5.0U Upright
Livestrong R1x Recumbent
Livestrong U1x Upright
Livestrong S-Series Indoor Cycle
Livestrong E-Series Indoor Cycle


Marcy Exercise Bikes

Marcy Classic Upright Fan Bike
Marcy Upright Mag Cycle
Marcy Recumbent Mag Cycle


Nautilus

Nautilus U514 Upright
Nautilus R514 Recumbent
Nautilus NB3000 Upright


NordicTrack Reviews

NordicTrack GX2.0 Upright
NordicTrack GX2 Sport Bike
NordicTrack GX2.5 Upright
NordicTrack GX4.0 Recumbent
NordicTrack GX4.2 Pro Upright
NordicTrack GX5.0 Recumbent
NordicTrack GX5.5 Sport Bike
NordicTrack Commercial VR


Precor

Precor UBK 815 Upright
Precor UBK 835 Upright
Precor RBK 815 Recumbent
Precor RBK 835 Recumbent


ProForm Exercise Bike Reviews

ProForm Le Tour de France Cycle
ProForm Hybrid Trainer
ProForm 215 CSX Upright
ProForm 280 CSX Upright
ProForm 315 CSX Recumbent
ProForm 385 CSX Recumbent
ProForm 290 SPX Spinning Bike
ProForm 490 SPX Upright
ProForm 590 SPX Upright
ProForm ZX2 Upright
ProForm ZR3 Recumbent
ProForm GTX Commercial


Schwinn Exercise Bikes

Schwinn A10 Upright
Schwinn 120 Upright
Schwinn 130 Upright
Schwinn 140 Upright
Schwinn 150 Upright
Schwinn IC2
Schwinn AD2 Airdyne
Schwinn AD4 Airdyne
Schwinn Airdyne Evo Comp
Schwinn A20 Recumbent
Schwinn Active 20 Recumbent
Schwinn 220 Recumbent
Schwinn 230 Recumbent
Schwinn 240 Recumbent
Schwinn 250 Recumbent
Schwinn Magnetic Bike Trainer


Smooth Fitness

Smooth V350 Spinner Bike
Smooth V380 Upright
Smooth V390 Semi-Recumbent
Smooth V2300 Elliptical Bike


Sole Fitness

Sole SB700 Spin Bike
Sole B94 Upright
Sole LCB Upright
Sole R92 Recumbent
Sole LCR Recumbent


SportsArt Fitness

SportsArt C521r Recumbent
SportsArt C532r Recumbent
SportsArt C521u Upright
SportsArt C532u Upright



Stamina
Stamina 7200 Recumbent
Stamina Elite Recumbent

Star Trac Reviews
Star Trac eSpinner
Star Trac NXT Indoor Bike
Star Trac S-UBx Upright
Star Trac E-UBe Upright
Star Trac S-RBx Recumbent
Star Trac E-RBe Recumbent


TruPace Exercise Bikes
TruPace V320 Upright
TruPace V330 Recumbent

Tunturi
Tunturi E60 Upright
Tunturi E80 Upright
Tunturi E60R Recumbent

Vision Fitness Exercise Bikes
Vision V-Series Indoor Cycle
Vision R2250 Semi-Recumbent
Vision E4000 Dual-Action Upright

Weslo Reviews

Weslo Pursuit CT 1.5 Upright
Weslo Pursuit G 2.8 Upright
Weslo Pursuit S 2.8 Upright
Weslo Pursuit R 4.8 Recumbent
Weslo Pursuit CT 3.8R Recumbent
Weslo Pro 11.0x Recumbent
Weslo Pro CTX Indoor Cycle
Explore Everything, or Get Specific
Since price range is usually the first place many shoppers start their search, we have sorted the compare charts by price, as well as by style - that is, the uprights are compared against other uprights; and recumbent exercise bikes compared to other recumbents. This way, you will have an easier time sorting through exercise bike reviews by focusing only on the frame style you are interested in.

Return from Exercise Bike Reviews to the Best Exercise Bikes Home Page