Life Fitness Lifecycle Gx
The Life Fitness Lifecycle GX - Ergonomically Designed For Results
The Lifecycle GX is Life Fitness' only indoor cycling bike, and it is currently one of their best selling offerings.  With ergonomic design and high adjustability, this one is built to deliver the results.
The Bike
The GX is sleek and modern looking with a black and silver frame and fire red trim on the flywheel, seat and adjustment buttons.  You have the option to add a touch screen computer with workout feedback.
Let's take a look at the rest of the specs...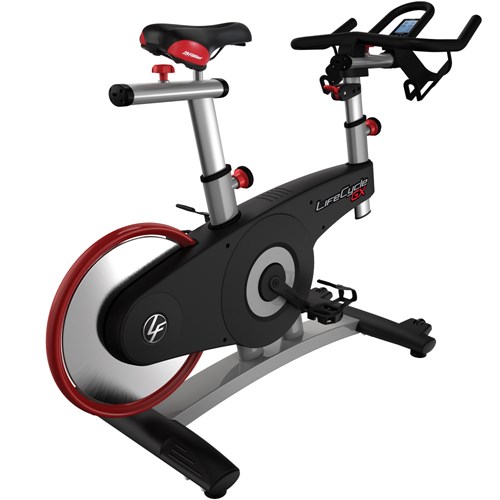 Magnetic brake resistance
Precision braking lever
Dual-sided SBD pedals
Robotically welded steel frame
Multiple seat/handlebar adjustments
Dual water bottle holders
Dimensions/Weight: 54.6"L x 23"W x 39.5"H / 111 lbs
Warranty: 5 yr frame, 3 yrs parts, 1 yr saddle, pedals, console, labor
The Buzz
UPDATE:  It looks like Life Fitness is no longer making the GX.  Check out their new lineup of IC indoor studio bikes for a comparable model.
As we mentioned at the beginning of our review, the GX is one of the most popular bikes that Life Fitness sells at the moment.  More and more people are taking the Spin classes from the gym to their home, and as such indoor exercise bikes have exploded in popularity.
The GX is certainly one of the better designed ones, with solid steel construction, biomechanical detail and comfortable feel.
Their are a ton of micro adjustments to give you the exact feel you want, many more so than the typical bike offers.  The handlebars are well positioned and comfortable to lean on.
You have a choice of two seats, a standard one or an optional wide seat with cut-out providing even more comfort.
The Lifecycle GX also gives you the option of a computer which has touch screen capability and offers you workout metrics such as distance, speed, time, cadence (bike pedaling speed), heart rate, resistance level and calories.
The bike is relatively light at 111 pounds so it isn't too hard to move from one place to another.  All of the parts look and feel quite sturdy, similar to those indoor exercise bikes you find at the better health clubs.
Anything we didn't like? We would have liked to see a better frame warranty at this price range.  It's only 5 years, rather than lifetime as it is on many of the other Lifecycles.  
Besides this though, we have no complaints and this one is a winner for sure, making our Best Indoor Cycling Bike list for several years running..
Our Take on the GX Indoor Bike
We like the GX bike a lot, and the reviews we have received thus far from users have been quite positive. The Life Fitness Lifecycle bikes are in a class by themselves, and very few companies put out a product like this.
It's certainly not the cheapest indoor cycling bike on the market, at around $1799 without the computer or optional wider seat, but it is definitely one of the best quality machines we've seen to date.
We recommend the optional computer so you can keep track of your workouts...it helps to motivate you a bit, but it's certainly not a must.