TRUE Fitness ES900 Upright Bike –
A Realistic Cycling Experience At Home

TRUE Fitness has made its name producing high quality equipment designed to bring a commercial-grade workout experience to the home gym and the ES900 Upright Bike is no exception. It is currently the only upright option in the TRUE Fitness line of exercise bikes and like all of their bikes it brings plenty of features along with a solid, sturdy construction, all backed with exceptional customer support.
Although uprights and recumbents are not as popular as they once were (the shift is towards indoor cycling bikes like Peloton offers), there is still a market for them, as they offer an effective, low impact workout along with a relatively compact design.
Let's jump into our ES900 review to see what this upright bike is all about.
The Bike
The ES900 Upright Bike is geared toward providing a realistic cycling experience in the comfort of your own home. Features including Aero bars and cushioned armrests, a superior brake and drive system and your choice of two console options make for a club quality workout.
Let's take a look at some of the most important features...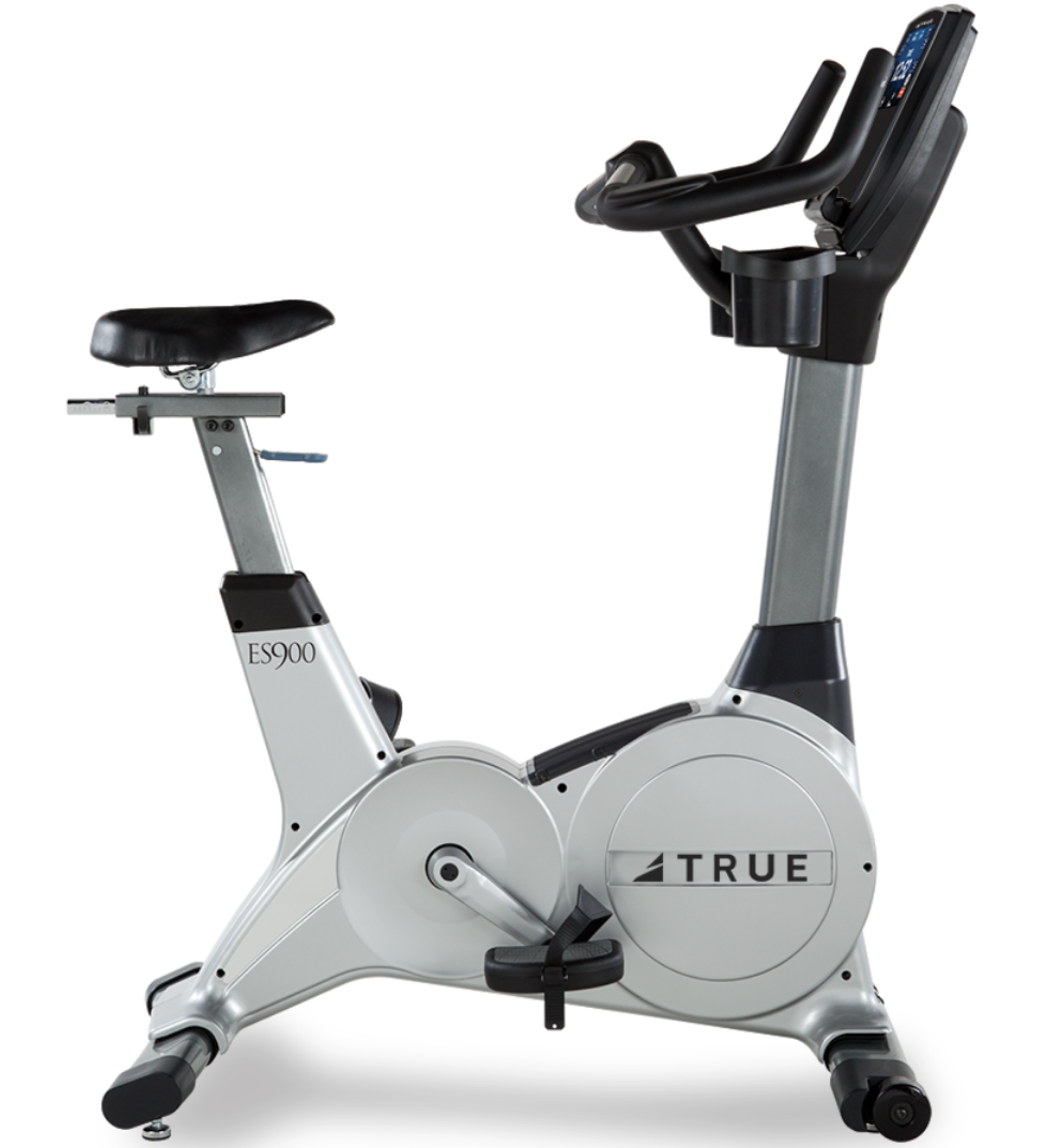 Choice of the Emerge or T9 Touchscreen console
TRUE HRC Cruise Control
Single state drive system with poly-v belts
Eddy current brake with either 25 (Emerge) or 30 (T9) levels of resistance
Dual-sided pedals with weighted and integrated ratcheting strap
Robotically welded heavy-gauge steel frame
Full foam stitched seat with fore/aft adjustments
Bluetooth and contact heart monitoring with compatible Polar monitor
2 removable water bottle holders, accessory tray and reading rack/tablet holder
User weight capacity: 159 kg/350 lb.
Step-over height: 42.5 cm/16.75"
Dimensions/Weight: 44" x 24" x 58.5"/122 lbs
Warranty: Lifetime frame, 10 yrs parts, 1-yr labor, 7 years T9 console, 10 years Emerge console

The Buzz
The ES900 Upright Bike offers your choice of two different consoles so that you can tailor your workout experience to suit your needs. The Emerge console is simple and functional, providing the ability to track all of your stats quickly and easily.
For the full workout experience, choose the T9 Touchscreen (the only option on the ES900 recumbent bike) and you'll be able to sync with the GymTrakr App, which offers the ability to track your heart rate, calorie burn and workout data for all of your workouts.
You can also make use of the compatible Zwift App to take your workout to another level. You can choose from 5 virtual worlds with 80+ routes, set training goals or chat with other Zwift users.
Perhaps the feature that makes TRUE Fitness exercise bikes stand out the most is their patented HRC Cruise Control. We were probably most excited to see this particular feature in action and it didn't disappoint. Just lock in on your targeted heart rate and the one touch HRC Cruise Control automatically adjusts speed and incline to help you stay at your targeted rate, just like the cruise control setting on your car.
You can also maximize your cardio workout by tracking your heart rate through the wireless Polar Heart Rate and the GymTrakr App integration.
Of course there's more to a cycling workout than just the console and TRUE Fitness doesn't disappoint. They pay particular attention to the comfort and safety of their customers with several features, including the superior brake and drive system which ensures a smooth motion and quiet operation.
The ES900 is also ergonomically designed with a full foam stitched seat and comfortable arm rests. The aero bars provide great leverage for long sessions and help to give you the most realistic riding experience on any home fitness equipment. The seat is fully adjustable fore and aft and the universal seat pole gives you the option of using a seat of your choice.
Two removable water bottle holders, an accessory tray and a built-in reading rack/tablet holder let you keep everything you need close at hand and the low 16.75" step-over height makes the ES900 safe for all users.
Since TRUE Fitness designed the ES900 Upright Bike to provide a commercial-grade workout experience, not surprisingly that comes with a steeper price tag. The price varies depending on the console choice, with a range of $2,599-$2,999, though TRUE Fitness regularly has special offers that can bring the price down a bit.
Is the TRUE Fitness ES900 Upright Bike Worth Buying?

That higher price could be an issue for some potential customers, especially given the fact that there are other, less expensive models on the market, so you need to consider whether the ES900 Upright Bike is truly worth the investment.
We appreciated the choice of consoles, which can help mitigate the price some as the ES900 Upright Bike can be as much as $400 cheaper with the choice of the more basic Emerge console. Despite its lack of touchscreen features, the Emerge still has plenty of controls and gives you the ability to track all of your stats. 
You can level up your workout experience with the T9 Touchscreen console that has a nice, easy to read display and lets you take advantage of both the GymTrakr and Zwift apps. These additional capabilities may be worth the bump in price if budget isn't a concern.
If you're looking for a good quality cardio workout and can afford to spend a little more, then the TRUE Fitness ES900 Upright Bike is definitely worth the investment.
Also it comes with one of the best warranties you'll find anywhere, especially the frame and parts coverage. If you're going to spend good money on an exercise bike it's nice to know that it will last.
How Does The TRUE Fitness ES900 Upright Bike Stand Up To The Competition?

Of course there are several other well known names on the market offering a range of commercial-grade upright bikes so it's worth considering how the TRUE Fitness ES900 stands up to the competition.
Freemotion currently offers three different upright models, the u8.9b, u10.9b and u22.9. Unlike the TRUE Fitness ES900, all of Freemotion's bikes offer the ability to tailor your workout with iFit technology, as you'll find on NordicTrack ProForm and Matrix bikes.
They also have a range of comfort features including self leveling pedals, easy adjust seats, 24 levels of resistance, built-in EKG monitoring, and a step-through design that makes them easily accessible for all users.  Freemotion models are definitely on the high end as well, ranging in price from $2,999 to $6,999.
Life Fitness offers an incredible 12 different models, including uprights, recumbents and cycling bikes, all of which offer a variety of comfort features and come with the Life Fitness Connect app, to help you track your workouts. Like the TRUE Fitness ES900, they also have Bluetooth capability, allowing you to synch your mobile device and take advantage of popular apps like MyFitnessPal, Nike+, and Fitbit. The Life Fitness line ranges in price from $1,729 to $3,194
Precor offers two lines of bikes, the 600 and the 800, each with three upright and three recumbent options. All of Precors bikes are designed specifically for commercial use, which means they are made to be durable. Unlike the TRUE Fitness ES900, all of Precors upright models have handlebars with adjustable positions for upright, cruising or road style riding.
Similar to the TRUE Fitness ES900, Precor offers a choice of consoles, the P31 advanced LED, P62 10" LCD Capacitive Touchscreen and the P82 15" LCD Capacitive Touchscreen. They are not iFit compatible but the P82 15" touchscreen console does offer a Smart Watch Connector that lets you sync your Apple Watch so that you can see your progress at a glance anywhere you go. As commercial-grade bikes, Precor models also tend to carry commercial-grade price tags, ranging from $2,845 to $5,045.
So there's definitely competition out there in the high end arena. These are all solid brands worth considering, but TRUE is right up there with them.
Our Take on the TRUE Fitness ES900 Upright Bike

The price tag may be on the higher end, but compared to other commercial-quality models the TRUE Fitness ES900 upright bike actually stacks up well. TRUE Fitness has a reputation for integrity and that shows with the quality of this model as well as its comfort and safety features.
The smooth, quiet ride and exceptional comfort of the ergonomic aero bars and armrests provides a tremendous amount of stability and body control, making for as close to a real road cycling feel as you can get on a piece of home gym equipment.
The choice of console is a nice touch as that allows for some flexibility in pricing. The addition of the T9 Touchscreen console also allows for compatibility with the Zwift app, which gives you a more immersive workout experience that we enjoyed.
We were most impressed with the patented TRUE Fitness HRC Cruise Control. The ability to set a target heart rate and automatically maintain it without having to constantly make adjustments made for a much more enjoyable workout, which we appreciated.
Of course any time you're talking about a piece of equipment in the neighborhood of $2,500, that's a considerable investment but TRUE Fitness helps to take the edge off of that with some of the best warranties we've seen. Shop wisely and you may also be able to take advantage of one of their special offers that can make it even more affordable.
For a commercial-grade workout in the comfort of your home, the TRUE Fitness ES900 Upright Bike is a great choice. It provides the real feel of road cycling and the ability to get a great cardio workout, with the quality and dependability you'd expect from TRUE Fitness.