The Life Fitness Club Series Recumbent Exercise Bike – Health Club Quality
The Life Fitness Club Series recumbent exercise bike is a self-powered home cardio trainer that delivers a smooth workout to rival almost any health club model.  It has quickly become one of the most popular residential recumbents on the market today, as it provides the ride and durability that people love.
The Bike
The Life Fitness Club Series recumbent exercise bike has a red backlit LED display showing readouts for time, speed, distance, calories/hr, watts, MET, target heart rate, and more.
The programs include Hill, Random, EZ Incline /Resistance, 5 HeartSync™ programs, and Special Terrain programs such as Around the World, Kilimanjaro, Foothills, Cascades, and Speed Training. You can also change workouts on-the-fly without restarting the time and other stats.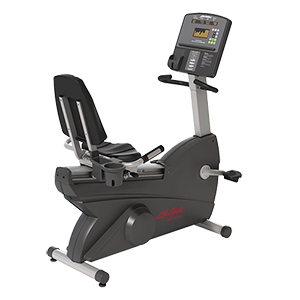 The LifeCycle recumbent bike features:
19 Programs; 5 HR workouts
20 levels of Resistance
Lifepulse™ contact heart rate grips
Polar® wireless chest strap
34 seat positions
Wide Ride™ self-leveling pedals with straps
Self-powered
User capacity: 400 lbs
Dimensions/Weight: 54"L x 26"W x 51"H / 134 lbs
Warranty: lifetime frame, 3 yrs parts, 1-yr labor
Check out the Club Series Recumbent on Sale at Life Fitness Now!
The Buzz
You are already aware of the legendary traits of LifeCycle bikes including quality, comfort, style, and durability. The Life Fitness Club Series recumbent exercise bike has all of these characteristics.
It offers the user a contoured, high back padded seat, front and side-mounted handlebars with pulse grips, wide pedals with straps, multiple seat positions, and a wireless heart rate chest strap (included).
The Club Series LifeCycle recumbent bike is built on a solid frame of 134 pounds that can hold a user up to a maximum weight of 400 pounds. And just like a commercial bike, this LifeCycle is self-powered and does not require a cord to an outlet to power up the display.
It has a self-contained alternator system and Poly V belt-drive that combine to deliver 20 smooth, quick-changing resistance levels.
More cool features include the seven My Workouts™ programs where you can pick your favorite pre-programmed workouts that save your weight and incline levels automatically. You can also store feedback results for each workout and track your progress.
Life Fitness recently introduced a more enhanced version of this bike called the Club Series Plus, which might become even more popular than the base model due to the fact that it has a lot more features and capabilities.  It has a touch screen interface as well as workout tracking and app syncing, something missing on the base Club Series.
There is also a Platinum Club Series, but that is more of a commercial model that is not necessary for home use.
Our Take on the Club Series Bike
This Life Fitness Club Series recumbent exercise bike offers the guilty-pleasure comforts just like health club models costing twice as much. Reviews on this model are good, but you have to ask yourself — do you really need a $3,000 stationary bike?
You can save $1,300+ and get the Life Fitness R1 LifeCycle with the same warranty and many of the same features for around $1,399.
With the R1 or the R3, you can customize your bike with either the Basic or Advanced Console, and get only the bike you need without having to pay commercial prices for the LifeCycle experience.
If you are set on the Club Series, definitely consider the new Club Series Plus as its price is more justified.  It's only $1000 more than the base Club and gives you a lot more for your money.