ProForm Exercise Bikes – Good Quality, Attractive Features

Indoor cycling is ideal for getting fit and ProForm exercise bikes are budget priced so that anyone of any fitness level can afford to start on the road to good health.
About the Company
ProForm is one of the brands owned by the large fitness equipment conglomerate, ICON Fitness, which also owns NordicTrack, Healthrider and Weslo. In the case of ProForm, larger isn't necessarily better as this brand has some issues with quality control and the customer service is lacking. Both of those drawbacks can be easily corrected. The important point is that ProForm strives to provide good quality bikes with attractive features at prices the public can afford.
A Lot of Models to Choose From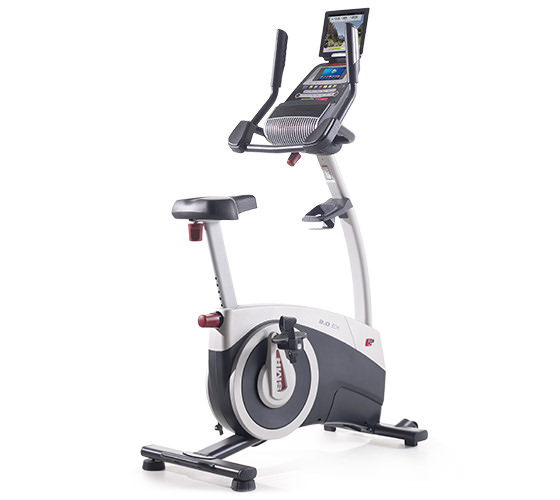 ProForm has changed up the models quite a bit over the years, and fortunately the bikes seem to be getting better and better.
The current lineup consists of two recumbent bikes, two upright bikes, one Tour De France cycles, three Tour De France Studio Cycles and two hybrid trainers.
The recumbent bike models include the 440ES and the 740ES Commercial, priced at $599 and $799, respectively.  The uprights are the 8.0EX and 14.0EX, both at $499 and $799.
The Tour De France bikes are the TDF Pro 5.0 at $1,999, plus the TDF Studio, Studio 10.0 and Studio 22.0 at $999 up to $2,199.
The Hybrid Trainers are half elliptical and half bike, costing around $399 on sale.
Check out the latest ProForm Exercise Bikes on Sale Now
What the Public Thinks About ProForm Exercise Bikes
The reviews on ProForm bikes are generally very good. Most of the bikes are so inexpensive that users are realistic in their expectations and give them kudos for the strong points, particularly the features on the entry-level recumbent and upright.
ProForm exercise bikes are loaded with console features, adjustability for smaller and larger users for the right fit and comfort, and the right price.
The company has made a name for themselves over the years as the go to brand for value and features, so you really can't go wrong with any of the exercise bikes you choose.
Model Reviews
Popular Models
ProForm Studio Bike - new 2017 upgrade to the TDF series with incline/decline and live classes via iFit Coach Plus.
ProForm Studio Bike Pro - more incline than the base model plus a touch screen HD display with internet.
ProForm 14.0 EX Upright - the upper level model with internet capability and tons of workout programs and resistance levels to choose from.
ProForm 440 ES Recumbent - the base model in the series featuring a basic, backlit display, plenty of workouts and iFit technology.
ProForm 740 ES Recumbent - a feature-packed exercise bike with iFit, a 7" touchscreen with web browser, 26 resistance levels and comfort features.
ProForm Hybrid Trainer - An unusual cross trainer that combines a recumbent exercise bike with a fully functional elliptical trainer.
Older Models
ProForm Tour De France Exercise Bikes - Three models featuring an exciting angling frame that allows for more realistic training than your average spin bike or stationary cycle.
ProForm TDF Pro 5.0 - the top of the line Tour De France model with incline, decline, Google map integration and tons of features and capabilities.
ProForm 215 CSX Upright - The ProForm 215 CSX is a compact upright that offers several entertainment features at a reasonable price; built with the same features as the 200 CSX and the discontinued ZX2 upright.
ProForm 280 CSX Upright - While this is an attractive model that leaves off the frills, except for an iPod player plug-in and a console fan, it won't make our Best Buy lists when it's compared with other brands around the same price.
ProForm 315 CSX Recumbent - The recumbent frame on the 315 CSX features an easy-on, easy-off step-through frame and a quiet belt-drive system with magnetic resistance.
ProForm 385 CSX Recumbent - They cut too many corners in quality in order to keep the price down, and the results are a bike with excessive mechanical problems.
ProForm GTX Commercial Bike - The ProForm GTX offers an exciting new concept that will make you want to ride longer as you are constantly challenged and entertained; tilting movement recruits more work from core muscles groups.
ProForm 290 SPX Upright - Well built, easy to assemble, attractive, pedals smoothly, and only costs $299 on sale. Reviews on this exercise bike are highly favorable.
ProForm 490 SPX Upright - A solid performer with a hefty flywheel and a reliable chain drive system.
ProForm 590 SPX Upright - No-maintenance belt drive system is an upgrade to the 490 SPX and 290 SPX chain-drive models.
ProForm ZX2 Upright - An updated version of the 200 CSX, a budget exercise bike that got lukewarm reviews by users and equipment experts.
ProForm ZR3 Recumbent - Reviews by consumers range from favorable to passable to furious. Most new owners are relieved to get past the tricky assembly of the console which is unnecessarily complicated.
Check out all of the newest bikes at special sale prices here
---