The Weslo Pursuit G 2.8 Upright Exercise Bike – Not Recommended
The Weslo Pursuit G 2.8 upright exercise bike from ICON Fitness is an uncomfortably small bike made with cheap parts.
The Bike
On the console, the blue-tinted and easy-to-read LCD display tracks speed, time, distance, pulse and calories burned. If you use one of the six pre-programmed Target Pacer workout apps, the bike automatically adjusts the resistance to increase or decrease intensity. The console is battery operated.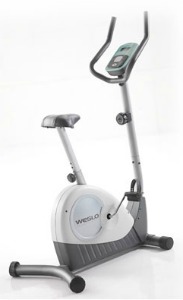 The specs of the Weslo G 2.8 are:
SMR™ Silent Magnetic Resistance
6 Workout Apps
Adjustable Resistance Knob
Easy Pulse™ Thumb Heart Rate Monitor
Adjustable Padded Seat
Step-Through Design
Transport Wheels
Max user weight – 250 lbs
Dimensions: 36"L x 22"W x 53"H
Warranty: 90 days
The Buzz
UPDATE:  The Pursuit G 2.8 model has been discontinued.  If you're interested in buying a Weslo exercise bike check out the selection of popular models on sale at Amazon.
The magnetic resistance is about the only good thing on the Weslo Pursuit G 2.8 upright exercise bike. However, with just a short 90-day manufacturer warranty, don't expect the G 2.8 to have a long life (unless you park it in the corner and don't use it often, say less than once a week).
The seat is "padded" but users report that it is still thin and uncomfortable, and they mention that the heart rate sensor is not accurate. There is a knob that will adjust the tension through eight positions to adjust the workout intensity, but sometimes this feature doesn't work either.
The Weslo G2.8 is a slightly bigger model than the CT 1.5 from Weslo, but neither model holds up well for regular use by an average sized adult.
Our Take
Weslo is not known for making quality budget bikes even though they deserve some credit for trying. The Weslo Pursuit G 2.8 upright exercise bike costs around $130 but we've seen so many customer reviews complain about the bike breaking soon after arrival, that we wouldn't recommend it if it sold for half that amount.
You can't get a great bike for under $200, but if must stay within a budget limit, we suggest you look at a Schwinn A10 or try the Stamina Upright Bike, both which sell for around $175 and get some pretty decent reviews.
Show me other Weslo Exercise Bikes