Horizon Exercise Bikes – First Rate Components, Great Warranties

If you are committed to getting in shape, Horizon exercise bikes are an affordable choice for weight loss and weight management. You will get heart-healthy and will have made a sound investment in a quality piece of fitness equipment.
About the Company
Horizon is a subsidiary of Johnson Tech that also owns the brands AFG, Livestrong, Matrix, Merit, and Vision. Johnson is the largest equipment manufacturer in Asia, with plants in Shanghai and Taiwan. Better known for value-driven and budget priced treadmills and ellipticals, Horizon also produces a handful of recumbents and one indoor cycle. Prices range from $399 up to $1199. The components used on Horizon exercise bikes are first rate, which is why you'll have to pay just a bit more for them.
A Look at the Bikes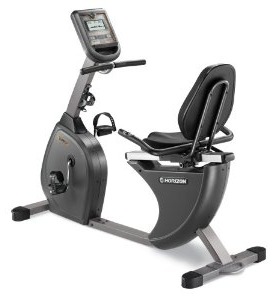 The indoor cycle or "spin bike" has a commercial grade frame, triathlon-style handlebars, horizontal and vertical adjustments on the pedal and handlebars, friction brake system, toe clips, and a big 44-lb flywheel for ultra smooth performance, all at around $799.
Horizon Fitness Exercise Bikes - Factory Direct
One of the exciting new exercise bikes is a sort of a niche hybrid, the Horizon B701, which combines the wide seat and lumbar support of a recumbent with the body positioning of an upright frame. It is an interesting concept in that the pedals are closers to the seat but taller users may feel cramped. It is one of the few recumbents where the seat is higher than usual.
Check Prices at Amazon
Horizon's recumbent models offer features such as a 10-lb or 14-lb flywheel, magnetic brake, step-through design, iPod® docking port and console controls, contoured seat, brightly lit orange LED displays, user weights up to 300 pounds, and excellent warranties including lifetime on the frame and one year on parts and labor.
Other key features of Horizon exercise bikes are FreeSPIN™ technology that lets you coast after you stop pedaling to eliminate joint-shaking stops, and up to 14 pre-programmed workouts. The program options include weight loss, target heart rate zone, intervals, and more. The exclusive eTRAK™ technology monitors and evaluates a variety of workout statistics. With eTrak, you can view your workout stats for current session, last workout, weekly goal, weekly total, monthly total, and lifetime.
Thumbs Up from the Public
Just as Horizon has made huge upgrades in their treadmill and elliptical lines these past few years, Horizon exercise bikes also score above average in reviews. Horizon focuses on just a few models and doesn't try to offer a bike at every price point. While the number of machines is limited, they strive to produce the best they can, while keeping prices reasonable.
Reviews
Horizon RC-30 Recumbent - Reviews on this model are some of the best we've ever read. It scores well in terms of attractiveness, ease of use, smooth pedaling, quiet operation, variety of programs.
Horizon M4 Upright - An affordably priced spin bike with a hefty flywheel and a compact frame.
---
Return from Horizon Exercise Bikes to the Best Exercise Bikes Home Page