Nordictrack Commercial Studio Cycles
The NordicTrack Commercial Studio Cycles Are Impressive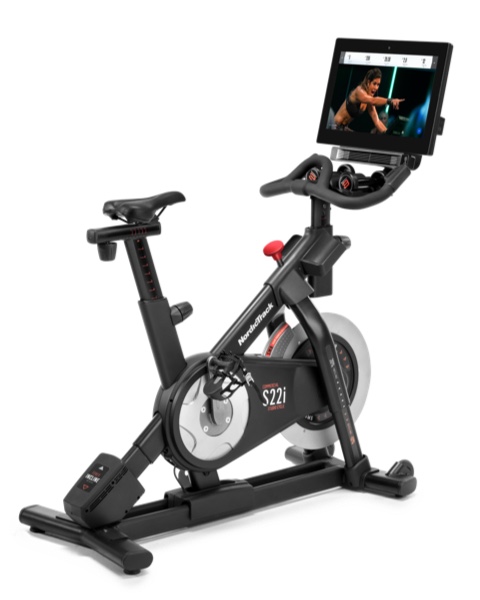 The Commercial Studio Cycles are NordicTrack's answer to Peloton, bringing high energy, calorie burning gym workouts right into your home gym so you can train on your own schedule.  Whenever you feel like taking a class, all you need to do is hop on and go!
Let's jump into our review to see what these exciting bikes are all about...
About the Bikes
There are currently three cycles in the series: the base Commercial S15i, the more advanced Commercial S22i and the brand new Commercial S27i.  
They are nearly identical, except the S22i has a larger Smart HD touch screen display.  Otherwise, there really isn't much difference between the two.
Let's take a closer look at some of the important specs...
SMR Silent Magnetic Resistance
-10% to 20% Decline/Incline
Commercial Grade Steel
14"/22"/27" Smart HD Touch Screen Displays
22 Resistance Levels
iFit Live Classes/Google Maps
Two 2" Amplified Speakers
Grip and Wireless Heart Rate
Max user weight – 350 lbs
Dimensions: 55"L x 21.9"W x 54.8"H
Warranty: 10 year frame/brake, 3yr parts, 1yr labor
Check out these great new studio bikes on sale now at NordicTrack!
The Buzz
The NordicTrack Commercial Studio Cycles have definitely been the most anticipated series from the company in quite some time.  
The company took their popular Grand Tour Series and added more features and capabilities, plus more durable, commercial grade construction. This allowed them to compete directly with Peloton, a company that has owned the in-home studio cycle market for several years.
You have the S15i, the S22i and the S27i, and all of these bikes give you just about everything you could ask for in an indoor cycling bike.
Commercial S15i Studio Cycle
The base model in the series is sleek, space-friendly and light weight, with a 14" Smart HD touch screen, an inertia enhanced flywheel, 22 resistance levels, 10 degrees of decline, 20 degrees of incline, a Watts Power readout and gym quality construction.
The long list of features includes a music port, speaker system, leveling feet, one touch controls, padded adjustable seat, workout fan, multi position handlebars, transport wheels and two water bottle holders.
Commercial S22i Studio Cycle
As we mentioned above, the only difference between the S15i and the S22i is that the latter has a larger 22" Smart HD touch screen.  Otherwise both bikes are the same, except for the price of course. The S22i is about $400 more because of the larger display.
The S22i received a few upgrades recently, including a new sound system, enhanced auto incline/decline, new pedals, rotating touchscreen and some additional comfort enhancements.
Commercial S27i Studio Cycle
This is the newest member of the Commercial Studio Cycle series, with a new tilting/pivoting display and gas shock lift assist handlebars for easy adjustment.
The other big difference is a larger, yes you've guessed it, 27" touch screen display, the biggest screen to date on a NordicTrack cardio machine.
The main draw of the NordicTrack Commercial Studio Cycles is of course the workouts.  Both bikes come with a free month of the company's iFit program, which is unlike anything else you will find on the market today.
iFit gives you access to on-demand and live workouts, which are actual personal trainer led cycling classes, with you being one of the participants. The trainer can automatically change the incline and decline levels on your bike, creating a real-life in studio experience that is truly motivating.
Another exclusive feature is Google map integration, which allows you to choose any location in the world and have a coach train you there.  So whether you want to work out on a mountain, in a desert or on the streets of Rome, you have that capability.
You can choose from an endless library of workouts on the bike, and the Studio Cycles come with two 3 pound dumbbells which you can use for workouts off the bike.  Coaches will guide you through all of these programs so you know exactly what to do.
How do the NordicTrack Commercial Studio Cycles Compare to Peloton?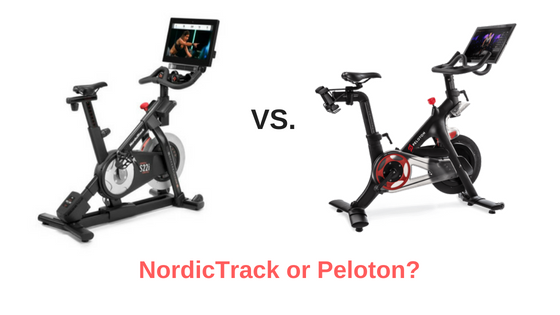 We've been asked about how the NordicTrack Commercial Studio Cycles compare to the Peloton bikes, specifically the S22i vs Peloton.  
We would definitely say that NordicTrack's Grand Tour series didn't hold a candle to Peloton, but the Commercial Studio Series definitely offers a more apples to apples comparison.
Let's take a closer look at what Peloton offers, and then we'll do a head to head comparison to see which one comes out on top.
Peloton Bike vs NordicTrack Studio Cycle
Peloton offers two bikes currently, the $1,495 base model and the $2,495 Peloton +. After the free trial, the ongoing cost for a Peloton membership is $39 per month.
The bikes are 59" long, 22-23" wide and 53-59" high, so they have slightly larger footprint than the NordicTrack S15i and S22i.  It has a 22" HD display, larger than the one on the S10, but as large as the one on the S22i.
*Note that there is a brand new NordicTrack S27, with a huge 27" touch screen display...a game changer!
Construction is solid, with a powder coated welded steel frame, Poly V belt drive, aluminum pedals and forged steel crank arms. It's interesting to note that although we're confident that the overall construction is probably a bit better on the Peloton, the warranty is actually much better on the Nordictrack.
The Peloton bike comes with one year on the touch screen, 5 years on the frame, one year on the components and pedals and one year of labor.  That's not very comprehensive, especially given the high cost.
The company also suggests a max weight limit of 300 lbs, as opposed to 350 lbs. on the NordicTrack Commercial Studio bikes.
As far as the workouts, the Peloton offers a growing library of in studio workouts, as well as off the bike training and scenic locations...similar to what NordicTrack offers.  However, Peloton actually offers dozens of live classes that you can attend in addition to prerecorded...Nordictrack's iFit currently includes only prerecorded classes.
The iFit program does offer additional features like nutrition programs, sleep recommendations and other tools that Peloton does not offer.
In addition to the live class capability, Peloton is definitely a more social phenomenon than any of NordicTrack's cardio equipment is.  There is a huge Facebook community, live meet up events, real studios you can go to...so there's a "cult" element to it that many users find both motivating and rewarding.
Let's look at how the two bikes match up with a visual comparison....
NordicTrack Studio S22i

Peloton

Bike Cost

$1,999

$2,299-$2,999

Membership Cost

First month free then $15 or $39/mo


$39/month

Main Features

Live/Prerecorded Classes
Google Maps
Coach Training

Live/Prerecorded Classes
Scenic Maps
Coach Training

Incline/Decline

Yes

No

Max User Weight

350 lbs.

300 lbs.

Warranty

10 years frame,
3 years parts, 1 year labor

5 years frame,
1 year screen, parts, labor
As you can see from our review and the table above there are definitely some pros and cons to each of them.  
Pricewise, at least initially, the NordicTrack Studio Bikes come out ahead.  The Peloton will cost you about $2,500 all in for the first year, while the S15i will cost you around $1,599 and the S22i $1,999 with iFit included. After the first year, both will require a monthly subscription around the same price of $39/mo.
Construction wise, the Peloton has the NordicTrack beat.  Keep in mind that Peloton only makes the bike (and now a new treadmill) while NordicTrack makes a number of treadmills, ellipticals, bikes, rowing machines and other cardio equipment.  So they definitely can focus much more attention on the build quality.
But again, the warranty isn't as strong as it should be given the price of the bike.
As far as the display, the Peloton and the S22i are equally sized, but the Peloton is strictly for the studio/destination workouts while the NordicTrack's gives you a bit more interactivity with iFit.  However the Peloton comes with a forward facing camera and audio capability for interacting with other members.
As far as the workouts, we'd probably give the edge to Peloton due to the live classes that you can participate in.  Although the recorded classes on the NordicTrack are great, it's hard to beat the feeling of an actual live class, where you can compete real time with other riders and really feel the energy.
However, iFit Coach does have a more extensive library of workouts, and you can choose your own locations with Google maps.  Both companies are always enhancing the workout element with more options for you.
Note that the NordicTrack Commercial Studio Pro bikes come with incline and decline, not available on the Peloton, so if you strip away the memberships from both, the S15i and S22i are more versatile bikes.  
So if you ever decide that you no longer want to pay the membership, you'll be better off with the NordicTrack than the Peloton as far as what you can do on the bike itself.
The Bottom Line on the NordicTrack Commercial Studio Cycles
The new NordicTrack Commercial Studio Cycles are a great addition to the company's lineup, and will likely gain a huge following due to the large amount of features and capabilities that they offer.
They are more expensive than the company's Grand Tour series, but the S15i and S22i are a big step up in quality, putting them in direct competition with Peloton.
If you're looking for an in-home workout that it just like you get at your health club, then a Studio Cycle is a definite winner.
As far as the S15i or S22i vs Peloton, it's really a personal choice and arguments can be made for both of them.  The NordicTrack definitely gives you more capability and versatility, and the iFit program is much more advanced.
However, it's hard to beat the live classes of Peloton, and if you want to be part of a huge community of people you might prefer the Peloton experience.
Compare specs and get great sale pricing on this bikes here!