Nautilus R618 Recumbent Bike
Nautilus R618 Review - The Top Bike in the Series
The Nautilus R618 is one of three exercise bikes in the company's Recumbent Series, a feature packed machine that is surprisingly affordable given all that it has to offer.
If you're looking for a solid bike for your home gym that won't break the bank, this one is definitely worth consideration.
Let's get into our review and see what this one is all about...
Nautilus R618 -The Bike
The Nautilus R618 features the same step through design as the R616 and R618, but with upgraded features and more durability than the other models.
Let's look at the most important specs...
Eddy Current Brake system
25 Resistance Levels
29 Built-in Workouts
Hand Grip/Wireless Heart Rate Monitoring
Fore/Aft Seat Adjustability
Bluetooth Workout Tracking
Transport wheels, fan, reading rack, water bottle holder
Max user weight: 325 pounds
Dimensions/wt: 67.3"L x 26.4"W x 48.8"H / 91.9 lbs
Warranty: 15 years frame, 3 yrs mechanical parts, 1-yr electronics and labor

The Buzz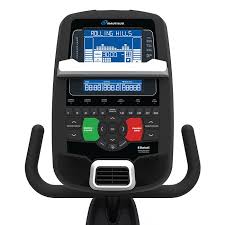 Customer seem to love the R618, as it really has a lot of features for a bike well under $1,000.
Our reviews revealed some things that you just don't find that often, especially on a bike in this price range.
For starters, it comes with a very impressive 29 built in workout programs.  That's a lot of variety.  You get interval training which is very popular these days, as well as weight loss, fitness, heart rate and profile programs.
There are 25 levels of resistance to choose from, so you can start off with one of the lower ones and work your way up as your fitness and strength improve.
The Nautilus R618 comes with a free wireless chest strap to measure your heart rate more accurately.  The mid-range R616 recumbent also has wireless heart rate capability, but you need to use your own chest strap as it's not included.
Another unique feature is the adjustable console, which can be placed at various angles to improve visibility.  This kind of customization is very rare, as you usually get a fixed console that can't be moved.
Users also seem to love the tracking capability that comes with the R618 and R616 recumbent bikes.  You can use the free Nautilus Trainer app via Bluetooth and sync your results with Run Social, an awesome interactive program that has become enormously popular.
Note that the base R614 does not come with tracking capability...something to keep in mind if you're considering all three recumbent bikes.
Besides these great features you get a unique gel seat for comfort that the other bikes don't have, performance handlebars, 3 piece chrome crank and easy transport handles.
There is a maximum user weight capacity of 325 lbs, which is the highest in the series.
How Does the R618 Compare to the Other Recumbent Nautilus Exercise Bikes?
As you might have learned from reading our review above, the R618 is the most advanced model in the series.  And it makes sense, because it also the priciest...but it is still very affordable.
All of the Nautilus recumbents are similar as far as features and the way that they look, but there are some noticeable differences...some of which we touched on above.
Let's compare all three to see how they match up....
As we mentioned, the R614 is the entry level recumbent bike in the series.
It has 20 levels of resistance, 22 built in workout programs, contact heart rate, up to 2 user profiles, water bottle holder, tablet holder and a 300 lb. maximum user weight capacity.
Moving up you have the mid-range R614, which gives you all of the features of the R614 plus 25 resistance levels, 29 workout programs, wireless heart rate, 4 user profiles and workout tracking.
The jump from the R614 to the R618 isn't as big as the one from the R614 to the R616.  But you do get the free wireless chest strap for heart rate measurement, enhanced seat, pedals and handle bars, higher max weight of 325 lbs. and a stronger warranty.
So as you move up in the lineup you get a bit more of everything...more resistance levels, more workouts, more user profiles and some enhanced features.
The prices range from about $399 on sale to $799, so all three Nautilus exercise bikes are certainly well priced.  It's a matter of figuring out what your budget is and which model has the features and capabilities that you are looking for.
Nautilus R618 Review - Bottom Line
The R618 definitely has a lot going for it, and plenty of things other bikes in its class don't have.
There are plenty of workouts and resistance levels to choose from, the console is fully adjustable, the gel seat is comfortable, and the bike itself is sturdy and well-appointed.
If you want to save some money and don't need tracking capability or wireless heart rate monitoring, check out the base R614 model to save a few hundred.
And if you want something in between the two, the R616 is a good choice as well.