Bowflex Bikes - Are They a Good Choice?
There's a reason that Bowflex has been a real force in home exercise equipment for the last 30 years. Unlike most of the other big name brands, from its start Bowflex has been focused on bringing you a gym-quality workout experience in the comfort of your own home.
With that in mind they are continually improving on their products and adding innovations, which can be seen in their line of exercise bikes designed to take stationary cycling to the next level.
Although they were late to the game, they now have four solid bikes to choose from, and with the workout and entertainment capabilities, they're sure to give the competition a run for their money.
Let's jump in to see what these bikes are all about...
About the Company
Bowflex first entered the fitness equipment market in 1986, with the focused goal of bringing gym-quality results to the home. The company understood the needs of the average consumer who was looking to fit their workout into a busy schedule and a tight budget that didn't always allow for pricey gym memberships.
To that end Bowflex began offering a range of equipment that included innovative strength and cardio products. The idea was to create breakthrough solutions rather than just follow the latest trends and that approach paid off.
In addition to the eponymous home gym, the company has had big hits with the Max Trainer & TreadClimber. They've also ventured into treadmills, weights & benches.
For the last 30 years, Bowflex has continued to be at the forefront of the industry and that's what makes them the most dependable name in home fitness. It's all about giving you the results you want without with the comfort and convenience you expect. 

Why Consider Bowflex Bikes?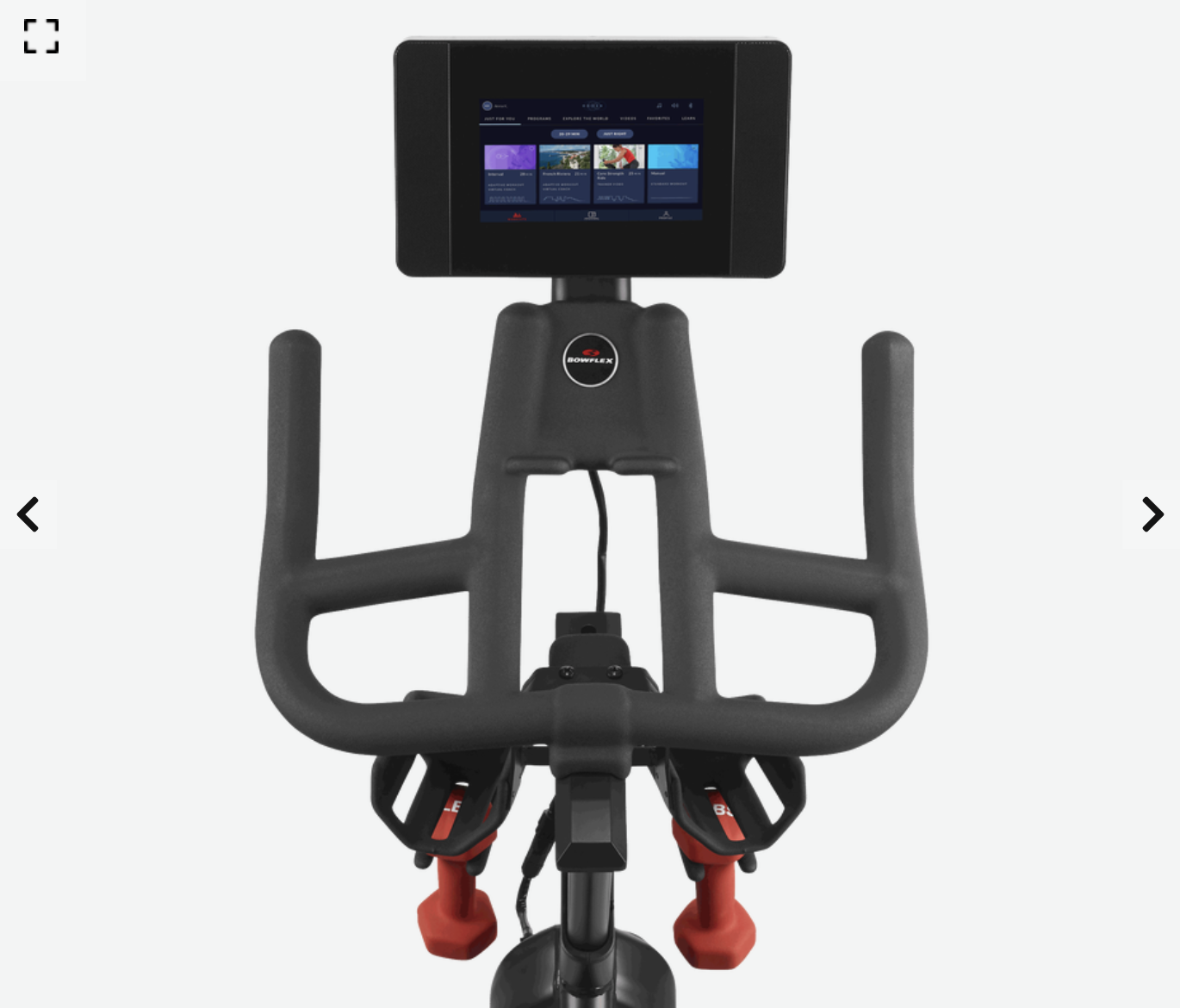 As a company focused on providing the best quality home exercise experience, it's not surprising that Bowflex would eventually turn their attention to creating a line of exercise bikes and as with all of their equipment, their bikes are designed to stand out from the pack.
They've put their experience and enthusiasm to the test and the result is a series of bikes that give users a real road cycling feel in the comfort of their own home. All of the Bowflex bikes feature 100 resistance levels, dual-sided pedals and fully adjustable seat and handlebars so every user can be assured of a comfortable ride.
Because they also understand the need for a fully integrated digital workout experience, Bowflex has also introduced their unique adaptive fitness app, JRNY (see below), which takes your workout to a whole new level with a full range of features. It's a workout experience like no other and just another innovation that makes Bowflex the first choice for home gyms.
Of course, Bowflex has always been known for their design innovations and that trend has continued with the latest addition to their exercise cycle lineup, the VeloCore bike. VeloCore is currently the only exercise bike on the market that offers a leaning mode to give you the most realistic road cycling feel ever.
JRNY: The Bowflex Difference
What really makes Bowflex stand out from the competition is their one-of-a-kind adaptive fitness app, JRNY. With JRNY you can enjoy daily workouts with real-time coaching that are tailored to your needs and automatically adapt as you get stronger.
Or if you prefer, there are a range of on demand classes that let you work up a sweat alongside world class trainers. If you'd rather break out of the studio, you could also opt for a ride through any of the 50+ stunning virtual courses. You can ride at your own pace or opt for a guided ride with one of the virtual coaches.
JRNY also goes a step beyond the ordinary workout app by offering the ability to stream content from any of your favorite entertainment apps like Netflix, Hulu, Amazon Prime or Disney+ or you can opt to listen to a wide range of popular music styles with JRNY radio.
For extra convenience, a 1 year JRNY membership is currently included with the purchase of any of their bikes, though that offer is subject to change so you should check the Bowflex site before purchasing to get up to date rates and offers.
The Current Bowflex Exercise Bike Lineup
Bowflex currently offers four different cycles, two standard uprights and two versions of the new VeloCore bike. All bikes come with the JRNY app as well as the ability to connect with other world-class fitness apps, such as Peloton or Zwift, using your tablet or smartphone so your workout options are almost endless.
Other features common to all of the Bowflex models include a fully adjustable seat and 4 way adjustable handlebars, dual-sided pedals, 100 resistance levels, a set of 3 lb. dumbbells, a Bluetooth enabled heart rate armband monitor and convenient dual water bottle holders.
Here are all of the current models:
C6 Bike
The base line model, the Bowflex C6 has all of the features listed above and includes a backlit LCD metric console and a media/device holder so that you can easily access the JRNY app or any of your other favorite apps through your smartphone or tablet.
C7 Bike
The Bowflex C7 is the same basic bike as the C6 with one key difference, which is the inclusion of a 7" HD touchscreen as well as an integrated media rack for your phone or tablet. 
 VeloCore Bike
The latest addition to the line of exercise bikes is the Bowflex VeloCore, which comes in two versions, incorporating either a 16" or 22" console. Aside from the spacious consoles with built-in Bluetooth speakers for a fully immersive experience, the main difference with the VeloCore is its unique leaning mode, which lets you lean left and right for the most realistic road cycling feel ever.
Bowflex is not necessarily considered high end though they don't skimp in quality and range of features, which is a bonus for customers looking for a gym quality workout at a budget friendly price.
The C6 and C7 each retail for around $799, while the VeloCore models range from $1,799-$2,199, though those prices may vary with special offers.
Along with the JRNY app and their other features, Bowflex bikes also carry pretty decent warranties, ranging from 2-10 years on the frame, 2-3 years on parts and one year on electrical and labor depending on the model.
How do Bowflex Bikes Compare to the Competition?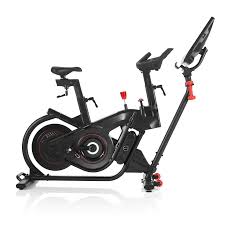 Finding the right exercise bike for your needs can be an overwhelming process with the amount of options available on the market today.
There can be a lot of factors that go into the decision so it's worth taking a closer look at the available options to determine how Bowflex stands up to the competition.
NordicTrack/ProForm
Both NordicTrack and ProForm have models that are comparable to the Bowflex C6 and C7. They both offer a range of comfort features, including heart rate monitoring, built-in fans and oversized cushioned seats. Unlike Bowflex, both NordicTrack and ProForm bikes are iFit compatible.
While NordicTrack and ProForm both feature Bluetooth capability, allowing you to synch your mobile device and take advantage of popular apps like MyFitnessPal, Nike+, and Fitbit, only Bowflex bikes have access to the JRNY app and its unique lineup of features that create a fully immersive workout experience.
It's also worth noting that all of the Bowflex bikes also offer an astonishing 100 resistance levels to help you get the most out of your workout and they have more adjustability of both the seat and handlebars to maximize comfort.
Peloton/Echelon
When it comes to Bowflex's top offerings, the VeloCore 16 and 22, the closest competition comes from brands like Peloton and Echelon, each of which offer fully equipped models with large HD touch screens and, in the case of Peloton, access to their own app with a full line of exercise classes and real world rides led by fitness experts.
Unlike the VeloCore, Echelon's Ex-5s also offers the ability to flip the screen 180̊ to enable you to access apps for off-bike workouts as well. Peloton offers a 24" screen, which is the largest currently available in any of the brands and they are the only other brand to also offer 100 different resistance levels.
Of course, what makes the VeloCore from Bowflex stand out is both the exclusive access to the JRNY app as well as the innovative addition of the leaning mode to give you the feel of hugging those curves as you move through your workout.
Bowflex Bikes - Bottom Line
With a range of options designed to give you a gym level workout in the comfort of your own home, nobody delivers like Bowflex. The addition of the JRNY app and the unique leaning mode on the VeloCore models lets you broaden your horizons even further and really feel like you're taking your workout on the road.
When it comes to fitness, comfort and flexibility are key and you'll find both with Bowflex exercise bikes. With two-way adjustment of the seat and four-way adjustment of the handlebars, every member of the family can have a comfortable ride and the JRNY app gives you the ability to tap into individually tailored classes and scenic rides in real world settings or just lose yourself in your favorite movie, show or music.
Bowflex understands how important it is to get the workout you need without the cost and inconvenience of a gym membership. It's what has put them on the cutting edge for over 30 years and what makes them a name you can count on for quality and affordability.
Get more info and special discount prices on these bike here!