Sunny Health & Fitness ASUNA Indoor Bikes are a Step Up
The Sunny Health & Fitness ASUNA series is a relatively new line for the company, offering a higher-end option for those who want a little more from their indoor cycling bike.
There are some nice features to be found here, and time will tell whether or not these bikes can stand up to the competition.
The Bikes
There are currently three ASUNA models to choose from, including the 4100, the 5100 and the 5150, all offering enhanced adjustability, heavy flywheels, commercial grade steel construction and chain drives.
Let's take a look at the specs...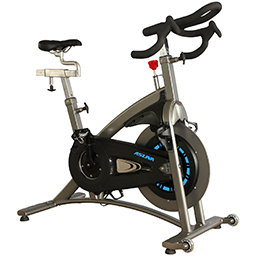 Fully adjustable seats/handlebars
Magnetic resistance (5100,5150)
37-40 lb flywheels
Heavy duty steel frame and crank
Combination pedals
User capacity: 285-350 lbs
Built in transport wheels
See the best price on the new ASUNA indoor bikes here!
The Buzz
The new higher end bikes have received good reviews thus far, as experts and users appreciate the added features and capabilities.  Sunny Health & Fitness is definitely better known for their lower priced/entry level exercise equipment, so it's nice to see that they are testing the waters in the mid price range.
The ASUNA bikes look good and ride very comfortable, offering a lot of adjustability so that you can find your perfect fit.  You can adjust your seat up and down as well as fore and aft.
You can also adjust the handlebars up and down, and the 5100 and 5150 models give you a multi-position handlebar so you can find the ideal spot.
All models feature a heavy flywheel, which makes the ride quiet and smooth.  You get a 40 lb flywheel on the 4100 and a 37.5 lb flywheel on the 5100 and 5150 models.
It's interesting to note that the 5150 has a chain drive like the base 4100 model, with the 5100 having the superior belt drive which requires much less maintenance.  We're not quite sure why this is the case.
The 5150 is also the lightest unit at 110 lbs vs over 120 lbs on the other two bikes.
Construction is solid on all of them, much more durable than some of the lower end models from the company.

Our Take on the ASUNA Bikes
The Sunny Health ASUNA indoor cycling bike is definitely worth considering if you are in the market for a mid range model for your home.
The 4100 model will run you about $550 or so on sale, the 5100 about $750 and the top of the line $5150 about $880 on sale.
Compare this one to those on our list of the top indoor cycling bikes on the market such as Diamondback and Schwinn to see how the ASUNA's match up.  
If you've purchased one of these, we'd love to have your feedback so that we can share it with our visitors.
See other Sunny Health & Fitness exercise bikes