TRUE Fitness Exercise Bikes –
Built With Integrity

For over 35 years, TRUE Fitness has been focused on producing exercise equipment that provides a club quality experience for home gym users. Not satisfied with just offering carefully designed exercise bikes, they also pride themselves in providing some of the most comprehensive customer service in the field today.
Let's get into our reviews to see what these bikes are all about...
About the Company
TRUE Fitness was founded in 1981 by Frank Trulaske and today the company is considered a global leader in premium fitness equipment for both the commercial and home markets. Their unique journey began with a single treadmill and has since expanded to include a full line of treadmills, ellipticals and exercise bikes.
Bikes were added to the TRUE Fitness line in 1999 and, as with all of their products, the folks at TRUE continue to develop new and innovative features that always keep the health and safety of their customers in mind.
Why Consider TRUE Fitness Bikes?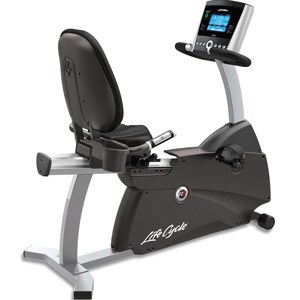 With so many options on the market today, it can be hard to choose one brand of bike, but TRUE Fitness has done everything it can to make that decision easier.
Though they began with a focus on commercial equipment, they quickly realized the importance of providing top quality machines for the home gym as well and their bikes are some of the best you can find today without breaking your budget.
Among their many innovations, perhaps the one that really makes TRUE Fitness products stand out is their patented HRC Cruise Control that lets you pre-set a target heart rate and then sit back and relax as the program takes over and makes necessary adjustments automatically to help you reach and maintain your target rate.
Besides the HRC, all of the TRUE bikes are very compact, which makes them ideal for smaller workout areas. Lastly, you get very strong warranties, something you don't find often in the home exercise equipment world.
TRUE stands behind their products and their customer service is second to none...as such you're in good hands if you decide to go with a TRUE exercise bike for your home.

The Current TRUE Exercise Bike Lineup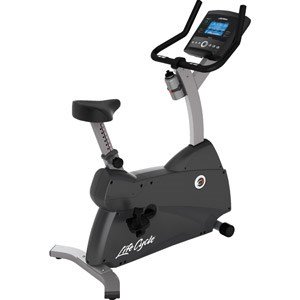 Currently, TRUE Fitness offers five different models, an upright cycle, three recumbent cycles and an indoor cycling bike, all of which offer fully adjustable seats and handlebars that accommodate any size user up to a maximum user weight of 350 pounds.
Here are all of the current models as of our latest review...
Upright Bike
The upright model is the ES900 Upright Bike.  
It offers a choice of two consoles, the T9 Touchscreen or the Emerge. It has a low step through design for easy accessibility for older users or those recovering from injury and it features the HRC Cruise Control.
Recumbent Bikes
There are three recumbent models currently available. The base model is the Performance 50, then there is the mid level ES700 and finally the top level ES900. 
All feature low step through accessibility and the HRC Cruise Control. The Performance 50 comes with an integrated LED display, the ES700 offers the choice of either T9 Touchscreen or Emerge console and the ES900 comes with the T9 Touchscreen console.
The Performance 50 Recumbent Bike is priced at $2,199 while the mid level ES900 Upright and ES700 Recumbent are both priced from $2,599-$2,999 depending on your choice of console. The top level ES900 Recumbent is priced at $3,299.
Indoor Cycle
The Indoor Cycling Bike is TRUE Fitness' most affordable model at just $1,399. It has a fully adjustable seat and handlebars, an easy to use resistance knob with safety brake feature and a Belt Direct Drive System for the smoothest riding experience possible.
The mid level models offer two console choices: the T9 Touchscreen or the Emerge. Both allow you to keep track of all your stats, while the T9 Touchscreen adds the ability to integrate with the both the GymTrakr and Zwift apps for a more in depth workout experience to keep you motivated.

Because TRUE Fitness has a focus on both quality and customer service, it's no surprise that they also offer some of the better warranties we've seen, ranging from 5 years to lifetime on frame depending on the model, and 1 year on parts.
Which TRUE Fitness Exercise Bike Should You Choose?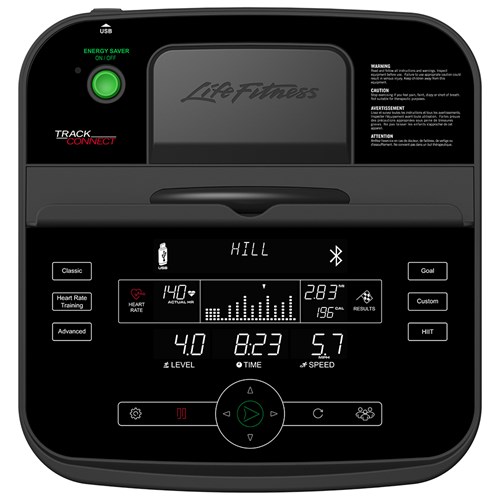 With several models available, it may be difficult to decide which to choose but the ultimate choice really just depends on your budget and your individual needs.  
No matter which you choose you can rest easy knowing you'll be getting a good, solid machine that is designed with a small footprint to fit easily in most home gyms yet doesn't skimp on quality.
Recumbent and Upright Bikes
Of course, budget is usually the main deciding factor when choosing home fitness equipment and with prices ranging from $2,199-$3,299, the recumbent and upright bikes are going to be an investment.
The Performance 50 Recumbent Bike is the most affordable at $2,199 and is perfect for anyone who is focused on getting a good workout and doesn't need all the extra bells and whistles. That said, while the Integrated LED Console is more basic it still allows you to easily track your stats and the Performance 50 does also include the patented HRC Cruise Control feature.
We were particularly impressed with both the ES900 Upright and ES700 Recumbent, which offer a choice of either the Emerge or T9 Touchscreen console so you have some flexibility in cost. Both are fully adjustable and have a max user weight of 350 lb. so they can comfortably accommodate every member of the family. 
If you have more room in your budget then it would be well worth considering the top of the line ES900 Recumbent Bike. Not only does it come with the TRUE Fitness T9 Console, which allows for Gym Trakr and Zwift app integration as well as the HRC Cruise Control, it is also self-generating so you can position it anywhere without worrying about access to an electrical outlet.  
As commercial grade bikes, these are not budget friendly but if you have the flexibility to spend you will be getting a great workout experience with any model you choose. From the more affordable Performance 50 to the top of the line ES900 Recumbent Bike, they all offer the TRUE Fitness dedication to quality so you can't go wrong.
Indoor Cycling Bike
For a more affordable option, the TRUE Fitness Indoor Cycling Bike is a great choice. It doesn't have all the features of the upright and recumbent bikes, but it still offers a great low-impact cardio workout, with a smooth Belt Direct Drive System and an easy to use resistance control knob.
It fully adjusts to accommodate any size user and even includes an easily accessible emergency safety stop, so you can feel secure. At just $1,399 it can fit easily into most budgets without skimping on the quality of your workout.

How Do TRUE Bikes Compare to the Competition?
When it comes to high end bikes, TRUE goes head to head with brands such as Life Fitness, Precor and Matrix.
All of these popular brands have their pros and cons, and you could make an argument for all of them.
Life Fitness is the innovator when it comes to exercise bikes, and they have the most extensive offerings of all of them. The company offers a number of recumbents, uprights, and indoor cycling bikes, ranging in price from $1,700 all the way up to $4,000.
The quality is right up there with TRUE, so it's definitely worth comparing models to see which one most appeals to you. They have a lot more indoor cycling choices, as opposed to the one that TRUE offers.
Precor is another brand to consider, but their bikes are even more expensive that TRUE and Life Fitness. They have a few series of recumbents and uprights, but no cycling bikes at the moment. If your budget is more open, you can consider them as well.
Lastly you have Matrix, the newest commercial player in the residential market. They are very similar to TRUE in that they have one indoor cycling bike and a handful of uprights and recumbents. Prices are in line with TRUE and warranties are also very strong. Matrix is known for their console choices, which allow you to go basic or high end depending on your budget.
So all of these brands are going to be your best choices when it comes to high end, top quality construction. We recommend you choose the type of bike you want: upright, recumbent or indoor cycling, and compare the specs and prices side by side to see which one is the best choice for you.
A Commitment To Innovation
With so many makes and models on the market today, it can be easy to get overwhelmed when you're shopping for an exercise bike, but TRUE Fitness has put their years of experience into developing bikes that stand out from the pack.
TRUE Fitness does more than just provide a commercial quality experience for your home gym, they also go out of their way to keep the needs of their customers in mind and it shows. These models combine the latest technological advances such as their patented HRC Cruise Control with safety features that allow users of any size, age or physical capability to get the same quality workout. At the same time, they also offer some of the best customer support that we've found anywhere.
You can read our in-depth reviews below to find out more about each of the TRUE Fitness models, including specs, buying tips, prices and more.  That way you can make an informed decision and you'll be sure to make the best choice for your home gym.

TRUE Bike Model Reviews
Performance 50 Recumbent Bike
ES700 Recumbent Bike
TRUE Fitness Indoor Cycling Bike
---