Our Echelon Bike Review - Better Than Peloton?
If you're like most people these days, you're looking for an effective way to get in a good workout without the hassle and expense of a gym membership.  For many people, the answer is investing in an indoor cycling bike.  Fortunately, there are many brands on the market, offering a range of features and prices. 
When it comes to higher end bikes, while Peloton has been leading the pack, the latest entrant into the race is Echelon, whose bikes offer high end quality at a more affordable price. 
If you're considering getting an exercise bike for your home, then by all means read our review to find out exactly what Echelon has to offer and if it's the right choice for you.

What is the Echelon Bike All About?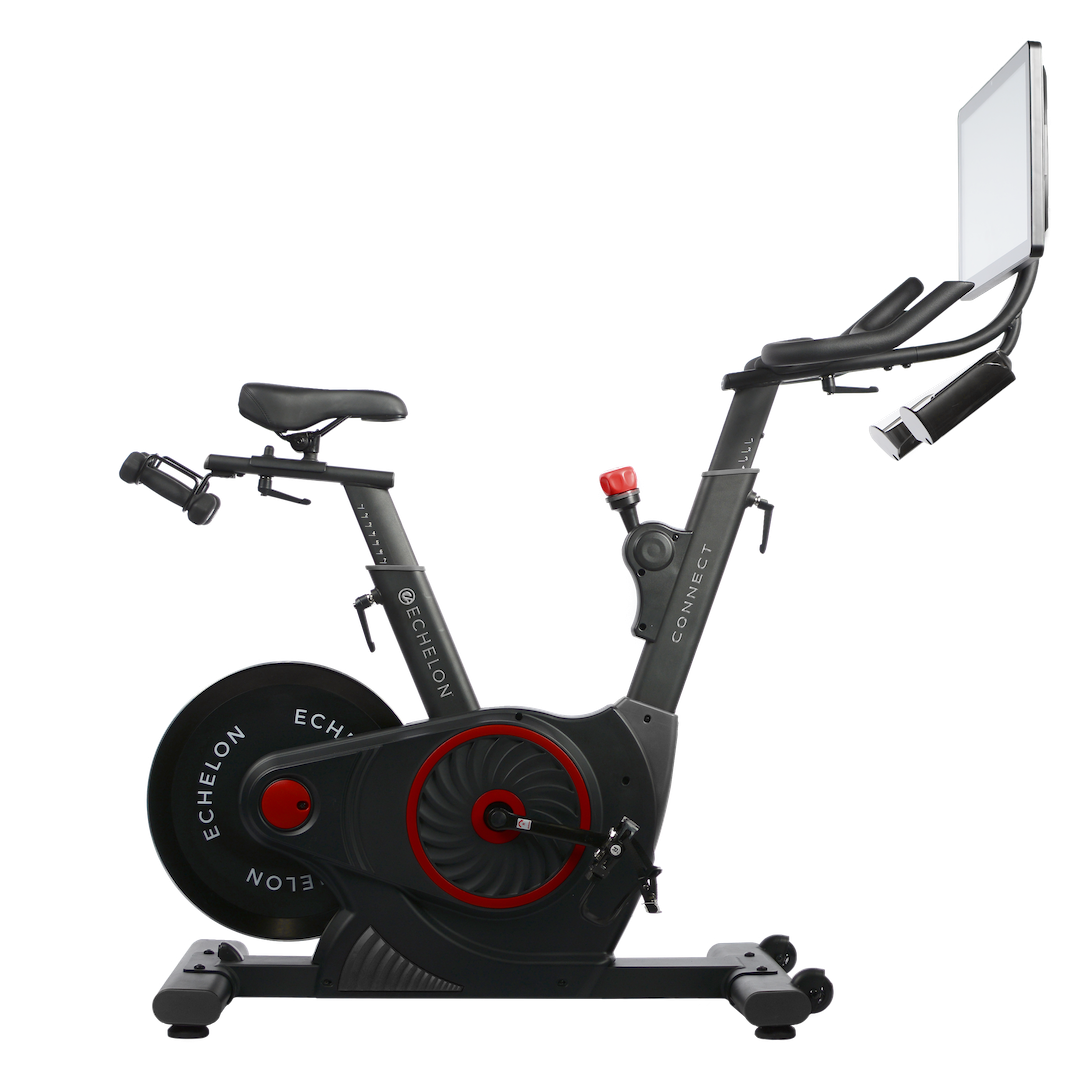 As stated above, Echelon brings you the best of both worlds: all of the features of a high-end bike with a more affordable price tag. 
There are currently a handful of Echelon Smart Connect bikes, the EX-1 LE, EX-3, EX-5, EX-5s and the all new EX-7s.  Each model has the same basic features like adjustable ergonomic handlebars, seat mounted dumbbell holders, Bluetooth compatibility and built in wheels for easy portability. 
As you move up in the lineup, there are certain specific features that can enhance your workout experience.  Here's exactly what you can expect from each model:

EX-1 LE
This is the basic model, that comes in either red, blue or matte gray and features an ergonomic hand brake, Bluetooth connection, 180 degree adjustable console, seat mounted dumbbell holders, 32 levels of magnetic resistance, SPD compatibility with fully adjustable toe cages and wheels that allow you to move the bike easily. 
It's the perfect choice for beginners as it's easy to use but it can also be enjoyed by more advanced riders.  It doesn't feature a built-in screen but the Bluetooth connection allows you to use your own tablet with it to take advantage of the available workout programs or stream anything else you like during your workout.
EX-3
Take your workout up a notch with the EX-3 Max Smart Connect Bike.  This model has all of the features of the EX-1 plus a few added extras, including the ability to stream live spin and workout classes on the Echelon app. 
You can also access a huge library of pre-recorded workouts or take a scenic ride in many locations around the world.  It's a great way to add some fun to your exercise routine and many users enjoy the ability to participate in one of the many classes to give them the extra push they need to stay motivated. 
The EX-3 also adds some other unique features including a competition seat, indexing resistance adjustment with resistance knob, a handheld rack on the seat side, lever style adjustment, lightweight triangular tubing, and an enhanced motor for precise magnetic resistance.
EX-5 and EX5-s

These relatively new models from Echelon are packed with an exciting array of features, making them a viable, and more affordable, alternative to Peloton bikes.  Added to these models are a bottle holder and towel rack and adjustable aero handlebars, but the real advance is in their technological capabilities.
The EX-5 features a table mount that flips 180 degrees so that you can use any smart device to stream workouts or take a scenic ride. 
The EX-5s includes a spacious 22" HD screen that flips 180 degrees.  With the built in screen you have full compatibility that allows you to take a guided class through the Echelon app or use one of the individualized workouts or just take a scenic ride.
You also get new kick guards and back and front power ports.
EX-7s
The newest bike in the series is built with more performance, power, comfort and quality. It is very similar to the EX-5s except it can accommodate a heavier 325 lb. max weight, is more durable and has a higher level of adjustability.
How Does The Echelon App Work?

Much like similar apps on other interactive exercise bikes, the Echelon app is quick and easy to use.  Once you set it up on either your own smart device or the built-in 22" screen on the EX5s, you can then choose from a wide range of classes, from quick 20 minute introductory sessions to 30 minute or one hour live classes with an instructor to keep you motivated. 
You can also track your stats such as speed, output and cadence, so you can see how you stack up to other class members, which can also help with motivation. 
While there are live classes scheduled through the day you can also opt for an on demand session targeted to your own skill level.  Your app subscription also includes access to Echelon's FitPass, which streams a variety of live non-bike classes such as yoga, stretching and strength.
Or if you want something a little less high energy, you can opt for one of the many scenic rides situated in beautiful locations around the world.

Echelon Bike Pros & Cons
Since any indoor cycling bike is going to be a significant investment, you need to consider all of the pros and cons before you decide which model to buy.  It's important to understand both, as your ultimate choice will depend on how a specific model fits within your budget, your home and your lifestyle. 
As with any purchase of this kind, there is a lot to consider with Echelon Smart Connect bikes.
Pros
Affordable – One of the biggest selling points for all of the Echelon models is their price.  The suggested retail price of the Echelon bikes ranges from $999 to $2,199 but if you shop wisely you can often find deals that will allow you to get a bike for as little as $850. 
(Note that MYX Fitness bikes are also more affordable than Peloton.)
Obviously, the price will depend on the number of features included, making the  EX-5s and EX-7s the most expensive models, but still significantly more affordable than Peloton bikes. 
Of course, in order to get the most out of your bike you'll also need to subscribe to the Echelon app, which is an added expense.  A 12 month subscription costs $399 or you can opt for a 24 month subscription at $599.  If you prefer to pay for the app on a month-to-month basis, prices range from $12.99 to $34.99.
Easy To Use – Unlike more complicated bikes, Echelon models are built to be used by anyone, from beginners to seasoned cyclists, so that the whole family can get a great workout.
Workout Sessions and Live Rides – Whether you use the built-in screen on the EX5s or just opt to use your own smart device, you have a whole range of guided workout sessions and live scenic rides at your fingertips.
Great Looking – It may not be the first thing you consider when buying a bike, but looks can be important.  Most likely you'll be tucking your bike in a corner of the living room or family room and the last thing you want is a big, ugly piece of exercise machinery taking over the room.  Fortunately, Echelon takes that into consideration and their sleek design makes them a great addition to any décor.
Cons

Tablet Required on Some Models – Unless you buy the EX-5s or EX-7s, which come with a built-in screen, you'll need to use your own tablet or other smart device in order to stream workouts and scenic rides on the Echelon app.  If you don't have a device, you can sometimes find a deal where Echelon includes a free iPad or tablet with your purchase, so keep an eye open for those.
Commitment Also Required! – Let's face it; the hardest part of any exercise program is sticking with it.  That's particularly important when you invest in an Echelon bike.  You'll want to get the most for your money and that means putting in the necessary work to get the results you want.
Echelon vs. Peloton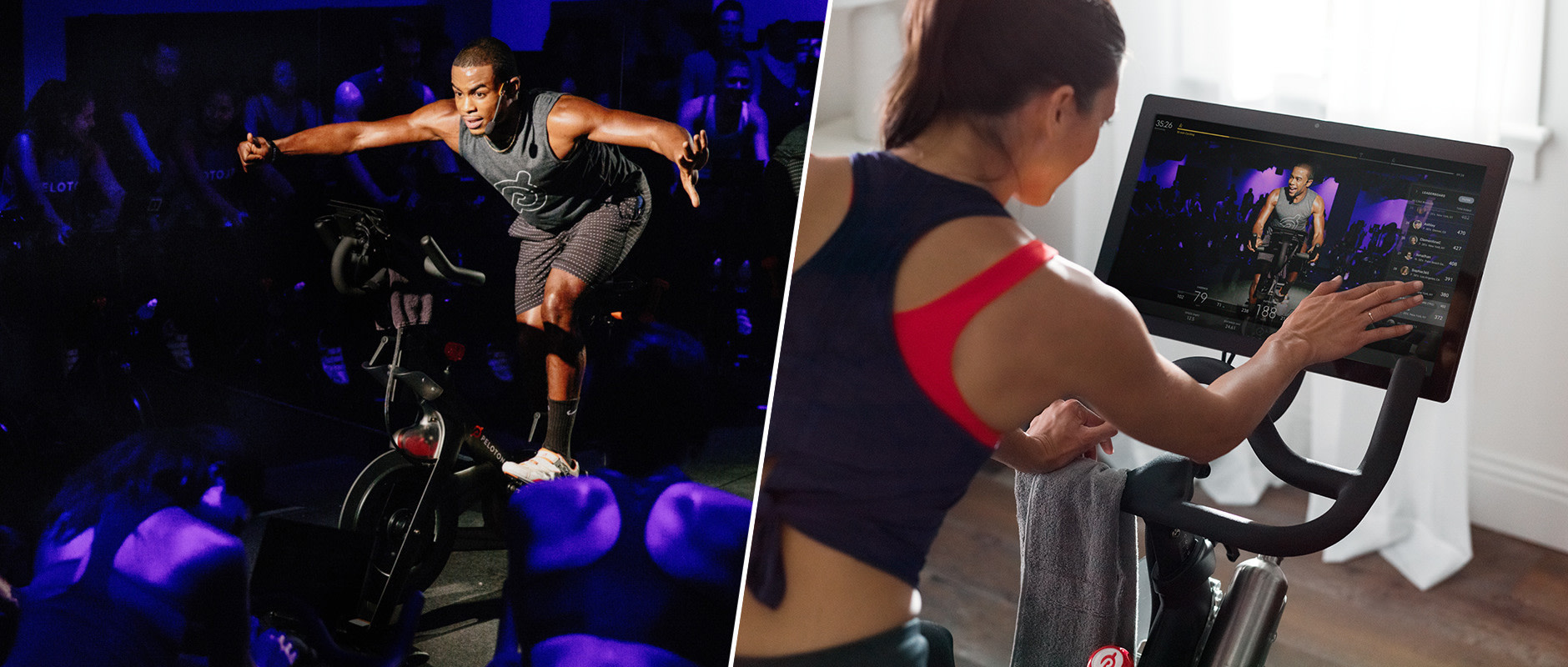 With so much buzz around Peloton, the natural question most people ask is how do Echelon bikes measure up in comparison.
The big selling point for Peloton bikes is their built in 24/7/365 live and preprogrammed classes led by real instructors and filmed in one of the brand's Manhattan fitness studios.
In comparison, the Echelon app also includes live and pre-programmed workouts as well as scenic rides and the ability to stream them on your own device cuts the cost considerably. When compared side-by-side, Echelon bikes can be as much as half the price of Peloton.
Of course, price is only part of the picture.  There are other differences between the two, in terms of features.  Most notably, all Echelon models include both SPD and toe cage pedal options, allowing you to use either cycling shoes or regular sneakers for your workouts. 
In contrast, the Peloton comes with clip compatible pedals only, which require you to buy their own branded shoes. 
Both bikes are quiet and operate smoothly but the Peloton tends to have more substance to it, allowing you to dig in and do simulated sprints.  At the same time, that substance makes it heavier to move around your home, unlike the lighter weight Echelon with its built-in wheels.  

If you're interested in the Peloton but don't want to shell out the extra money, it's worth noting that the Peloton app is fully compatible with any other indoor bike, including the Echelon models.  That gives you the option to get the more intense Peloton workout experience without paying top dollar.
Note that NordicTrack also offers a competitor in their Commercial Studio Cycles. These can be an affordable alternative to Peloton as well, with their iFit program offered for free for a year with purchase.
Echelon Bikes - The Bottom Line
When it comes to spin bikes, the Echelon offers a full range of features, including Bluetooth capability and an app with a wide selection of live workouts, guided classes and scenic rides, at about half the cost of Peloton. While Peloton certainly has a lot to offer, if cost is a concern then Echelon might be the way to go for you.
It's a great way to get the workout you want in the comfort of your own home, so you can say goodbye to the gym and hello to a fun fitness opportunity for the whole family.


---