The Horizon IC7.9 Indoor Cycle Review - Look out Peloton!
The Horizon IC7.9 is the newest indoor cycle from the popular fitness company, designed to compete head to head with two of the biggest players in the industry: Peloton and NordicTrack.
Our experts take an in-depth look to see how they compare, to help you decide which bike is the right choice for your fitness needs.
Let's get into our review to see what this new cycle is all about...
The Bike
The IC7.9 is ergonomically constructed and built for performance.  It features a modern, sleek design with Horizon's patented blue accents.  
Let's take a look at the relevant specs...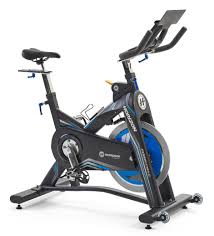 35-lb Flywheel
Magnetic drive system
Precision resistance lever
Multi-position handlebar
Dual sided pedals with toe cages
Racing style road saddle seat
Dimensions: 53"L x 24"W x 48"H
User capacity: 300 pounds
Warranty: Lifetime frame, 1 yr parts, 1 yr labor
The Buzz
UPDATE: As of 2020 the Horizon IC7.9 is no longer available. Check out the similarly priced ProForm Carbon CX, a brand new indoor cycling bike with lots of great features and advanced technology.
-----------------
There has been a lot of buzz around the new Horizon IC7.9 indoor cycle, as it offers enthusiasts a more affordable option for streaming classes at home, one of the biggest trends in the fitness industry these days.
People are looking for a way to get the same workout they get at the health club, without having to leave the home.  Companies like Peloton and NordicTrack have led the way, but those bikes can be a bit out of reach for those on a budget.
Thats where the new IC7.9 comes into the picture.  It offers all of the best features of its competitors at a very affordable price.
The bike itself has a solid feel to it, so even when you are pedaling at top speeds you'll feel secure.
One of the most appealing features, and something added specifically to enhance interactive workouts is the new precision resistance lever, which allows you to quickly and easily make changes from 0-100% resistance.  Neither Peloton nor NordicTrack have this capability.
This takes the guesswork out of resistance adjustment, so you can follow along with the instructor and not have to miss a beat.
Unlike the Peloton and NordicTrack S22i studio cycle, you don't have to pay for a membership to access the on-demand live and streaming classes.  Rather you can use your own fitness or cycling app via your tablet...so you don't have to pay for anything extra.
The IC7.9 also has a media holder for your tablet, something the others don't have and Horizon provides free shipping, another plus.
Granted, many people like the all in one functionality of Peloton and NordicTrack, and don't mind the monthly fees as they are oftentimes lower than those at the health club.  But for everyone else, the IC7.9 might be the prefect solution.
You have a max user weight of 300 lbs, a lifetime warranty on the frame, dual sided pedals with toe clips and accurate cadence feedback.  There's a lot to like here and it's definitely worth a look if you're into streaming classes.
Horizon IC7.9 - Bottom Line
The Horizon IC7.9 looks to be a good addition to the lineup.  Although it doesn't have its own streaming service you have the freedom to use any cycling or fitness app you like with it, so you'll save a lot of money there.
If you've been considering Peloton but not sure you can swing the high price tag, take a look at the IC7.9 and see if it's the right choice for you. There's also a lower priced model, the GR3, that is also a decent choice for you.
Either one of these indoor cycles will be a welcome addition to your home gym.
NO LONGER AVAILABLE: Take a look at the new ProForm Carbon CX as an alternative.