The Schwinn IC3 Indoor Cycling Bike Review - Nice Upgraded Model
The Schwinn IC3 is a new indoor cycling bike from Schwinn, an upgrade of the popular IC2 base model with more features and capabilities.
Still quite affordable at under $500 on sale, it has a heavier flywheel for smoother, quieter operation and a heavier, more durable frame than the IC2.
Let's get into our review to see what this new bike is all about...
Schwinn IC3 - The Bike
The IC3 is is sleek and modern looking, all black with red accents.  It has a nice sized LCD display showing you all of the important workout feedback, plenty of adjustability for a comfortable ride and unlimited resistance levels to make your ride as challenging as you'd like.
Here are some of the most appealing specs...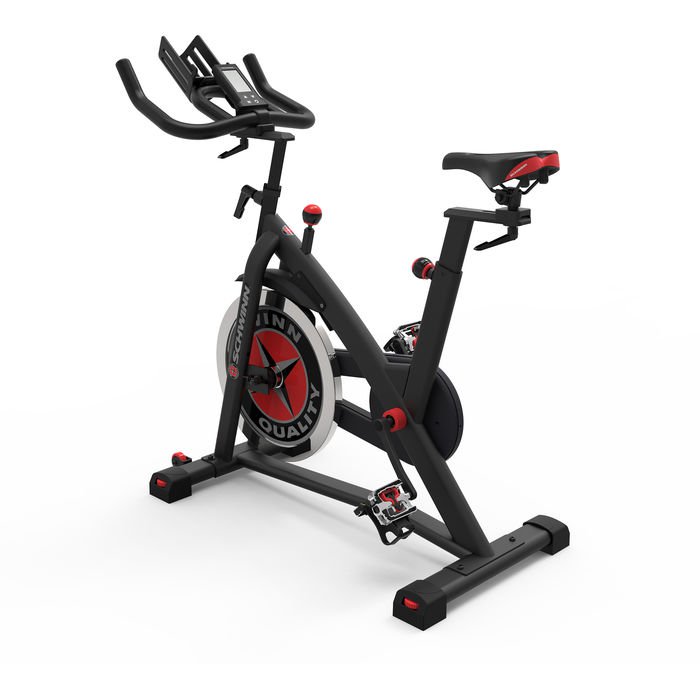 40-pound flywheel
Infinite resistance levels
Multi-position handlebars
Pedal toe cages/SPD clips
300-lb user weight capacity
Wireless heart rate monitoring
Water bottle holder
Dimensions/Wt: 45"L x 23"W x 49"H / 100 pounds
Warranty: 5 years frame, 2 year parts/electronics, 1 year labor

The Buzz
The new Schwinn IC3 is a welcome addition to the lineup, giving users another option when it comes to indoor cycling bikes.
Although the base IC2 has been a good seller for the company, it is very basic and is not really meant for anything more than very light usage.
That's not to say that the IC3 is a commercial-grade bike by any stretch...but it's certainly a step up, and a better option for those that plan on using the indoor exercise bike on a regular basis.
(If you're interested in a club quality version check out Schwinn's AC Performance Plus Carbon Blue bike)
Let's take a look at the best features....
The Pros
You get an impressive 40 lb. flywheel, which is 9 lbs. heavier than the one on the IC2.  A heavier flywheel means the bike will operate more smoothly, which makes for a more enjoyable workout.
The Schwinn IC3 has a larger display as well, which makes it easier to see all of your workout information: it adds heart rate beats per minute on top of the time, RPM, speed, distance and calorie feedback.
Another upgrade is the ability to choose which pedals you want to use...either the toe cages or SPD clips...the base model doesn't give you this capability.
You can measure your heart rate wirelessly, which tends to be more accurate than grip pulse.  You do need to purchase the chest strap separately, as it's not included with the bike.  
Some of the extras include a water bottle holder, tablet shelf, transport wheels, levelers for stabilization and a ventilated racing seat.
You get a lot of great features with the Schwinn IC3, especially given the very affordable price tag.
So there's a lot of good....anything bad we uncovered during our reviews?
The Cons
There's not a lot of bad when it comes to the new IC3.  It's hard to really complain when you're paying under $500 for an indoor exercise bike with a lot of capability.
Still, if we had to point out something it would be the warranty, which is one of the low points of most of the Schwinn exercise bikes and other cardio equipment that they offer.
Although the coverage is more comprehensive than on the base IC2, you only get 5 years on the frame, 2 years on parts and 1 year on labor.
It would be nice to get a stronger warranty, as many other manufacturers give you more coverage than this, even on similarly priced exercise bikes.
That's really our only gripe, and hopefully something the company addresses at some point in the near future. They do offer a 3 year and 5 year Schwinn Protection Plan, so those would definitely service you well...just for peace of mind.
IC3 Exercise Bike Review - Bottom Line
If you're looking for an indoor cycling bike that's a step up from your typical entry level model, the Schwinn IC3 is definitely worth considering.
It gives you a heavy flywheel, smooth motion, unlimited resistance levels and wireless heart rate monitoring, as well as plenty of adjustability for the perfect fit, and pedal options.
The only real drawback is the warranty, which could definitely be stronger.  But other than that this is a decent choice for your home gym.
If you want to save a little money, look at the base IC2 as well...and if you want something more high-grade, the AC Performance model is quite popular.