Diamondback Exercise Bikes Review – Experience the Difference
Drawing on the decades of cycling expertise, Diamondback exercise bikes have come out with a completely redesigned line of uprights, recumbents, and indoor cycles for the new year.
If you're in the market for an affordable, yet well designed bike for your home gym, these are definitely worth looking at.
Each model comes with smooth magnetic resistance, advanced ergonomics and plenty of workout programs to choose from.
Let's get into our review and take a closer look at this well-regarded brand...
About the Company
Diamondback Fitness, headquartered in Seattle, Wash., is part of the same corporation that makes Raleigh Bicycles, one of the oldest bicycle companies in the world.
The Fitness Division was launched in 1991 to provide indoor training - a logical step from the maker of the legendary Diamondback Bicycle Division.
The Current Diamondback Exercise Bike Lineup
Beginner and avid cyclists alike will find something for everyone in the expanded categories of Diamondback exercise bikes.
Reviews on the new models show that customers have been won over by the great features and the value-orientation of the brand.
The company's 2021 lineup is very straightforward. There are two recumbents, one upright and two indoor cycles and one studio cycle.  As such it is easier to decide which model to choose.
Recumbent Exercise Bikes
The all-new recumbent exercise bikes feature frictionless eddy current braking systems for smooth and quiet performance, a full-size seat with backrest for therapeutic advantages for older adults as well as people with joint and arthritis problems, adjustability in the seat and handlebar angle, target heart rate programs, and more.
The base 910Sr gives you a whopping 32 built in workout programs, 32 resistance levels, wireless heart rate capability, automatic fan and premium cranks, water bottle holder and leveling feet. It has a high 325 lb. max user weight capacity as well.
The up-level 1260Sr includes Bluetooth connectivity so you can sync it to your favorite workout apps. It also includes a smart trainer that automatically adjusts resistance levels so you don't have to make any manual changes.

Compare Popular Diamondback Exercise Bikes on Sale Now!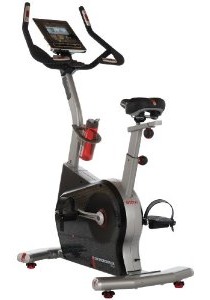 Upright Exercise Bikes

Diamondback offers just one upright bike currently...the former 510Ub and 910Ub are no longer available.
The 1260Ub is exactly the same as the new 1260Rb, except that it is an upright bike rather than a recumbent one. It shares the same features and capabilities.
Indoor Cycles

The heavy-duty Diamondback Fitness Indoor Cycles are ideal for road riders needing a rigorous indoor machine for bad weather training or anyone wanting a cycling class trainer for home use.
These exercise bikes feature heavy flywheels and exclusive computer-controlled-resistance that emulates riding on hills in its pre-programmed riding courses, as well as automatic resistance changes and wireless heart rate control.
The base 510Ic has a 32 lb. flywheel, dual transport wheels, heavy duty steel frame, 16 resistance levels, touch rate heart monitoring and a phone holder.
The up-level 910Ic has a 40 lb. flywheel, mono transport wheel, 32 resistance levels, wireless heart rate on top of all of the features that the 510Ic offers.
Studio Cycle
The newest bike in the company's lineup is the 1260Sc, a commercial grade studio cycle built for more serious use.  
This one has more durable construction, upgraded components and ANT + connectivity for workout tracking and app syncing, something missing on the Indoor Cycles.
The new Assault Airbike improves upon the age-old fan bike with tons of customizations, programmability and sleek LCD display showing all of the relevant workout metrics.
Older Models
Here are some older Diamondback exercise bikes that you might come across that have been recently discontinued...
The base 510Sr recumbent comes with 20 workout programs, 16 resistance levels, manual fan, heart rate touch sensors, adjustable seat, speakers, USB charger and magazine holder.  It has a 300 lb. max weight capacity.
The base 510Ub upright has the same exact specs as the recumbent 510Sr, except there are 5 user profiles plus one for a guest as opposed to 2 on the Sr model.
The up-level 910Ub upright has the same exact specs as the recumbent 910Sr, only with the same 5 + a guest user profiles that the 510Ub has.
Experience the Diamondback Difference
In addition to the launch of the new Indoor Cycles, the high-end 1260SR and 1260UB have new entertainment features including a docking station, built-in speakers, cooling fans, and fold-out magazine rack to add to the pleasurable experience of riding to get in shape.
Diamondback exercise bikes are among the best recumbent and upright bikes in their price range, surprisingly affordable given the legendary name, and a delight to own.
Diamondback Exercise Bike Model Reviews
Indoor Cycles
Diamondback 510Ic Indoor Cycle - A great indoor trainer with lots of built in workouts and heart rate programs, plus high adjustability for a perfect fit for all users.
Diamondback 910Ic Indoor Cycle - A step up model with more workouts, resistance levels and a heavier flywheel.
Studio Cycle
Diamondback 1260Sc - A club quality indoor cycle for heavier use with workout tracking, app integration and wearable syncing via ANT + connectivity.
Recumbent Series
Diamondback 910Sr Recumbent - A very good machine at a reasonable price. Frictionless eddy current brake system delivers smooth, quiet pedaling performance.
Diamondback 1260Sr Recumbent - Similar to the 1260Ub, this one was introduced for 2020 with new features, Bluetooth technology and lots of workout programs.

Upright Series
Diamondback 1260Ub Upright - First introduced in 2020 this is an upgraded upright bike that replaced the previous 910Ub with new technology, Bluetooth and plenty of built in workouts.
Older Models
Diamondback 510Sr Recumbent - This bike delivers: quiet operation, solid frame, easy mount and dismount, smooth pedaling action, comfortable seat, simple console, and great entertainment options.
Diamondback 510Ub Upright - This upright packs a lot of value. Eddy current brake system, belt drive, and 14-lb flywheel offer a smooth, quiet ride throughout the 16 increment levels of resistance.
Diamondback 910Ub Upright - Good reviews by equipment pros and home users. One of the top bikes at priced at $799; rated Good Buy for quality and features.
---