The Matrix R30 is an Excellent Recumbent Exercise Bike
The R30 Recumbent is one of four new exercise bikes from Matrix, a leading commercial brand that is making their way into the residential market, going head to head with Life Fitness and Precor.  By the looks of it, they will be very successful with their mix of durability and comfort, and early reviews are quite favorable.
The Bike
The Matrix R30 featured the exclusive Dual Form frame and Comfort Arc seat, along with three different console choices so you can decide exactly what features you want.
Let's take a look at some of the most important specs...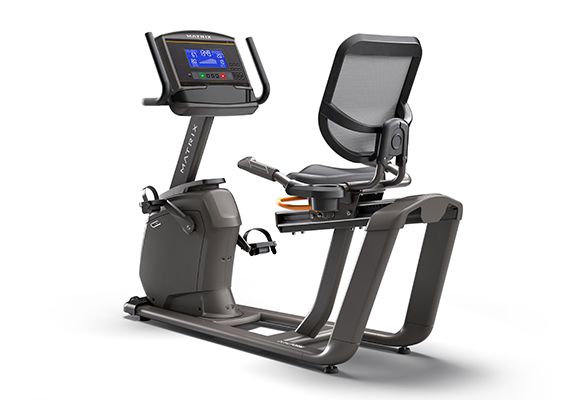 ECB Magnetic Resistance
20 resistance levels
11+ workout programs
Dual Form Frame
XR, XER, XIR console choices
ComfortArc Seat
Sprint 8 Technology
Maximum user weight: 350 lbs.
Dimensions: 63"L x 25.6"W x 48.4"H
Warranty: Lifetime frame, 5 year parts, 2 year labor
Check out the R30 recumbent on sale now at the Matrix store!
The Buzz

Reviews of Matrix exercise bikes have always been quite positive, and critics are expecting big things from their residential models as well.  The good thing is it seems they are putting all of the same high quality components into these home machines, so you can get that same health club workout in the privacy of your home gym.
The R30 has a very modern look to it, with a strong and durable Dual Form Frame that gives added stability as well as a low step through height.  Many recumbents feature a single-form frame, which tends not to be as stable.
Some other great features include the Comfort Arc seat, which is ergonomically designed to provide the ideal balance and support while you ride.  Even after long workouts, you won't feel that typical discomfort that you often find.
You get 20 different resistance levels, as you do on the very similar U30 upright model, self balancing pedals, ECB magnetic brakes, seat adjustment capability and heart rate monitoring grips.
One of the coolest features of all new Matrix home exercise equipment the the fact that you can choose from three different consoles, depending on what appeals to you most.
The consoles determine what additional features you get, so you need to consider what you are looking for and what your budget is.
The base XR Simple console features an 8.5" LCD display and gives you ViaFit workout tracking, Passport capability (HD videos on your home TV screen), Sprint 8 Interval Training, and 6 workout programs.
The mid-range XER Intuitive console features a 10" touch screen display and adds onboard HD destination videos, entertainment/fitness apps, speakers, Bluetooth and 14 workout programs.
The top-end XIR Ultimate console has all of the features of the XER but with a 16" HD touch screen instead of a 10" one.
Each console upgrade cost around $500 and is well worth it for the added workouts and capabilities.
Overall the Matrix R30 recumbent is a great choice if you are looking for a high-end exercise bike for your home.  It is durable, beautifully designed and has plenty of features to keep you motivated and headed towards your fitness goals.
Our Take on the Matrix R30
So far we have found the Matrix exercise bikes to be great, and they are very similar to the ones you find at the top health clubs.  You can even choose one of the touch screens as well to have the full gym experience.
At around $2,900 on sale for the base model, it's definitely a pricey investment, but one that is well worth it if you want an exercise bike that will give you the ideal workout for years with very little maintenance required.
Also take a look at the up-level R50 model, which gives you 30 resistance levels, an upgraded resistance system and a better parts warranty.
Either one of the new Matrix recumbents is a good choice that you will be more than happy with.  If you can afford the better consoles, they will make your workouts that much more enjoyable.
Get more info and special sale prices on this exercise bike here!