Exerpeutic Folding Magnetic Upright - Decent and Cheap
The Exerpeutic Folding Magnetic Upright With Pulse is one of the least expensive exercise bikes on the market today, and actually gets pretty decent reviews in spite of the fact that it's under $200.  It's certainly not the best piece of cardio equipment you'll ever own, but if you're just looking to get into shape and burn some calories, this might be a good option for you.
The Bike
The Magnetic Upright is foldable and easy stows away after a workout.  It's surprisingly solid, supporting a max weight of 300 lbs.
Let's take a look at some of the specs...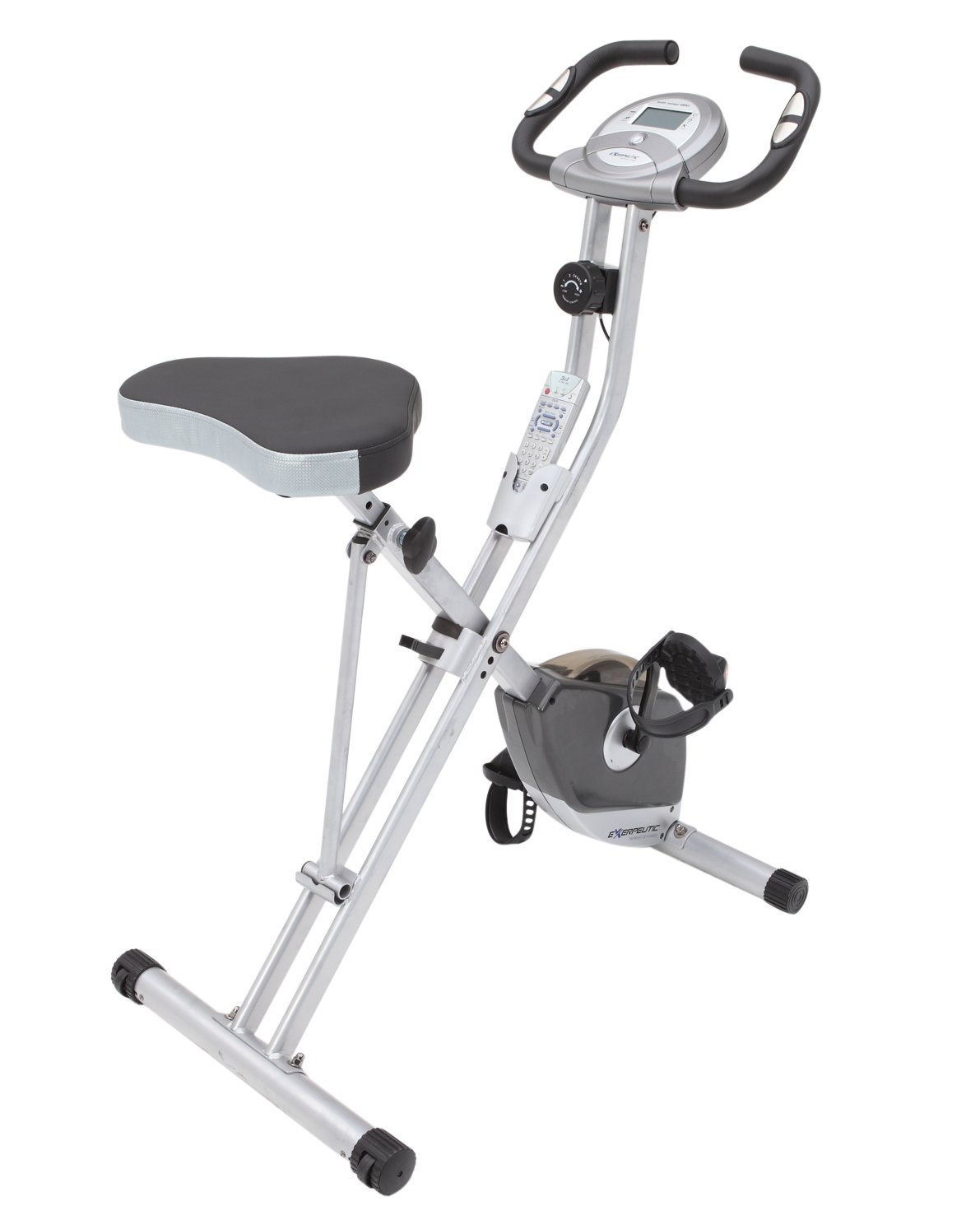 Large, fully adjustable seat
8 levels adjustable resistance
Large LCD display
Compact design
Heart rate monitoring
Adjustable foot straps
Magnetic resistance
User capacity: 300 lbs
Check out the popular Exerpeutic bike on sale now at Amazon!
The Buzz
As we mentioned, the Exerpeutic Folding Magnetic bike gets very good reviews for such an inexpensive bike.  Last we checked, it was selling for just under $125 on Amazon, which is a real bargain for anything that will help you burn calories and not break after a few uses.
Exerpeutic has carved out a nice niche for themselves in the entry level exercise market, somehow able to produce a decent product in spite of the fact that all of their machines are extremely inexpensive.
The Folding Magnetic has a large, adjustable cushioned seat that is ideal for all users.  You can easily change the resistance between 8 different settings via the control knob located below the handlebars.
The Round LCD display is simple but functional, measuring your calories, heart rate, distance, speed and time.  Heart rate grips are located on the handlebars.
The bike is very compact and will easily fit into any home gym.  It's also foldable which makes it even more space friendly.  There's a remote control holder under the resistance knob, which is a nice added touch.
You get a nice workout on this one, and it's ideal for more casual users that just want to exercise regularly, burn some extra calories and lose a little weight.
Any negatives?  Sure.  For those looking for something they can bang way on for many hours a day, for years on end, this might not be the best choice.  It's certainly not the most durable bike you'll find, but you really can't expect that at this price level.
Also, there is a 1 year warranty on the Exerpeutic Folding Magnetic Upright Bike With Pulse, so if you do go this route we would opt for the extended coverage, with will only cost you a few dollars more and will give you peace of mind should anything happen with the bike.
Our Take on the Exerpeutic Magnetic
Exerpeutic exercise bikes are entry level, so we only recommend them for more casual users.  Most people have been very happy with the Magnetic bike, and it has received mostly positive reviews, so it's not a bad choice if your budget is under $200.
As we mentioned, definitely go for the extended warranty on this one to protect yourself beyond the included one year.
The Exerpeutic Magnetic is a decent upright, and as long as you don't overuse it you should be quite happy with your purchase.