Lifespan Exercise Bike Reviews – Quality Models Priced Right
The great look and quality of LifeSpan exercise bikes make them one of the best-sellers in the industry.
Rather than just build bikes, the company focuses on helping users achieve their health and fitness goals, whether it is to manage weight, reduce joint pain, or just limber up.
Coupled with the fact that they are competitively priced, it's easy to see why the company and its products are so very popular.
Let's get into our reviews to see what this company is all about...
About the Company
Founded in 1994 in Park City, Utah, PCE Health and Fitness quickly established itself as an award-winner and innovator while designing quality exercise equipment for other companies.
In 2001, the company began to import the Lifespan line from Taiwan to target a niche market of home consumers over the age of 55.
Their research and development focuses on making cardio equipment that is easy to use (that is, no "learning curve" on console buttons or with programming) and adding other subtle enhancements to make the exercise experience more pleasurable.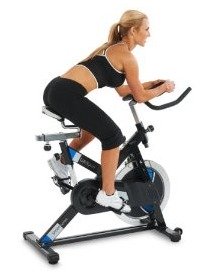 To better serve their intended market, Lifespan partnered with Fitness Forever which introduced the award winning Fitness Forever exercise program for seniors.
The knowledge and insight gained helps PCE develop medically based exercise programming and incorporates necessary features into the bikes for optimum performance for the user.
The Current LifeSpan Exercise Bike Lineup
The company's laser-like concentration and execution on just four models is a pitch-perfect goal: make just a few Lifespan exercise bikes with quality components and solid workmanship, then price them right. Here's a brief look at the bikes:
Compare Popular LifeSpan Bikes on Sale at the company store!
The Lifespan C5i Upright is a solid performer as the only traditional upright design among Lifespan exercise bikes. It offers an 18-lb flywheel, 34 built in workout programs, tilting console, Bluetooth workout tracking,  16 resistance levels and an impressive 400 lb. maximum user weight capacity. With the look and feel of a commercial model, this fully adjustable stationary bike is a winner.
The Lifespan R5i Recumbent is already on several Best Buy lists. It has a step-through design, easy to reach and read console, oversized seat and backrest, smooth drive system for frictionless and silent pedaling, in addition to all of the features of the C5i upright model.
You then have the two commercial grade models, the C7000i Upright and the R7000i Recumbent, which are simply club quality versions of the C5i and R5i if you want something more like what you might find at the gym.  They are roughly $800 more expensive than the other models.
There's also a relatively new Cycle Boxer, an upright exercise bike with a punch pad...something we've never seen before. You punch the different pads as you pedal, which is a very unique and challenging workout.
LifeSpan offers an under desk bike as well called the C3-DT3. Rather than the typical under desk pedal machine, this one has an adjustable seat as well. So you can work and really have a full riding experience...although thankfully you stay in one place!
You may come across some of the recently discontinued models on Amazon or other online retailer.  Here is a little information on these as well...
The entry-level Lifespan S2 Indoor Cycling Bike ($499-Recently Discontinued) is a little small for men, but that's part of Lifespan's attention to serving specific customers – smaller adults and women will find this spin bike a perfect fit – at an affordable price.
The more advanced Lifespan S4 Indoor Cycle ($799-Recently Discontinued) has a heavy flywheel, leather friction control knob, interchangeable seat and pedals, adjustable handlebars – all the features you expect on a bike costing over $1000, yet this gorgeous spin bike is value priced. 
Are the LifeSpan Bikes Worth Buying?
You might say Lifespan has a few things going for them: they produce well-packaged exercise bikes using quality components, with fine engineering and beautiful aesthetic designs. They pay close attention to customer support and feedback, and keep their edge by focusing on serving a portion of the market well rather than doing a broad approach of hit and miss with many models.
For that reason we feel that LifeSpan exercise bikes are definitely worth looking into, as they offer a lot of value and some great features.
Let's look at some of the best features of these bikes:
1.  You generate the power.  The LifeSpan bikes do not have to be plugged in, meaning you aren't restricted as far as where you can place the bike in your workout area.  This is also energy saving, and in turn money saving as you don't have to pay for electricity.
2. More workouts than most bikes. With 34 built in workouts, including cardio, sports, healthy living and weight loss, the LifeSpan exercise bikes have more programs than most of their competitors. This gives you plenty of variety to help you reach your fitness goals quicker.
3. High max user weight. One of the interesting facts we discovered during our reviews is the fact that all of the LifeSpan bikes, even the non-commercial ones, have a 400 lb. maximum weight capacity.  Most of their competitor's bikes top out at 350 lbs., and that's usually only the priciest uprights and recumbents in the lineup.
4. Rock solid warranties. Another impressive feature is the strong warranty that comes with every bike.  You get lifetime coverage on the frame, 5 years on parts and 2 years on labor.  That's about as good as it gets for any exercise bike, and exceeds what's offered by Schwinn, Nautilus, NordicTrack and their other competitors.
5. Bluetooth workout tracking. Keeping tabs on your workouts is all the rage these days, and LifeSpan makes it easy with their Active Trac app, which integrates with both Apple Health and Google Fit.  You can then transfer all of the date to your favorite fitness apps, and unlike with some companies, all of that is included for free.
So those are 5 strong reasons to go with a LifeSpan exercise bike for your home gym.  These bikes really do have it all.  The only thing missing, which is not a deal breaker in our opinion, is a touch screen console.  
You can find one on some of their competitor's bikes, such as NordicTrack and ProForm, but they're not completely necessary and don't really take away from the experience or the workout.
You can read some of our LifeSpan exercise bike reviews below to find out more about each model.  This should help you make a more informed buying decision.
LifeSpan Exercise Bike Model Reviews
Lifespan C3i Upright - An excellent choice for just $699. Quality components in the flywheel and brake system, a full array of challenging programs.

Lifespan R3i Recumbent - Offers a smooth ride with fluid transitions between the frictionless resistance levels. Reviews on this model are outstanding, rated 4 and 5 stars out of 5!
---
See all models at special discount prices at LifeSpan!