Keiser Spin Bikes Lead The Pack in Quality & Design

Keiser spin bikes have quickly become some of the most popular indoor cycling trainers on the market today, built strong and durable to handle the most intense of workouts.  If your budget allows, these are about as good as it gets and worth the hefty price tag.

About the Bikes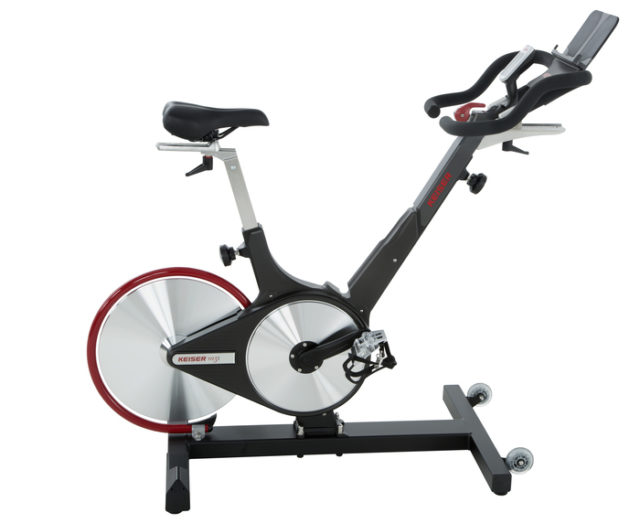 The Keiser Corporation was started 40 years ago by Dennis and Randy Keiser, and has since become one of the leading brands in high end training equipment.  An impressive 80% of all professional sports teams train on the company's equipment, as do Navy Seals, medical experts and major gyms across the globe.
To date over 300,000 Keiser spin bikes have been sold, and the company continues to conduct groundbreaking research to perfect their designs.
Although they make ellipticals, total body trainers and strength equipment, they are most well known for their indoor bikes.  They are extremely quiet and smooth, with one of the most natural, stable and comfortable motions you'll find.
Check out all of the latest and most popular models on sale here
The current lineup consists of the flagship M3, the M3i and the M3iX.

The Keiser M3 Indoor Bike features a V-shaped frame and handlebar, stainless steel hardware, a rear flywheel, the new advanced M Series Bike Pedal, magnetic resistance belt drive system, robust adjustment knobs and a 4-way adjustable seat.  It costs around $1795 on sale.
The Keiser M3i Indoor Bike adds Bluetooth technology to the mix and a water bottle holder. It cost around $1995 on sale.
The Keiser M3iX Indoor Bike is one of the newer spin bikes which adds patented pivoting X-Bars with 7 levels of resistance for an upper body workout.  It costs around $2,550 on sale.

Leading the Indoor Cycling Industry
Keiser spin bikes get great reviews from experts and users, as both appreciate not only the build of these bikes but the smooth natural feel provided by the magnetic resistance.
Part of the reason why they are able to perfect the indoor cycle is because they don't make any other types of bikes.  They don't make uprights or recumbents...just indoor cycling bikes.  This laser like focus is why their spin bikes are unrivaled in the industry.
The only negative we see with the M series equipment is that the warranty is not great.  It's only three years all inclusive, excluding labor and 6 months for wearable parts.  
It should be much better when you are paying $2000 for an exercise bike.  But Life Fitness is similar so I guess that's just standard these days for high-end spin bikes.
You can always add additional coverage for a few hundred dollars, which is probably a good idea just for peace of mind.
All in all, the Keiser spin bikes are fantastic...from the base M3 to the M3i with Bluetooth to the new M3iX with the X-Bars for core training, they are great choices if you have the money for it.
What's the Bottom Line?
The Keiser M series is as good is it gets, and has been on our Best Spin Bikes list for several years now.  It's a winner, and this is due to the fact that, as we mentioned, these are the only type of bikes that they make.
If you're in the market for a high-end, rock solid inddor cycler that will last forever and deliver a high energy, effective workout, this is the ideal piece of cardio equipment for your home.
Get more info and special sale pricing on these bikes here!

---