HealthRider Exercise Bikes – A Rebrand of Other ICON Fitness Machines

There is nothing special to endorse about HealthRider exercise bikes since they are the same models sold under different company names.
About the Company
In the early 90s, the original Healthrider was introduced as a total body revolution to the fitness industry. The "Rider" has bike pedals and stationary handlebars that move in a back and forth rowing motion. This well-built machine has received good reviews for nearly 20 years.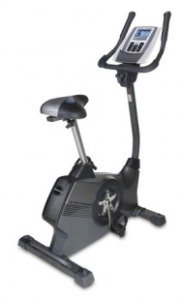 The company was purchased by ICON Fitness, one of the world's largest fitness equipment manufacturers, in August of 1996. In addition to HealthRider, ICON also owns the brands Epic, Weslo, ProForm, Reebok, Free Motion, Image, and NordicTrack. ICON uses the same products among several of the brands, which is why you will find so many similarities.
Along with the riders and stationary bikes, HealthRider now has a line of treadmills, ellipticals, and fitness accessories such as heart rate monitors and equipment floor mats.

About the Bikes
UPDATE:  We no longer recommend HealthRider bikes as the quality has declined significantly in the past few years.  As an alternative we recommend you look at NordicTrack exercise bikes.
They are manufactured by the same company, ICON Fitness, but offer much more value and better features at the same price.
There are plenty of models to choose from and you can definitely find something that appeals to you.
With just two HealthRider exercise bikes available, the company offers a limited line of just one upright and one recumbent. You won't find many reviews on them since they aren't widely available.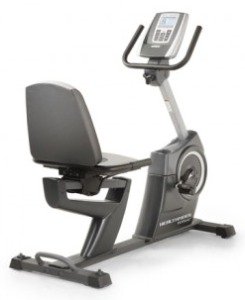 The HealthRider 35x is a budget upright that sells for just under $330, and the current recumbent model is the 35xr, which sells for $400.

The exercise bikes feature digital resistance control, silent magnetic resistance flywheels, handgrip heart rate monitors, adjustable seats, mp3 plug-in ports and speakers, power adapters, and compatibility with iFit Live™. The bikes have short 90-day original warranties.
Why Buy a HealthRider Exercise Bike?
Rather than buy a treadmill, elliptical, or exercise bike from a company best known for the HealthRider, an unrelated fitness equipment product, it makes more sense to buy a bike from a company like NordicTrack or Schwinn, which has been making street bikes for over 100 years and indoor stationary bikes for about 40 years.
Since HealthRider exercise bikes are a rebrand of other ICON Fitness bikes and they are all made at the same factory, we suggest you look at Schwinns or even budget models made by Horizon. Those will give you better overall value.
Model Reviews
HealthRider H30x Upright -If this upright looks similar to a NordicTrack or a ProForm model, it's because they are all made by Icon Fitness and are simply relabeled for each brand.
HealthRider H35xr Recumbent - While the H35xr may get some passable reviews, it is not the good deal that it seems. You will be tempted to buy the extended warranty which will add to the price significantly.
Get the most popular exercise bikes on sale now here!

---