Schwinn 270 Recumbent Bike
The Schwinn 270 Recumbent Bike Improves Upon the 230 Model
The Schwinn 270 recumbent exercise bike is an improved version of the 230, another popular model in the series, with more resistance levels and additional workouts to choose from, among other advanced capabilities.
At just around $650 on sale, the 270 is a solid choice in the price category with plenty of features to give you a good cardio workout and keep you motivated to reach your fitness goals.
The Bike
The Schwinn 270 recumbent bike features a DualTrack double LCD window console showing distance, completion percentage, intensity, heart rate zone, course profile, pulse and speed.
It has a sleek, modern design: all black with touches of silver and red accents, and relatively easy to put together.
Let's take a look at the important specs...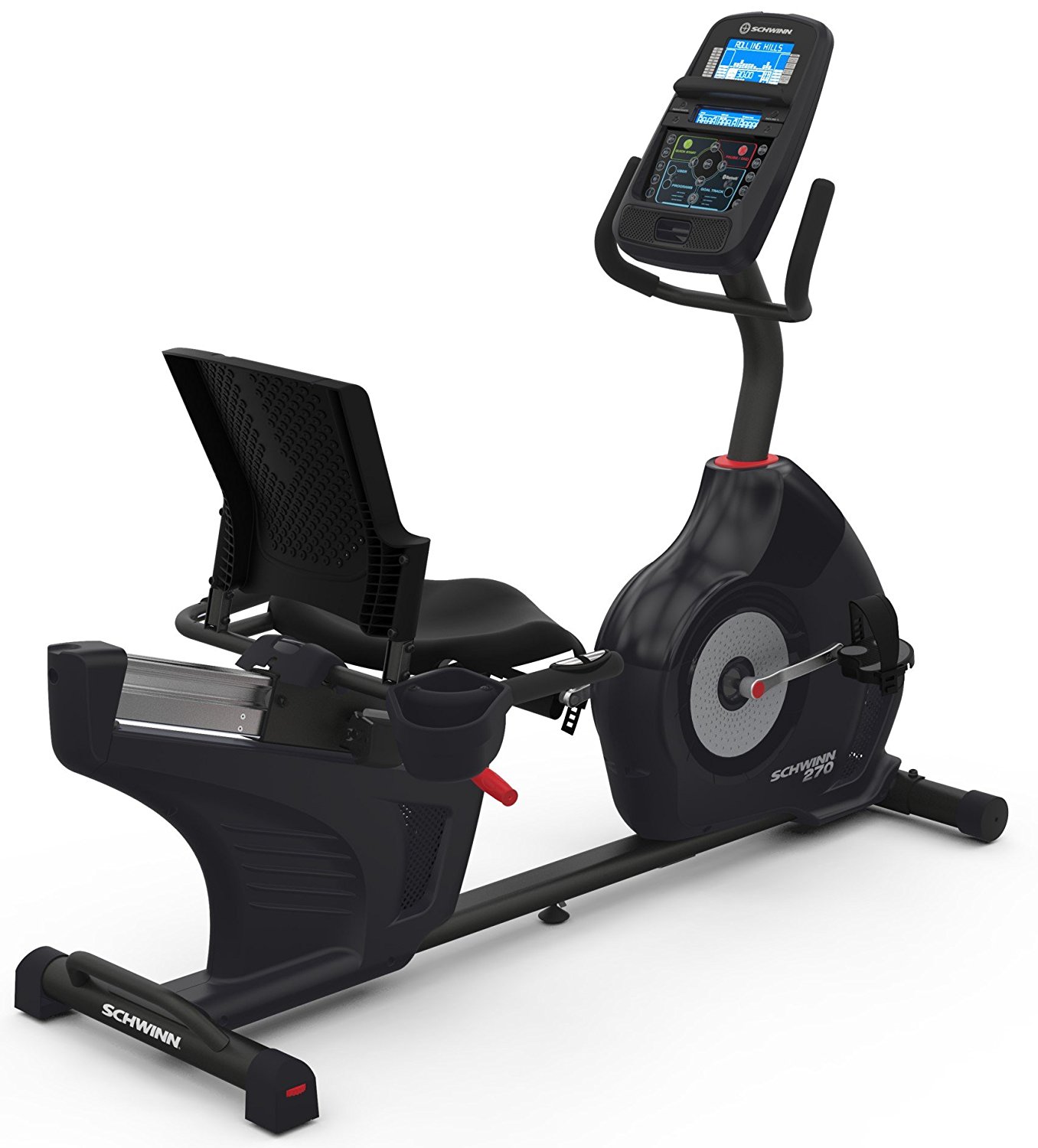 ECB (Eddy Current Brake) System
25 Resistance Levels
29 Workout Programs
Grip heart rate sensors/Wireless capability
Padded, adjustable seat
Oversized pedals with straps
Bluetooth workout tracking
Max user weight – 300 lbs
Rear Stabilizers, Frame Levelers, Transport wheels
Dimensions/Weight: 64"L x 27"W x 50"H / 87 lbs
Warranty: 10 yrs frame, 2 yrs mechanical, 1 yr electrical, 90 days labor
The Buzz
UPDATE: The Schwinn 270 has been replaced by the all new Schwinn 290! Check it out on sale here!
--------------------
According to our latest Schwinn 270 recumbent bike review,  it has become quite popular, along with its little sister the 230, as it offers a lot of good features without the hefty price tag that you often find.  There's a lot of extras packed in that you just don't find on many other machines, especially at this price level.
The latest model is called the MY17, to distinguish it from the previous version.
The Pros
There are 29 different workout programs to choose from as well as 4 different user profiles.  That means the entire family can use the machine and have their own unique settings.
As far as the workouts, you get 12 profile, 8 heart rate, 2 fitness tests, 2 custom and one quick start, among others.  That gives you plenty to choose from, and you can change it up from one workout to the next to challenge yourself and work the body in different ways.
You have 25 different levels of resistance (up from 20 on the 230 model) as well as the ability to monitor your heart rate wirelessly, something the 230 does not offer.  
One of the newer features on the Schwinn 270 recumbent that users have been very pleased with is the Bluetooth tracking capability.  This allows you to keep track of all of your workouts, and sync your results with your favorite fitness app.  
They have also added RideSocial, which presents 8 HD maps that you can ride along with by yourself or at the same time as your friends.  You can view these maps on your tablet or phone as you ride, making for a more enjoyable experience.
The seat is more comfortable than previous models, nicely padded with a vented back and fully adjustable.  Some user reviews state that the seat is not to their liking but that's always going to be the case with some people.  You can always replace the seat with something that fits your needs.
Some other great features on the Schwinn 270 include a three-speed workout fan, media tray, sound system, transport wheels and levelers to ensure that the bike is balanced.
All of the features on the 270 are the same as you'll find on the upright 170 model, so if you prefer an upright bike over a recumbent, take a look at that bike as well.
The Cons
So there's a lot to like here for sure, but any negatives you ask?  The only thing we don't love about the Schwinn 270, and the rest of the lineup as well for that matter, is the warranty.
You only get 10 years on the frame and 90 days labor, which isn't so great.  We would opt for additional coverage if possible just to cover yourself in case you encounter any problems down the road.
Besides the not so great warranty, however, everything else is good here...you get a lot of workouts and comfort features, as well as the new tracking capability and RideSocial...all of which it's very hard to find in today's market.
How Does the 270 Compare to the Other Schwinn Exercise Bikes?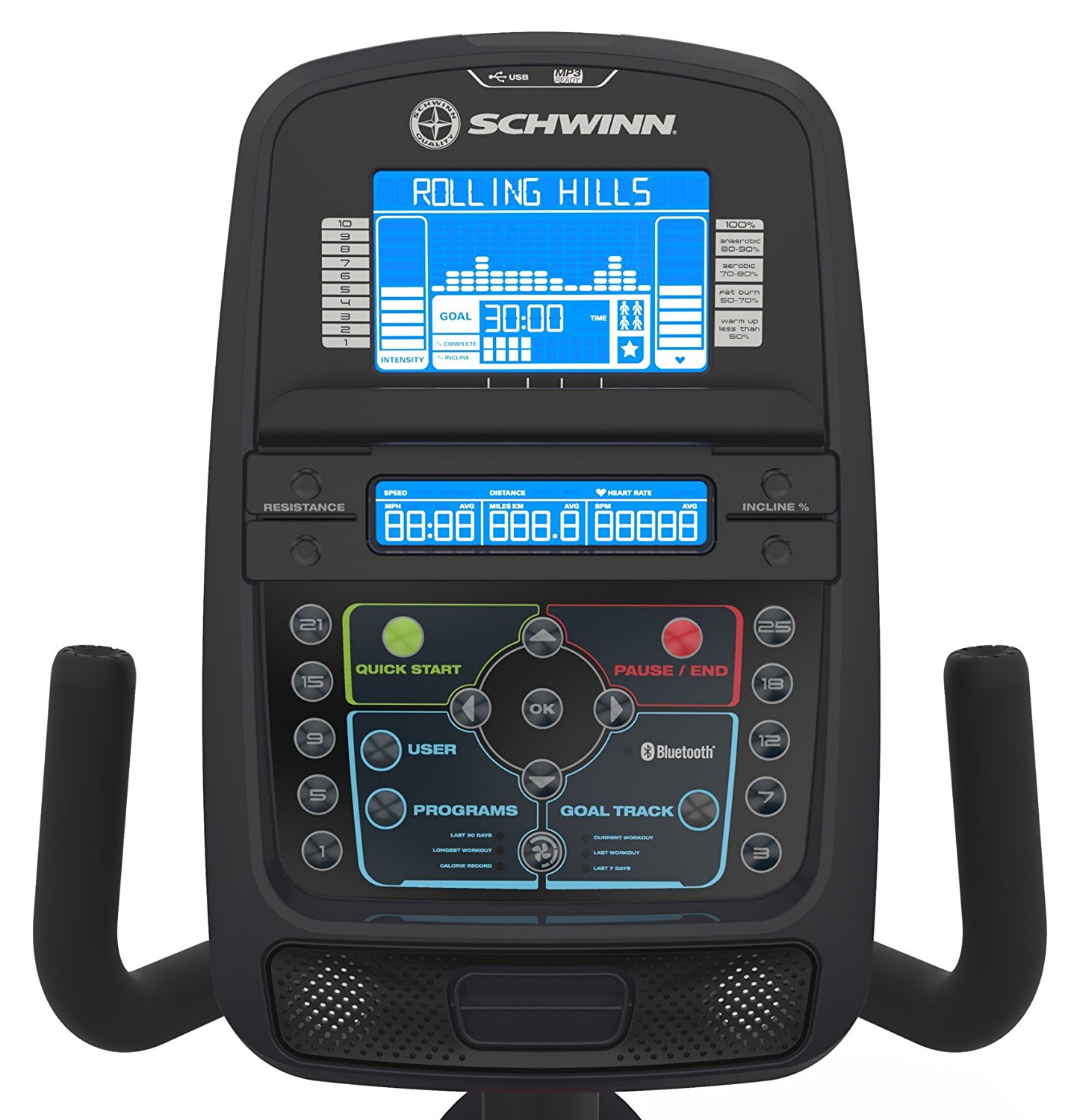 As you may have gathered from our Schwinn 270 review, there are only 2 models remaining in the recumbent series.  The 230 and the 270.  Both are priced under $500 when they're on sale, so choosing between the two should not really be a budget issue.
Let's take a look at the 270 vs the 230 to see how they compare...
Schwinn 230
The base 230 model give you 20 resistance levels, 22 workout programs, grip heart rate, DualTrack LCD display, 2 user profiles, water bottle holder, fan, sound system and a 300 lb. max weight capacity.
Schwinn 270
The up-level 270 recumbent bike gives you 25 resistance levels, 29 workout programs, grip as well as wireless heart rate, enhanced DualTrack Blue LCD display, 4 user profiles and Bluetooth workout tracking through the Schwinn Trainer 2 and Ride Social apps.  
Otherwise, the two bikes are the same: max weight, warranty, USB port, fan, music, transport wheels.
So the Schwinn 270 will give you a lot more for your money, including more resistance levels, workouts and profiles, as well as more accurate heart rate readings and the ability to track your workouts over time.
As such, this one is definitely our preferred Schwinn recumbent.
Our Take on the Schwinn 270 Exercise Bike
The Schwinn 270 recumbent is a great exercise bike, especially given the relatively low price tag.
It's only $150-$200 more than its little sister, the 230 recumbent, so in our opinion it's well worth the extra money for the additional resistance levels, workout programs and user profiles that you get, not to mention wireless heart rate and workout tracking that you don't get on the base model.
You'll typically find the best prices either at Walmart or Amazon, with the latter usually offering the better deal.
Schwinn bikes remain quite popular due to their mix of function and design, and the 270 is no exception.  
It might not be as durable and long-lasting as some of the more expensive exercise bikes on the market, but it will definitely help you achieve your fitness goals...without breaking the bank.
Get more info, specs and special sale pricing on this bike here!