The Matrix U50 is the Ultimate Home Exercise Bike
If you want the very best money can buy, the new Matrix U50 is about as good as it gets, bringing a gym-quality machine right into your home for everyday use.  With three console choices and loads of features and cutting edge technology, this one is a great option if budget allows.
The Bike
The U50 upright is well built and durable, designed with the same technologies as you find in the company's well regarded commercial bikes.  It has a step-through frame for easy access, and the motion is smooth and natural.
Let's take a look at some of the features...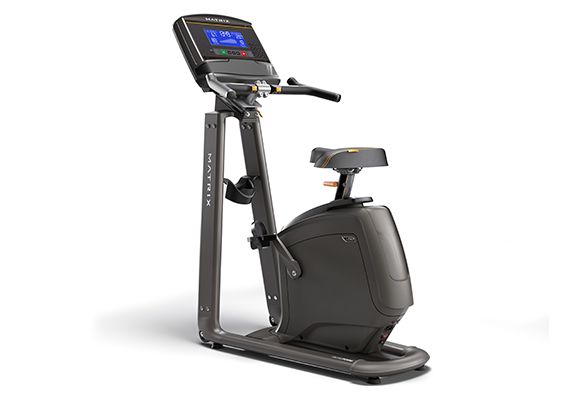 Exact Force Resistance
30 resistance levels
11+ workout programs
Dual Form Frame
XR, XER, XIR console choices
ComfortArc Seat
Sprint 8 Technology
Maximum user weight: 350 lbs.
Dimensions: 43"L x 25.2"W x 47.2"H
Warranty: Lifetime frame, 7 year parts, 2 year labor
Check out the new U50 upright on sale at the Matrix store!
The Buzz
So far the reviews on the new residential Matrix bikes, as well as their treadmills and ellipticals, have been quite favorable.  The company hopes to make a successful leap into the high-end home market, and if they are anywhere near as successful as they have been in health clubs, universities and rehabilitation centers, they'll be in very good shape.
The U50 is a solid bike...it looks like something you'd work out on in the gym.  It is almost identical to its little sister, the U30 upright model, except it has a more advanced resistance system (Exact Force) and 30 resistance levels vs. only 20 on the U30.  Other than that, there isn't much difference between the two models.
What sets the Matrix bikes apart from other brands is the technology built into every machine.  Years of research have enabled them to ensure the most natural and comfortable feel on all of their machines.
On top of the smooth Exact Force resistance, you have the Dual Form design for added stability, Comfort Arc seat for, as you may have guessed, comfort and support, and one of the lowest step-through heights in the industry for easy access.
Beyond the ride itself, you have ViaFit technology to track all of your workout results, Passport to watch HD videos on your TV and Sprint 8 interval training for maximum results in less time, a favorite feature in many user reviews.
The Matrix U50 upright comes with a choice of three different consoles, the XR, XER and XIR.  The XR is the base display, with around 20 workout metrics shown and 11 workout programs on an 8.5" LCD display.
The upgraded XER is a 10" touch screen with internet access and apps, as well as Virtual Active to watch the HD videos right on the bike itself, Bluetooth technology and speakers.  The top of the line XIR has all of the features of the XIR, but it is a 16" HD touch screen.
No matter what console you choose, these are serious bikes, built to last for years and years with little no maintenance required.  You get a nice amount of workouts, smooth natural ride, console options and a solid warranty.  There's really nothing missing here.
Our Take on the Matrix U50
Ever since the introduction of residential Matrix exercise bikes in 2016, we've been big fans.  We have been using not only their bikes but also their treadmills and ellipticals in the gym for years, and have always been impressed by the quality and feel.
If you are in the market for a higher end machine, this one is definitely worth a look.  It's around $1799 on sale as of this writing with the XR display (add $500 for each step up), so it's not cheap, but you definitely get what you pay for.
If you want to save a little bit take a look at the U30 model, which has eddy current brakes rather than Exact Force, but for the home user you really won't notice the difference.
Click here to see more specs and special sale pricing!