AFG Exercise Bikes – A Quality Brand from Johnson

Offering an impressive line-up, AFG exercise bikes rate an "A" for being attractive, affordable, and fully adjustable for your workout needs.
About the Company
Headquartered in Cottage Grove, Wisconsin, Advanced Fitness Group, or AFG, is owned by Johnson Health Tech, which also makes the Horizon, Livestrong, Vision, and Matrix brands. Johnson, the largest fitness equipment manufacturer in Asia, has production facilities in Shanghai and in Taiwan. Together, these plants are capable of producing 250,000 bikes annually for the Johnson brands.
Launching a New Bike Line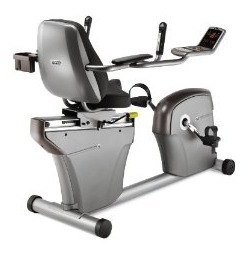 In August of 2007, the company launched a new line of stationary AFG exercise bikes that included two hybrids and three recumbent bikes.
Todd Boerboom, brand manager for AFG, stated the company's goals were to build a better bike for their target market: "We weren't interested in building a 'me-too' product or some other contraption filled with bells-and-whistles that aren't meaningful to the consumer. AFG is in the business of developing smart products that allow people to get the most from their workouts."
Compare AFG Exercise Bikes at Amazon
The hybrids take the best aspects of an upright and a recumbent and bring them together in a comfortable design. The frame features a step-through design for easy on-and-off access, offers a full seat with back lumbar support, and a higher rider position and angle at 45 degrees which many people have found to be the most ergonomic for a comfortable pedaling position. The hybrids range in price from $1,199 to $1,499 with 18-pound and 23-pound flywheels.
AFG recumbent exercise bikes range in price from $799 to $1,199. The top-of-the-line model features an innovative design that has the console mounted to the right side of the bike, leaving more room for getting on and off the bike as well as having an unobstructed view of a TV across the room. Like the hybrids, the recumbents have hefty flywheels for smooth pedaling performance, fully adjustable seats, wireless heart rate monitoring, and the patented ProFILE performance tracking system.
The current lineup consists of the 2.0 AR, the 4.0 AR, the AFG 7.3 AR, the AFG 7.3 AU and the AFG 7.3 AIC Indoor Cycle.
A Quality Brand from Johnson
When you read exercise bike reviews on AFG models, you will discover that the company has many satisfied customers who are willing to share their thoughts and experiences.
We feel you will be happy with an AFG bike, but if you find the products to be a bit pricey, we suggest you look for a similar design in Horizon exercise bikes, a brand also made by Johnson. Horizon bikes seem to be the lower priced version of AFG exercise bikes.
The quality of both is excellent, but depending on your exercise needs and other factors such as personal weight, you might be able to save several hundred dollars and go with a less expensive Horizon over an AFG.
AFG Exercise Bike Model Reviews
AFG 2.0 AR Recumbent - FreeSPIN™ technology eliminates potential jarring stops that could put stress on the legs and joints.
AFG 4.0 AR Recumbent - Reliable performance in a near health-club quality ride. Side-console design is a break from traditional exercise bike styles.
---