NordicTrack Exercise Bikes – Short Warranties, Low Prices

Making exercise fun again, NordicTrack exercise bikes offer good value at very affordable prices. You can exercise at home regardless of the weather outside so get ready to lose some weight.
About the Company
NordicTrack is a subsidiary of ICON Health & Fitness, the world's largest manufacturer of fitness equipment. The company's products, including exercise bikes, treadmills, and ellipticals, are sold in retail sporting goods stores as well as online. Customer service has been a sore spot with NordicTrack for a few years but that is about the only drawback to buying their products.
Introducing the Bikes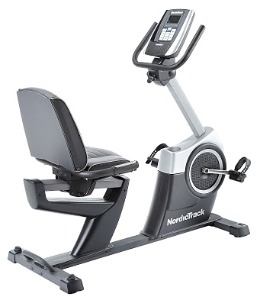 The company produces only a few exercise bikes: two recumbents, two uprights, and an indoor spinning bike. Prices range from $299 to $599, which reflects the true value. (In other words, disregard the MSRP of $999 to $1299.) If you order directly from NordicTrack's website, you will get Free Shipping when you pay in full on your credit card.
The Upright Series in the NordicTrack bikes include entertainment features such as iFIT® Card compatibility, interactive fitness games, InterPlay™ music port, and an AutoBreeze™ Fan.
Check out the entire lineup on sale now at the NordicTrack Store!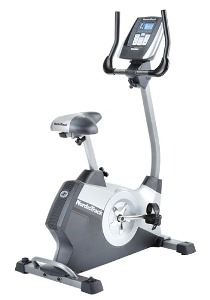 The Recumbent Series bikes offer features such as iFIT Live® compatibility, dozens of personal trainer workouts, Polar™ heart rate programs, step-through design, large user weight capacity up to 350 pounds, personal fan, and multiple-point adjustments on the seat and console.
One standout model is the indoor spinning bike, the GX2 Sport bike for $349. It is a mechanical bike with a chain drive, no console (so no electronics), and a manual knob to dial up resistance. It is one of the Best Buys for bikes under $400.
Short Warranties, Low Prices
NordicTrack exercise bikes share many of the same frames and models as ProForm models, since both are made by ICON Fitness at the same manufacturing plant. If you can't find a good price on a NordicTrack model you want, chances are the exact same bike will be available from ProForm with a different paint job and decals for about $50 less. The warranties from ICON Fitness are not great – about 5 years on the frame and 90 days parts and labor – but that's one of the trade-offs when you get these low prices.
Reviews
NordicTrack GX2.0 Upright - While the GX2.0 is an attractive model, for $299 you should check best-selling models from Schwinn and Stamina that get far better reviews from consumers.
NordicTrack GX2 Sport Bike - One of the best deals you can get for an entry-level spinning-type indoor cycle – if you can find it marked down 25% off its sale price of $399.
NordicTrack GX2.5 Upright - A low budget machine that tries to be more than it is by adding lots of entertaining features like iFit compatibility and speakers for your iPod.
NordicTrack GX4.0 Recumbent - Rates above average in reviews; a good bike for the price and does the job if you are a casual exerciser.
Nordic Track GX4.2 Pro Upright - The GX4.2 Pro gives you lots of options to stay motivated; 28 programs and 22 resistance levels combine in different ways for virtually limitless workouts.
NordicTrack GX5.0 Recumbent - A recumbent model with a step-through easy mount design. New for 2012, this model is a winner for users who need an affordable and reliable way to exercise.
NordicTrack GX5.5 Sport Indoor Cycle - Features include a performance monitor, inertia enhanced flywheel, and a wireless heart rate monitor so you can train in the right zone for best results.
NordicTrack Commercial VR - An excellent design from NordicTrack, probably the best indoor bike they make; surpassed user expectations.
---
Return to the Best Exercise Bikes Home Page