The Precor UBK 835 Experience Series Upright Exercise Bike Offers a Phenomenal Ride
The Precor UBK 835 Experience Series upright exercise bike is a self-powered commercial model that will help you stay motivated by providing an enjoyable and comfortable daily workout.
The Bike
The large LED console displays speed, time elapsed, time remaining, percent remaining, distance, resistance, RPM, calories burned, and more. It also includes Precor's SmartRate® system which instantly displays your heart rate when age and weight are entered. SmartRate helps you stay in a fat burn, cardio, or peak target zone for a more efficient workout.
The Precor UBK 835 Experience Series bike features: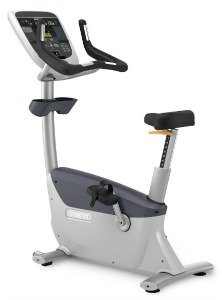 25 Resistance Levels
13 Programs
Ergonomic Seat
Adjustable Handlebars w/3 riding positions
Dual-side pedals
Touch HR sensors + Polar® compatible
Eddy current resistance system
Dimensions/Weight: 48"L x 21"W x 62"H / 160 lbs
Warranty: lifetime frame & welds, 10 years parts, 1-year labor
Check out the UBK 835 Bike On Sale at the Precor Store!

The Buzz
The Precor UBK 835 Experience Series upright exercise bike features a 3-phase generator or eddy current resistance system that requires no plug-in cord to power the console.  It is very similar to its recumbent sister model, the RBK 835.
The two-stage belt drive system gives the user a more consistent resistance feel than single-stage drive systems. And with a whisper quiet operation, you can place this machine anywhere in the house and not bother other family members during your workout.
The handlebar offers three riding positions: road, cruising, and upright. The ergonomic seat has a comfort groove and tapers to the nose for better riding comfort, plus has 14 adjustment positions. If you prefer to switch out the saddle, the universal seat post will fit any standard seat.
Compare Prices on the UBK 835 Exercise Bike at Amazon
The 3-piece crank set rarely needs tightening and the 170mm crank arm accepts any standard road or mountain bike pedal. The dual-side pedals included with the bike are extra-wide to accommodate all foot sizes.
The Knee Over Pedal Spindle (KOPS) Biomechanics on the UBK835 positions your knee directly over the ball of the foot on the pedal spindle for proper horizontal placement. This seat post to crank alignment allows for more efficient pedaling and less stress on the knee joint.
Our Take
The customizable Precor UBK 835 Experience Series upright exercise bike sells for around $3,999 which is pricey for a home bike while other bikes at around $1500 would do just as nicely.
However, the ride offered here is simply phenomenal for those that demand fitness club quality at home. It even comes with the gorgeous Precor console with multiple LED fields – the same console used on the ellipticals.
This model is relatively unchanged from the older UBK815 model, so if you can find that one for around $2,500 – it's also a good buy. If you want only the best for yourself and your family, you can't go wrong with these wonderful Precors.
Show me other Precor Exercise Bikes