Our Peloton Bike Review - Should You Buy One?

The Peloton bike is one of the most popular indoor cycling bikes on the market today, and there's a huge community of people who swear by it...it has garnered a near cult like following, and shows no real signs of slowing down.
But is this the right bike for you?  What do the reviews show?  Here we take a closer look at this cultural phenomenon...
What is the Peloton Bike All About?
In a nutshell, the Peloton bike is an indoor cycling bike just like one you would find at a high-end gym, except instead of having 20 other sweaty riders next to you and a live instructor who can see you slacking off, you can use it in the privacy of your own home on your own schedule.
The USP (unique selling proposition) of this interactive exercise bike is that you have access to actual live classes streamed from a NYC studio, in addition to thousands of pre-recorded ones.  
All of the classes are displayed on a huge touch screen display, so it feels like you are actually in the studio or in the location that you have chosen for one of the outdoor scenic rides.
The bike itself is well built and well designed, with a powder coated carbon steel frame, neodymium rare earth magnetic resistance system, Poly V Belt drive, Sport Series saddle and LOOK Delta compatible aluminum pedals.
There are currently two models to choose from: the original Peloton Bike and the newer, more advanced Peloton Bike +.
The base model gives you a 21.5" HD 1080p touch screen with 2 10-watt speakers, Bluetooth, ANT+ and WiFi connectivity and a 5 meg camera.
The advanced model gives you a 23.8" rotating HD touch screen, high fidelity four-speaker sound system, one touch integration with Apple Gymkit, and Auto-Follow digital resistance that keeps track of your performance targets.
There's plenty of adjustability on both models, especially with the seat and handlebars, so you can find the perfect fit for your ride.

How Do The Classes Work?
Once the bike is all set up and plugged into an outlet, you are ready to start taking classes.  You just need to connect to your WiFi network much the way you do on your phone or tablet.  You then log into your account using the username or email address and password, which should all be provided to you in a welcome email.
Once you're in the system, it's a matter of choosing one of the 14 live daily rides or one of over 4000 pre-recorded rides, depending on what your schedule is like.  There are all kinds of classes to choose from, from beginner to themed to rhythm to more advanced, with something for everyone.
While you ride all of the important information is displayed, including your time remaining, distance, leaderboard, total output, calories burned,  heart rate, cadence, output in watts and resistance level.
So you pick the classes that most appeal to you.  The live classes are very cool, but you don't necessarily need the live classes as there are so many great pre recorded ones to choose from.  Even bikes that only have pre recorded classes, like the Expresso Exercise Bikes, don't have this diverse a library of workouts.
The Peloton bike also comes with some destination rides to change things up a bit, and there are exercises that you can perform off the bike as well to make it more of a cross training experience.
Peloton Bike - The Pros and Cons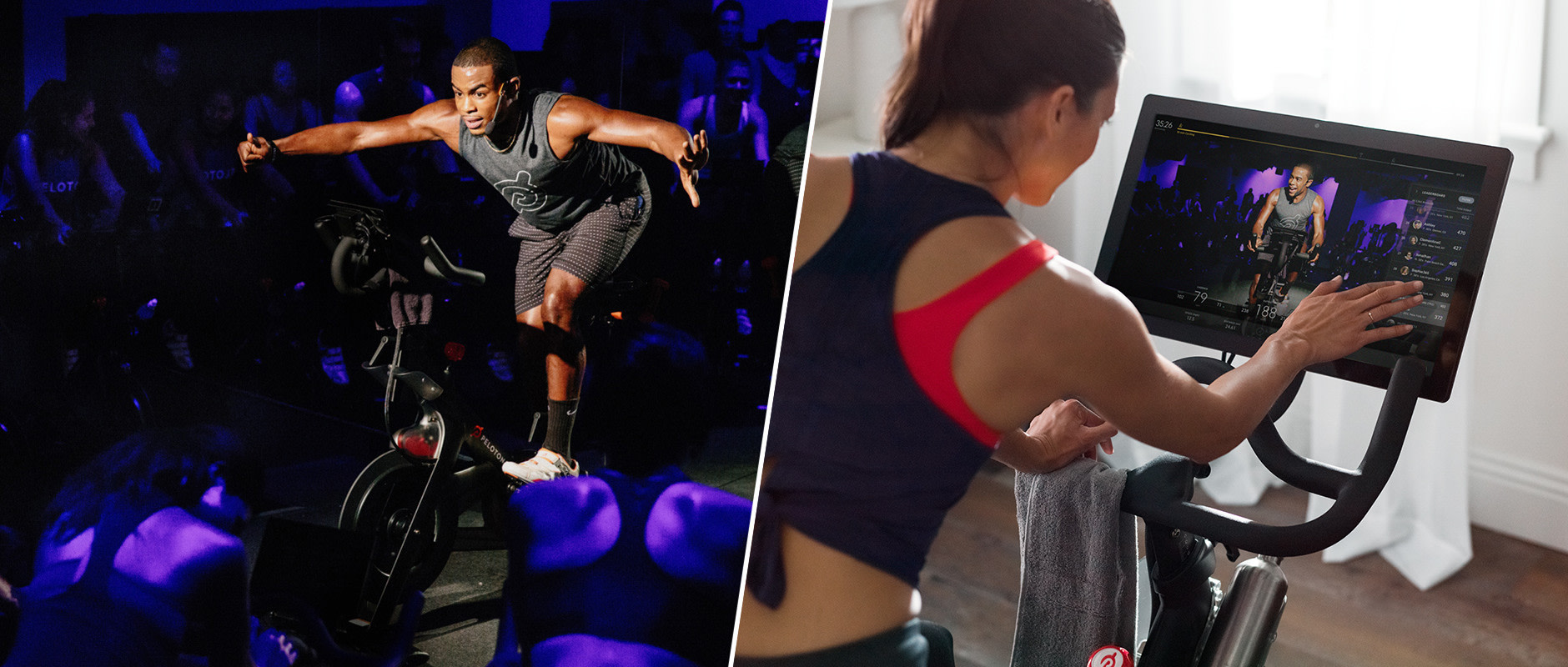 It all sounds great right?  And it definitely is for the most part.  But like with everything else, there's good and bad.  Let's take a look at the pros first, and then we'll dive into the cons...
Peloton Bike - Pros
For starters, the bike itself is great.  It's ergonomically designed and solidly built.  It's very quiet even when you're going all out for an intense workout.  Most of the time there's an instructor barking at you, but if you take one of the scenic rides, you can turn down the volume and experience just how quiet the bike is.
The classes are great. There's nothing like a live class if you're used to that, but there are thousands of on demand classes as well, and there's definitely something for everyone regardless of fitness level.  
There's also a growing list of off bike workout routines, and all of the trainers are high energy with unique personalities.  You'll definitely be able to find one or more that you like.
The Peloton exercise bike community is huge, and you may really enjoy being a part of it, competing against others, sharing your results, etc.  So even though you are in your own home, you're not really "alone" in the sense that there are thousands of other people riding along with you.
The meat and potatoes are there.  If you love studio cycling and you just don't have the time or ability to attend live classes, either in New York City or anywhere else across the country, then the Peloton bike is an absolute winner.
Peloton Bike - Cons

What about the negatives?  Well there are definitely some worth noting if you're considering the Peloton bike for your home.  For starters, the bikes are on the expensive side.
The base model bike itself costs roughly $1,895 to $2,495, plus the price of the package that you choose. As of this writing there's the Bike basics, Essentials, Works and Family packages, so you can choose the one that most appeals to you.
Compare this with the Echelon Bikes and NordicTrack Commercial Studio Cycles and you can see the price difference.
You then have to pay $39 per month for the membership, otherwise you have very limited capability. 
So you're in for around $3,000-$3,500 for the first year, and then $500 per year going forward.  Plus the cost of the extras: cycling shoes, mat, heart rate monitor, etc. That's a pretty big expenditure for most people, and if you're not 100% committed, that's a very expensive coat rack.
If you compare that to the live Peloton classes in New York City, which cost around $30 per session, it's not a bad deal.  If you did three of those a week, you'd be at around $400 per month, or $5,000 per year.
However, if you're not as dedicated, it's not really going to be worth it for you.
We mentioned the limited capability that you have if you don't pay the monthly fee, which means you get just three classes instead of thousands, and you can't track anything or compete against other Peloton bike owners or even your own personal bests.
So you really need to keep up with the monthly payments if you want the full capability of the bike...otherwise you're just stuck with a very expensive, space-consuming bike with limited functionality.
Other drawbacks? If anything happens to the company in the future, you don't have much recourse.  They could go out of business or could change how the functionality works...and there's not much you can do with the bike if that ever happens.
You also can't pause your ride, something that many Peloton bike owners complain about.  Most home exercise equipment has a pause mode so you can hop off, answer a phone or a door, or whatever it is you need to do.  Here you can't do it, even on the prerecorded workouts, as it just keeps going without you.
Sure, you can hop back on and resume your workout, but you lose whatever portion of the workout you were gone for.
What else?  The usual privacy issues that come with data sharing as all of your workout data is recorded.  There are always the issues people have with the seat/handlebar comfort and positioning, lag time, screen issues, etc.  But for the most part people tend to be very happy with the ride and the program.

Peloton Bikes - The Bottom Line
So should you buy a Peloton bike for your home?  The answer is different depending on what your situation is.
If you are a dedicated rider, and you live and die for studio cycling, then by all means buy one for your home, as long as you can afford the initial price and the ongoing membership costs, along with the extras that make for a more enjoyable experience.
If you're not quite sure you'll use the bike often, then it might not make sense to spend that kind of money.  In this case something like a NordicTrack Commercial Studio bike might make more sense, or even something less expensive so you can see if its something you can commit to before upgrading to a Peloton.
There are other Peloton alternatives as well that you may want to consider.  There's the Echelon Smart Connect Bike, the Fly Anywhere Bike, the new Bowflex VeloCore, the Expresso bike and several others.  
There are also regular spinning bikes that can be used with your phone or tablet to replicate the Peloton experience to some degree.
But Peloton, at least for now, seems to be the leader, with more members than any of the other major brands.  It's definitely worth considering if you're looking for a great in-home indoor cycling bike.

---