Life Fitness Club Series Plus Upright
Life Fitness Club Series Plus Upright - An Exciting New Release
Perhaps the most exciting release in years from Life Fitness, the new Club Series Plus (+) replaces the original Club model and takes the company into the future with a sleek, modern look, streamlined design and advanced touch screen technology.
With tons of built in workouts, rock solid construction and smooth, quiet operation, this one is sure to be a big hit for the company.
Let's take a closer look at this new home exercise bike...
The Bike
The Life Fitness Club Series + features a brand new design, with rounded components for a more attractive appearance.  The new 7" LCD touch screen is bright and intuitively laid out, the seat and pedals are comfortable and adjustable, and the multi position handle bars give you plenty of options for your hands during your ride.
Let's explore the most important specs....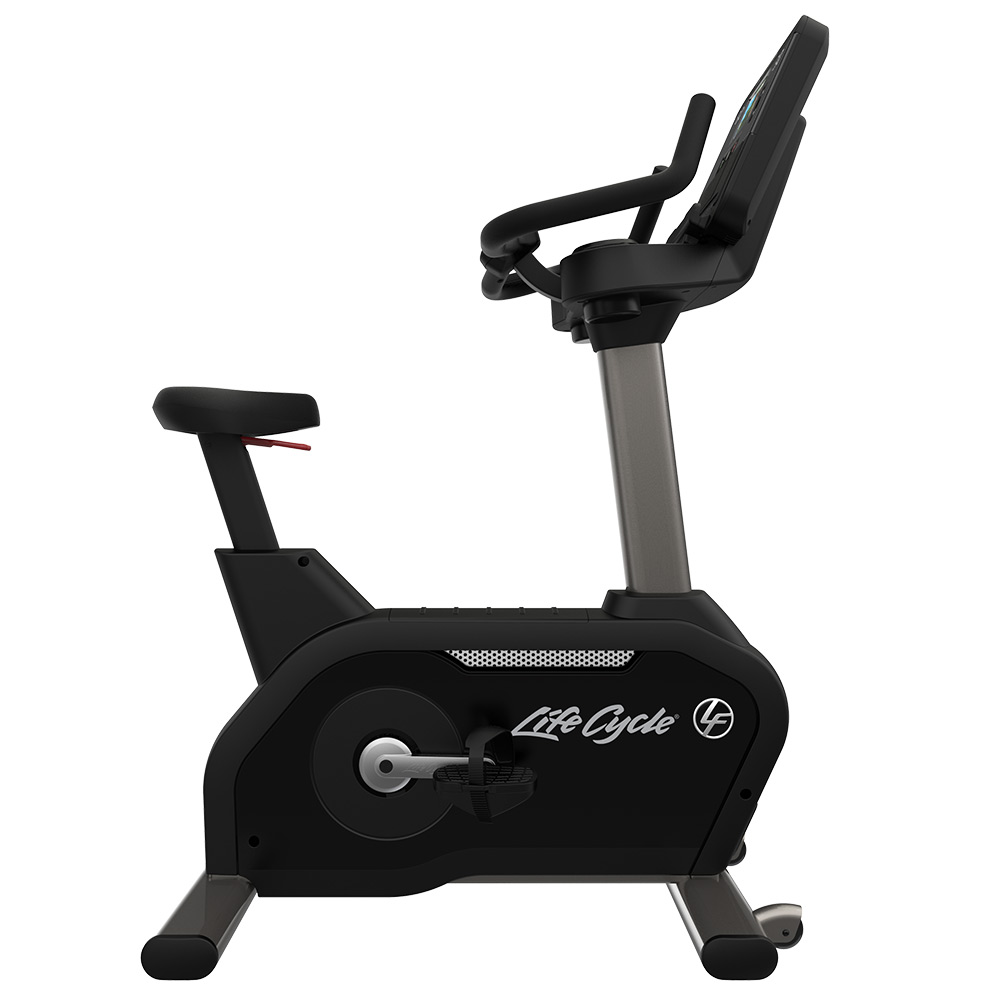 11 built in workouts
25 levels of resistance
7" LCD touch screen
Contact and wireless heart rate

42 seat adjustment positions
ComfortCurve cushioned seat
WideRide™ self-leveling pedals with straps
User capacity: 400 lbs
Dimensions/Weight: 41.5" x 24.5" x 54.5"
Warranty: lifetime frame, 3 yrs parts, 1-yr labor
Check it out on sale now at the Life Fitness company site!

The Buzz
People are very excited about the new Life Fitness Club Series Plus upright as it is the first time in many years that the company completely overhauled their exercise bikes.  There have been tweaks and upgrades, but they always retained the same overall look...not any more.
You'll find a new Club Series + model in every cardio series, including a recumbent Club Series Plus as well as a treadmill and an elliptical machine.  Life Fitness will be phasing out all of the their base Club models in favor of these newly designed + models.
So far, the response has been quite favorable according to the customer reviews we have read.  Most of the complaints about the previous model fcoused on the fact that although it was well built and provided a club quality workout,  it was lagging behind other high end exercise bikes as far as technology.
Life Fitness answered those complaints with a completely redesigned bike from head to toe, and the result is a much more modern cardio machine.
As we mentioned, the Club Series + upright features a new 7" touch screen, technology that was previously only available on the top of the line Platinum model.  
In addition to saving your last workout so you can try to top yourself, you can also track and share your workout results via the built-in Bluetooth connection.  It links up to your favorite fitness apps as well.
The ride and feel are hallmarks of the Life Fitness brand, and the Club Series Plus upright continues that tradition.  The 8-ribbed Poly-V belt resistance is extremely smooth and quiet, just as we expected.
The workout selection is diverse, and although there aren't quite as many built in workouts as other exercise bikes, there's enough there to keep you satisfied.  You also get 25 resistance levels, a step up from the 20 offered on the lower end models.
The Comfort Curve seat is highly adjustable and the pedals are self leveling.  You can adjust the resistance right on the handlebars, in the middle of the pulse grip heart rate controls.  You have racing handlebars with a place to rest your elbows, which is a nice touch.
Other nice touches on the Club Series + include two cup holders, wireless heart rate capability and accessory tray.
Any negatives from our Life Fitness Club Series Plus review?  Not really.  Everything has been improved/upgraded, and we were already big fans of the previous model.
The only thing we could mention is the price, which may be out of reach for some people.  At just under $3,300, it's a lot to pay for a home exercise bike.  But, as with many things in life, you definitely get what you pay for here.
Should You Buy the New Life Fitness Club Series Plus Upright?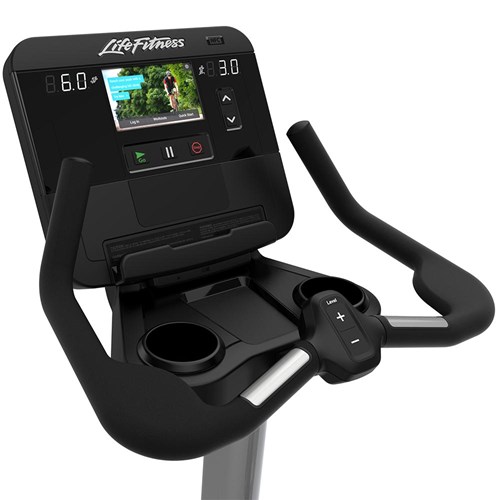 If you are in the market for a high-end upright bike, then by all means take a look at the Life Fitness Club Series +.  Before the company introduced the touch screen, you could make a stronger argument for the higher end models from the more residential brands like NordicTrack and ProForm, who have offered touch screens and interactive technology for many years.
But now, you can get the touch screen and the modern design from Life Fitness, without having to pay the hefty price that the Platinum Series commands.  So there's nothing missing, and nothing you wish you had that you're sacrificing for the quality of the Life Fitness exercise bikes.
As far as direct competition, the Club Series + upright doesn't really have one.  Pricewise, it falls between the Precor UBK 615 and the UBK 835.  Those are high quality bikes as well, but neither offers touch screen technology or workout tracking capability.
If you want to save a little money, you can look at the entry level C1 and the up-level C3, but neither of those bikes is as commercial-grade as the Club Series Plus upright.  Still, for basic home use by one or two individuals, those bikes are perfectly fine.
So the Club Series + is definitely worth considering for your home gym.
Life Fitness Club Series + Upright - Final Thoughts
The new Life Fitness Club Series + upright ticks all of the boxes, and will likely surpass the popularity of the model it replaces.
You get a new touch screen display, diverse workouts, 25 resistance levels, smooth, maintenance free operation, comfortable seat and handlebars, high max user weight capacity and a rock solid warranty.
It is our favorite of all of the Life Fitness exercise bikes, as is its recumbent counterpart, as it gives you just about everything you could ask for.
Again, if your budget can't accommodate the Club + consider the base C1 and C3 as well.  Both of those are great exercise bikes as well, they just don't have all of the features and capabilities of the Club + upright.
Get more info and special sale pricing on this new exercise bike!