Kettler Exercise Bikes – Quality, Style, Durability

Innovation and high quality is the key to the success of Kettler exercise bikes. They are recognized worldwide as representing a brand that symbolizes quality, style and durability.
About the Company
Kettler was founded in 1949 by Heinz Kettler in his hometown of Ense-Parsit, Germany. The company has grown to be a leading brand of home fitness equipment, toys, and leisure furniture, with manufacturing sites throughout Germany and its subsidiaries worldwide. The Kettler USA Division celebrated its 30th year in 2011. The company is still owned by the same family.
A Look at the Bikes
As of our latest Kettler exercise bike review there were eight models to choose from, starting at around $549 on sale and going up to $2,499 for the top of the line model.
Currently you have the Axos Cycle P, Giro S1, Golf C2, Giro R3, Racer 7, R10 Recumbent Ergometer , Racer S and Ergo S.
The Axos Cycle P, Giro S1, Golf C2 and Ergo S are upright exercise bikes, with built in workout programs, adjustable resistance and basic LCD displays.
The Giro R3 and the R10 are recumbent bikes for those that prefer to be seated during their workouts with back support.
The Racer 7 and Racer S are indoor cycling bikes that are more like the ones you find in a health club.
The more advanced Kettler exercise bikes come with Bluetooth capability so you can monitor your heart rate more accurately.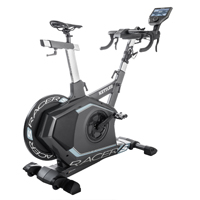 How Do Kettler Bikes Compare to the Competition?
Kettler bikes used to be a lot more popular than they currently are, as many other companies have gotten into the exercise bike game, and more successfully I might add.
Kettler never really promoted themselves well online, and as a result other brands have taken over the market.
You can find similarly priced uprights, recumbents and cycling bikes at NordicTrack, ProForm and Sole, among others, and the problem is they have a lot more features and capabilities than the Kettler bikes.
For example, the Kettler Racer 7 and the NordicTrack S22i Studio Cycle are both around $1999.
The Racer 7 gives you a basic LCD display, 8 training programs, 16 resistance levels and a 3 year warranty.
The S22i gives you a 22" rotating HD Smart touch screen, 24 resistance levels and a 10 year warranty, among other additional features like incline and decline.
So although the Kettler exercise bikes are well made and are well regarded, the technology has passed them by and they're not really able to compete with the more popular brands.
What Will the Future Hold?
We visited the website recently and it doesn't look like it has been upgraded in years...never a good sign. They post on their blog once a year, which is crazy, and there is nothing new on the company about us page...at least since their 30th year celebration in 2011.
We're not sure how long this company will stay in business, although they do make other products besides exercise bikes and perhaps that's where their focus is.
If you come across a Kettler bike for sale, it's definitely worth considering. But take a look at similarly priced competitors to see what they have to offer as well.
Kettler Exercise Bike Reviews
Kettler HKS Polo M - Lightweight and portable, very well made, has the durability of a bike costing twice as much; very quiet and smooth for a home model.
Kettler Race Indoor Training Bike - A well-engineered quality bike which offers a very different look from other Spinner-type bikes on the market.
Kettler X1 Upright Bike - A strong choice for a durable cardio trainer; you get quality components and ergonomic features – not frills, graphics, and programs you don't need.
Kettler EX3 Upright Bike - This exercise bike gives the user a comfortable upright posture and a good-size 22-lb flywheel for a superior workout session; a good indoor cycle with a solid warranty.
Kettler RX7 Recumbent Bike - The comfortable RX7 can be used by senior citizens or people in injury rehab. Unique brake system offers extensive range of variable, frictionless electromagnetic resistance.
---