Schwinn Exercise Bikes – The Leader in Upright & Recumbent Stationary Bikes

Reviews of Schwinn Exercise Bikes
The legendary bike maker continues to grow and expand. Schwinn stationary bikes, including upright and recumbent ("reclining") bikes, are part of an exciting indoor division of the leading American icon in recreation and fitness equipment.
The History of Schwinn Exercise Bikes & Bicycles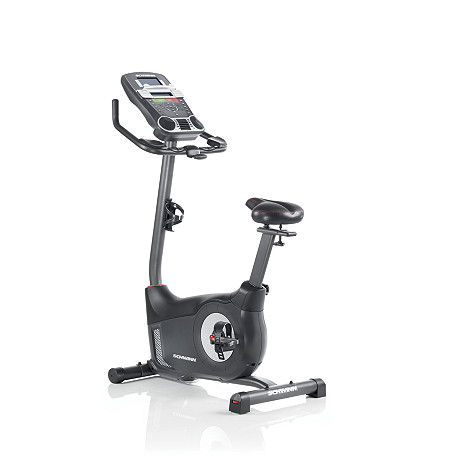 Launched in 1895 in Chicago by Ignaz Schwinn and his partner Adolph Arnold, the company name became synonymous with all types of bikes in America, spanning over 100 years and still going strong today.
During the 20th Century, the company introduced many technologies for bikes including the balloon tire, aerodynamic frames, the anti-theft Cyclelock®, the fore-wheel brake, cantilever frame, and the spring fork.
Compare popular Schwinn Exercise Bikes on Sale Here
Having established its lead among outdoor bike manufacturers, Schwinn introduced the upright exercise bike for indoor fitness in 1967, and the Airdyne® stationary bike in 1978. Partnering with fitness guru Johnny Goldberg, the company brought out the trademark Spinner Bike in 1995. In 1998, the company merged with GT bicycles to form the Schwinn/GT Corporation.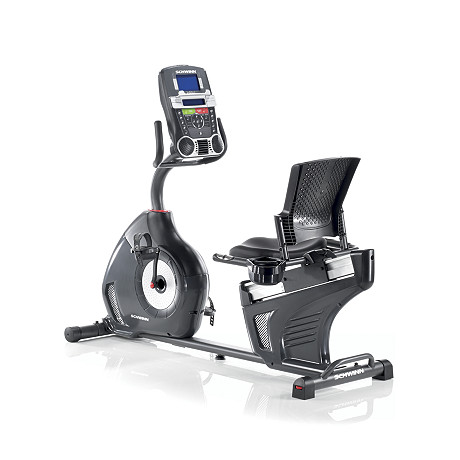 By 2001, the outdoor bikes division had been taken over by Pacific Cycle, while the fitness division of Schwinn/GT, including a line of elliptical trainers and treadmills, was acquired by Direct Focus, Inc., a company that was formerly known as Bowflex of America when it was founded in 1986. Direct Focus has since acquired the Nautilus and StairMaster brands as well as Schwinn.
Today, the company is called Nautilus, Inc., and it manufactures the Bowflex, Nautilus, Schwinn and Universal brands of home exercise equipment.
The Leader in Stationary Bikes
Leading the way in their revolutionary technology and quality, Schwinn exercise bikes have claimed the top spot among leading manufacturers of indoor cycling equipment. They have managed to combine quality engineering with an economical design in order to deliver an exceptional low impact cardiovascular workout for users who want to get in shape at home.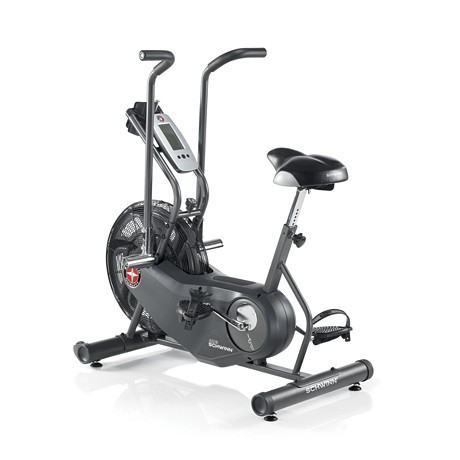 Schwinn's line of upright bikes and recumbent bikes include the standard Upright Exercise Bikes, which continue to build on the successful designs of the past.  Currently there are the 130, 170, A10 and A15 Upright Bikes.
There's a line of affordable Recumbent Bikes, including the 230, 270, A20 and A25, with similar features as their comparable upright models.
There is also an indoor cycling bike called the IC2, and an elliptical hybrid bike called the 520 Reclined Elliptical.
The company also produces the classic Airdyne, the large air-resistant flywheel exercise bike that hasn't changed in function or design in decades. It is arguably the best value ever presented in a cardio machine.
Costing around $300 - $700 depending on the model you choose (AD2, AD6, ADPro), the Airdynes last for 15 to 20 years or more, with little to no mechanical problems. It is still the flagship of Schwinn exercise bikes, which continues to be the top brand of indoor cycling machines in the new century.
Schwinn Exercise Bike Model Reviews
Popular Uprights
Schwinn 170 Upright - An upgrade to the 130 model with more workouts, higher resistance levels and wireless heart rate monitoring capability.

Schwinn 130 Upright - Still available at several online retailers but is being phased out in favor of the newer Schwinn 140.
Schwinn AD6 Airdyne - The most popular wind resistance model with improvements across the board such as the enhanced RevMeter and quieter fan.

Schwinn AD2 Airdyne - The Schwinn AD2 adopts the best features of the original Airdyne wind resistance technology in a quieter, smaller, easier to set up, and less expensive bike.
Schwinn IC2 Indoor Cycle - User reviews on the Schwinn IC2 are very favorable for this beginner's model costing just $285.
Popular Recumbents
Schwinn 520 Recumbent Elliptical - a hybrid elliptical/exercise bike using Airdyne technology for infinite resistance.
Schwinn 270 Recumbent - An improvement on the 230 with additional workout options and more resistance levels.
Schwinn 230 Recumbent - Rated 4.5 out of 5 stars in hundreds of reviews written by current owners; has landed on several best buy lists at consumer research websites.
Trainers
Schwinn Magnetic Bike Trainer - This trainer gets awesome reviews from avid cyclists who have used a number of trainers and prefer this one because of the durability and low cost. Designed for bikes with a quick release rear wheel.
Older Models
Schwinn 120 Upright - An affordable solution to get low-impact cardio workouts daily or several times a week.

Schwinn 140 Upright - An impressive looking stationary bike with quality components, whisper quiet ride, adjustable seat and handlebars, comfortable pedaling stance.
Schwinn 150 Upright - The Schwinn 150 has the same specs as the best-selling 140 model, and comes with some welcome upgrades such as a more attractive display and an MP3 plug-in with built-in speakers. 
Schwinn Airdyne Evo Comp - A smaller and quieter version of the original Airdyne.
Schwinn A10 Upright - Best cardio cyling machine for $199 on the market today. Reviews are exceptional because of the quality and design that has gone into this unit.
Schwinn A20 Recumbent - Impressive, nearly silent, compact in size; a better choice of a cardio machine than a treadmill or an elliptical for small apartments.

Schwinn AD4 Airdyne - Nothing beats the original Airdyne with patented Air Resistance Technology. The reputation and longevity of this stationary bike is like nothing you've ever seen.
Schwinn Active 20 Series Recumbent - Not recommended for a number of reasons; users over 6 ft tall recommend that you skip this model.
Schwinn 220 Recumbent - Excellent value for users who want a well-built entry-level cardio machine; quiet operation, solid ride, easy assembly, great ergonomics.
Schwinn 240 Recumbent - Very smooth and absolutely whisper quiet; 20-pound flywheel, walk-through frame design, adjustable padded seat with dual-position lumbar support.
Schwinn 250 Recumbent - The upgraded version of the 240. Schwinn has added a few more programs, a fan, an MP3 input, speakers, and a new design on the console.
---