Freemotion Exercise Bikes
Freemotion Exercise Bikes – Game Changing Innovation
For more than 20 years, Freemotion has been at the forefront of technology and innovation, beginning with cable-based strength training and Incline Trainers and more recently expanding to some of the most technologically advanced exercise bikes on the market today.
With all of its products, Freemotion has taken the concept of connected fitness to the next level, providing workouts that keep you engaged while they focus on your health.
About the Company
Freemotion burst on the scene in 1999 when it introduced the first cable-based strength training line, Genesis. That was just the beginning for the company, which prides itself on questioning how we work out and then redefining it. 
With that focus on innovation in mind, Freemotion has continued to improve on its existing products, incorporating exciting new technology like QuickSpeed and QuickIncline controls as well as integrated flat screen TV's to provide a workout experience like no other.
In 2001, iFit Health & Fitness acquired the company, beginning a partnership that would launch its equipment even further, with connectivity features beyond that of any other brand. In 2009 Freemotion relocated to the iFit Health & Fitness headquarters in Logan, Utah. 

Why Consider Freemotion Bikes?
The main reason to choose Freemotion exercise bikes is their unique approach to working out. Their products challenge your mind as much as they do your body because Freemotion understands that the key to effective exercise is staying fully engaged.
They've put that theory into practice for years with equipment that is tailored primarily for commercial sites, from health clubs to five star hotels and smaller, boutique gyms in golf & tennis clubs, corporate headquarters and even on the campus of Lake Superior State University on Michigan's Upper Peninsula.
Their drive to stay on the forefront of the exercise field has kept them continually working to improve their products, which led to the implementation of many technological advances including being the first company to include integrated flat screen TV's on their cardio equipment, Reflex Cushioning for extra comfort and most recently incorporating the use of progressive resistance technology.
Their partnership with iFit allows for the incorporation of the iFit app on all Freemotion exercise bikes, letting you take your workouts to the next level with the widest range of options available on the market today.
The Current Freemotion Exercise Bike Lineup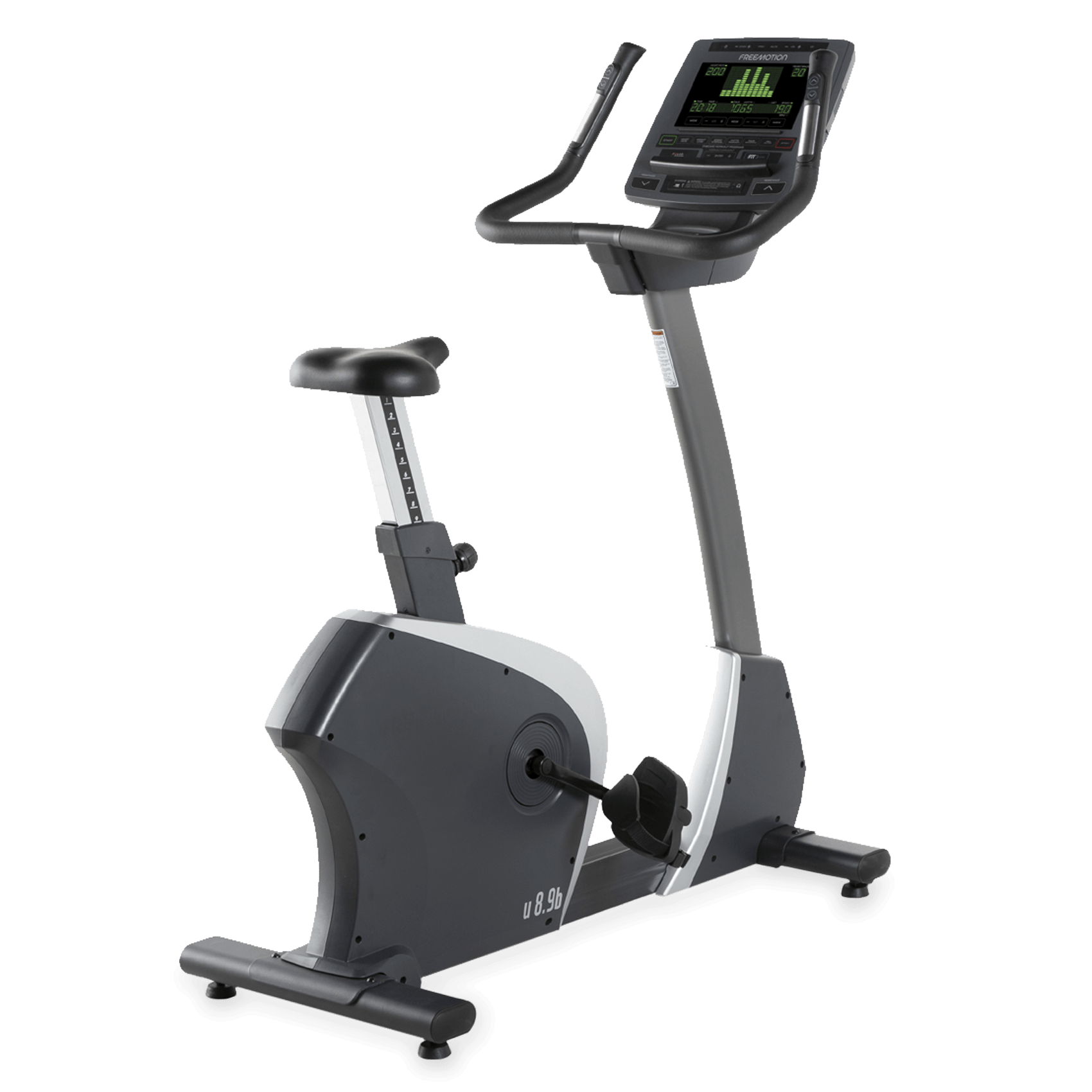 Freemotion currently offers seven different cycles, including uprights, recumbents and their latest addition, the exciting new CoachBike cycling bike.
All bikes offer the ability to tailor your workout with iFit technology, as well as a range of comfort features including self leveling pedals, easy adjust seats, 24 levels of resistance, and built-in EKG monitoring.
Here are all of the current 2022 models:
Recumbent Bikes
The recumbent line begins with the base model r8.9b, moves up a step to the r10.9b and finally includes the top of the line commercial model r22.9.
Each model has iFit capability, ranging from the ability to sync your mobile device with the simplified user interface to direct access to the app on the built-in 22" HD Touchscreen of the r22.9. 
Upright Bikes
The line of Upright bikes includes the u8.9b, u10.9b and u22.9. Just like the recumbent bikes, the amount of features available and the sturdiness of the bike increases as you move up in the line. All of the upright and recumbent bikes feature a step through design that makes them easily accessible for all users.
Indoor Cycle
The latest addition to Freemotion's line of exercise bikes is its first indoor cycle, the CoachBike. This exciting bike offers the most realistic cycling experience you can get on an indoor bike, with auto-adjusting that increases or decreases your incline to match your selected route as well as an AutoBreeze fan with variable flow that responds to your cycling pace.
Because their primary focus is on commercial grade equipment, Freemotion's prices can be a bit steeper than some brands, ranging from $2,899 for the u8.9b to $7,599 for the r22.9. They regularly offer either 30 day or even 1 year iFit memberships with your purchase, which can help to make the overall cost more tolerable.
All models offer access to the innovative iFit app, which provides the widest range of workout choices available today. These include both on and off bike workout sessions led by world class fitness coaches, real world rides in stunning locations across the globe, high energy studio classes, and even the ability to trace actual race courses, including the Tour de France.
With Google Maps capability, you can even map your own ride anywhere in the world. Whether you plot your own course or choose to follow the route of the Tour de France, the CoachBike will automatically adjust incline or decline to match the terrain so you'll feel like you're actually out there on the road.
Warranties on Freemotion models include 7 years on the frame and up to 3 years on parts and labor.

How do Freemotion Bikes Compare to Other High-End Bikes?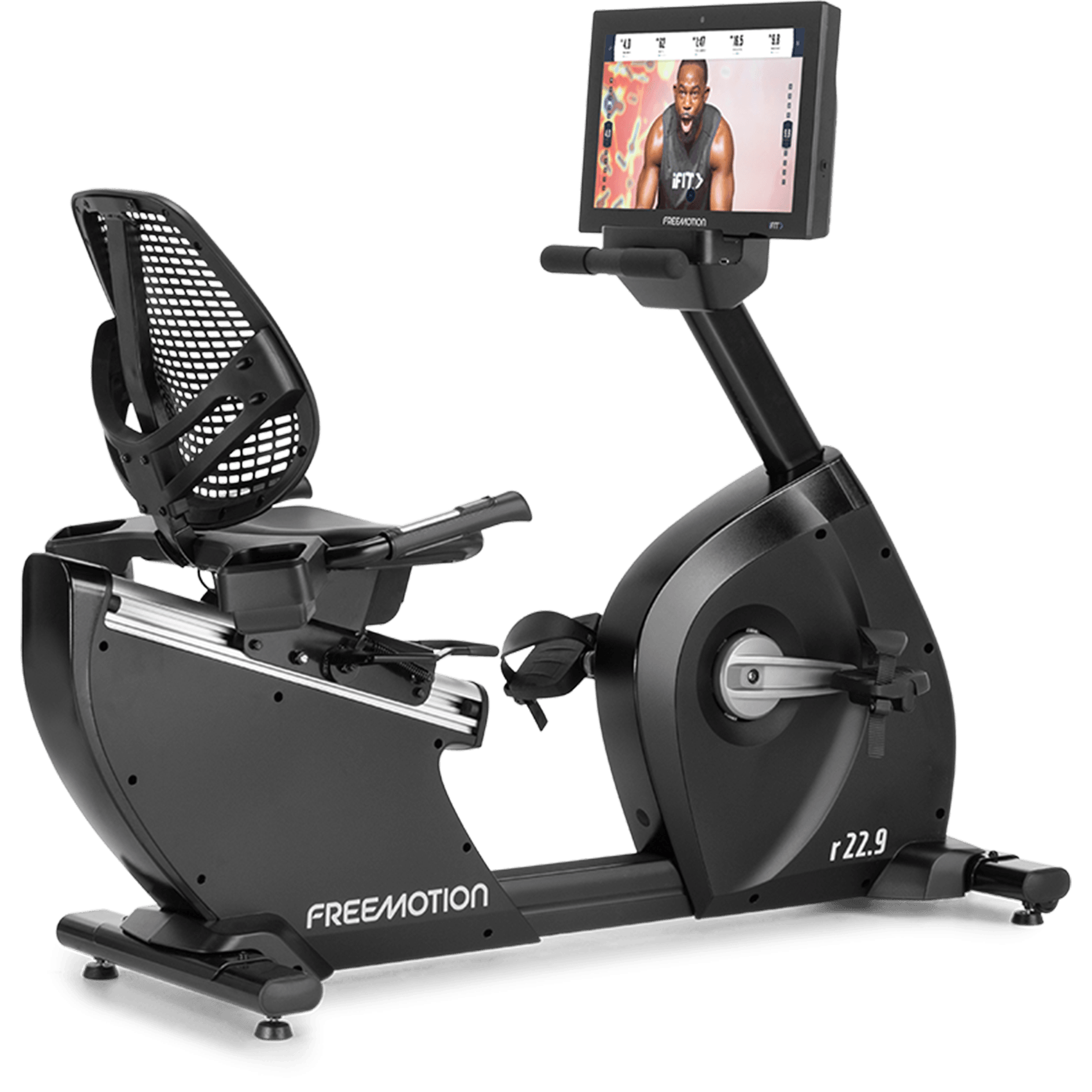 There are so many exercise bikes on the market today that it can be hard to figure out which one works best for you.  
The bike you select can have a real impact on your life so it's worth taking a closer look at the available options to see how Freemotion stands up to the competition.
Life Fitness
One of the prominent names in high end exercise bikes, Life Fitness offers an incredible 12 different models, including uprights, recumbents and cycling bikes. All offer a variety of comfort features but unlike Freemotion bikes, they are not iFit compatible.
They do come with the Life Fitness Connect app, to help you track your workouts and ensure that you're making positive progress. They also have Bluetooth capability, allowing you to synch your mobile device and take advantage of popular apps like MyFitnessPal, Nike+, and Fitbit.
It's also worth noting that their recumbent bikes don't offer mesh seat backs for extra ventilation like Freemotion's recumbents do. It's a small detail but one that can make a world of difference when it comes to comfort.
Precor
Precor offers two lines of bikes, the 600 and the 800, each with three upright and three recumbent options. All of the Precor bikes are designed specifically for commercial use, which means they are made to be durable and stand up to multiple users. 
An interesting innovation on the Precor models is handlebars with adjustable positions for upright, cruising or road style riding on the uprights and console or riding on the recumbents. This is a nice extra touch that Freemotion lacks.
Precor offers three types of console, the P31 advanced LED, P62 10" LCD Capacitive Touchscreen and the P82 15" LCD Capacitive Touchscreen.
Unlike, Freemotion's bikes Precor models don't come with iFit but their P82 15" touchscreen console does offer a Smart Watch Connector that lets you sync your Apple Watch so that you can see your progress at a glance wherever you are.
Cycling Bikes (Various Companies)
Of course, what really makes Freemotion stand out is its innovative indoor cycle, the CoachBike. Several of the other high end brands also offer cycling bikes so how does the Coach Bike stand up?
Life Fitness offers four different indoor cycling options, the Ride CX, IC4, IC5 and IC6, all including compatibility with their own ICG app, which provides a range of workouts including both trainer led and scenic rides. One option that the ICG has which Freemotion doesn't is their patented Coach by Color system, which customizes your ride experience based on different heart rate and power zones. 
Peloton and Echelon also have high end interactive bikes with innovative features, each using their own app that allows you to engage in a variety of workouts led by professional trainers, either live or on demand. The unique feature that has helped make Peloton so popular is the ability to compete against other users, giving you a gym caliber experience in the comfort of your own home. 
Echelon's bikes are a little more affordable than Peloton's but their app lacks the variety of Peloton's.  As popular as these bikes are, they lack the real ride feel of Freemotion's CoachBike, with its automatic incline/decline adjust and AutoBreeze fan function.
MYX offers a single indoor cycle model and, unlike most of the other indoor cycles, it lacks the ability to participate in live classes, leaving you with just the on demand option. It is also much more affordable than the other brands.
Finally, NordicTrack offers two indoor cycles in its Commercial Studio Cycle Series, the S15i and the S22i. Like Freemotion, Nordic Track is partnered with iFit so its bikes include the full variety of iFit offerings, from classes to scenic rides. Nordic Track is also the only other company to offer adjustable incline and decline and its bikes also have a higher user weight capacity making them more durable than most.
On The Cutting Edge of Fitness
When it comes to getting the feel of the road in the comfort of your home gym, nobody delivers like the true innovators at Freemotion. Their prices are steep, but they offer a riding experience that you literally can't get anywhere else.
There's a reason why so many health clubs and fitness centers rely on Freemotion equipment. With their automatic incline/decline adjustment and AutoBreeze fan that automatically responds to your individual pace, you can work your body while keeping your mind engaged, so exercising never gets boring.
Freemotion truly takes exercise to a whole new level. That's what has kept them on the cutting edge of the fitness industry for more than 20 years and what makes their bikes break out from the pack.

---