The Fitnex R70 Recumbent Exercise Bike – Club Quality Performance
The Fitnex R70 recumbent exercise bike lists at $2000 but can be found on sale for under $1600, making it a bargain for a machine for in-home use that has light commercial durability.
The Bike
The Fitnex R70 has an oversized, matrix/LED console with feedback that includes time, distance, speed, workout level, calories burned and METS (metabolic equivalent). There are 16 levels of magnetic resistance available.
The Fitnex R70 recumbent exercise bike features: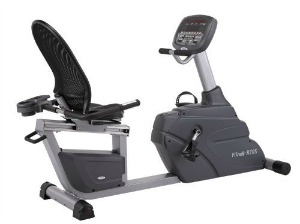 16 levels of Resistance
Self-generating power up to 250 watts
Oversized console display activated by your power
8 pre-set programs, including heart rate, random, interval, rolling, fat burning and more
Contact heart rate grips on handlebars; chest strap compatible
Adjustable seat and back support
Self-leveling pedals with straps
Max user capacity: 400 lbs.
Dimensions/Weight: 64"L x 21"W; 165 lbs.
Warranty: lifetime on frame and parts (in-home use only), 1 year labor
Check out the Fitnex R70 exercise bike on sale now at Amazon!
The Buzz
The Fitnex R70 recumbent exercise bike is backed by FMI (Fitness Master Inc.), which is known for quality manufacturing and parts.
You'll get one of the smoothest rides of your life on the R70, due in part to its heavy weight, which adds stability even when you're pedalling as fast as you can on any resistance level.
Two water bottle holders and a cushioned seat provide plenty of comfort while working your legs and lower body.
Reviews of the Fitnex R70 are predominantly positive. Many users specifically praise the self-generating power feature. If you aren't pedalling, your console doesn't display.
It's a nice way to make sure you're doing the work efficiently and can be motivating. A few shorter people noted, however, that it can be difficult to adjust the resistance level on the fly because you have to lean forward while pedalling to reach the console.
 All reviews mentioned how comfortable the seat of this recumbent exercise bike is; it's fully padded and has ergonomically designed lumbar support.
Our Take
Fitnex currently manufactures seven exercise bikes and two of them are recumbent. The R70 is the more versatile of the two recumbent models. It has more resistance levels and the novel, self-generating power feature. The console is set lower as well, which makes seeing over or around it much easier if you want to watch television while working out.
Fitnex doesn't sell their products directly to the consumer. You can do a dealer search on their website, or go to Amazon, where you'll find the R70 listed at $2200 but selling for just $1600.
This is one of the quietest, smoothest rides on the market thanks to superior parts and magnetic resistance. If you can afford the Fitnex R70 recumbent exercise bike, you'll get club quality performance with an impressive lifetime warranty for in-home use.
Show me other Fitnex Exercise Bikes