The Schwinn Magnetic Bike Trainer – The Perfect Solution for Training Indoors
The Schwinn Magnetic bike trainer is a must-have if you value your saddle time, then it is important to get your workout done – no matter if it is snowing and cold out, or the blast of the searing heat of summer is turning blacktop to tar.
The Bike
This trainer is designed for bikes with a quick release rear wheel.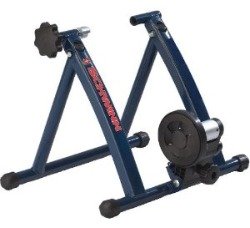 The Schwinn Magnetic bike trainer features:
5 Magnetic Resistance Levels
Quick Release Skewer included
Frame features leveling feet
Folds for easy storage
Heavy duty construsction
Dimensions/Weight: 18.5"L x 19"W x 14.75"H / 17 lbs
Warranty: one year
Check out the popular Magnetic Trainer from Schwinn on sale
The Buzz
The awesome reviews on the Magnetic bike trainer point to its solid heavy-duty steel frame construction, ease of use, and 5-minute out-of-the-box set-up. Most reviews are written by avid cyclists who have used a number of trainers and prefer this one because of the durability and low cost.

The bike trainer works best with a smooth tire which will be much more quiet than a knobby tire, if loudness is an issue in your apartment or anywhere near your sleeping baby.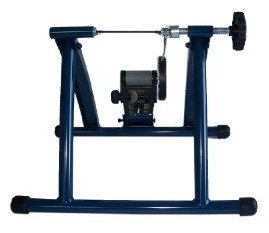 The only issue on the Schwinn trainer itself is that the five levels of magnetic resistance seem too low for many riders who can't detect any change in the levels. They overcome this by changing gears on the bike instead. While this bike trainer will work for a majority of cyclists, if you are into serious training, then you will need to spend more money on a high-end trainer.
Our Take on the Magnetic Trainer
For off-season training, the $99 Schwinn Magnetic bike trainer is the perfect solution for training indoors away from the wind, rain, and snow. If you don't really care about the Schwinn sticker on the stand, you can save $10 or more on the Rad Magnetic Bike Trainer which is a replica of this model under a different name.
Show me other Schwinn Exercise Bikes