Mini Exercise Bikes, Pedal Exercisers & Motorized Mini Bikes
Most of the mini exercise bikes on the market are also known as pedal exercisers. They are designed to work the legs but they can also be placed on a table to do arm exercises. These minis are ideal for "couch potatoes" who would like to pedal away while watching TV, working at a desk, or talking on the phone.
Quick Reviews of the Better Minis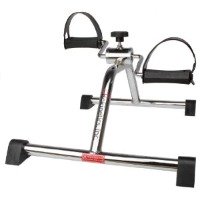 Some of the most notable mini exercise bikes cost less than $100 and many are under $50. Isokinetics is the most popular brand and makes several models at different price points. Some of them include:
The Isokinetics Pedal Exerciser ($20) is a 5-lb unit made of 1" chrome-plated steel tubing. It has adjustable tension as well as anti-skid foot pads so it can be used on a floor or table top. Similar to it is the Isokinetics Folding Exerciser ($44) that folds flat to just 4.5" tall for easy portability.
Compare the Most Popular Isokinetics Pedal Exercisers Here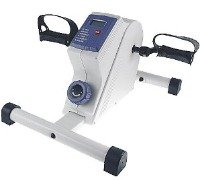 The Isokinetics Deluxe Pedal Exerciser ($75) comes fully assembled with an electronic monitor, nylon band resistance, manual tension control knob, and wrap-around foot straps. It is ideal for under-desk use with a top pedal height of 10.5".

The Isokinetics Magnetic Pedal Exerciser ($90) offers a smoother pedal motion than the Deluxe model listed above. This $90 model uses a quiet magnetic resistance system with an electronic control to adjust the amount of resistance. This mini bike can also be used for arm exercises to improve circulation, coordination, and joint range of motion. (Available in black or grey.)
The Paradigm 7101 ACTIVcycle Motorized Pedal Exerciser ($95) has an adjustable speed motor plus adjustable foot straps and a multi-function LCD display for time, speed, distance, and calories. It comes with carry handles and weighs just 12.5 pounds. You can use it with or without the motor. Reviews on this mini bike are great as it proves to be a winner with customers with Multiple Sclorosis as well as others who benefit from some home physical therapy. If you need a motorized mini exercise bike to help keep your circulation up and arms and legs moving, this pedal exerciser is a great help.
Compare the Most Popular Motorized Mini Bikes Here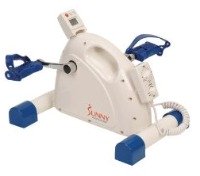 The Sunny Health & Fitness Motorized Mini Bike ($98) features a quiet DC motor drive system and a 15-minute timer switch. It also has foldable pedals, a hand held speed control, and a multi-function LCD display that shows Scan, Time, Count, Calories.
Who Uses Mini Exercise Bikes
At first glance, these mini bikes seem to be gimmicky gadgets for lazy exercisers. On the contrary, read just a handful of reviews and you will see that people with real needs are using these "bikes" with good success. For example, stroke victims who have lost movement on one side of their body benefit from a motorized machine that assists by turning the pedals.
People who suffer with arthritis or other medical problems who cannot use stationary bikes, folks who are senior citizens and have balance problems, or people who are overweight, have found a solution in these little mini exercise bikes.
If the cost of standard stationary bikes is out of your price range, or you don't have the space in your home for one, try a mini and see if it doesn't help your situation.