Life Fitness Exercise Bikes – Quality and Innovation

There are indoor bikes and then there are Life Fitness exercise bikes. No other bike maker can match the style, ergonomics, and technology of the company that made the LifeCycle®, the elite bike that is the preferred choice of health clubs worldwide.
About the Company
The company has a reputation for excellence that was founded more than 35 years ago with the world's first electronic piece of fitness equipment, the legendary LifeCycle® Exercise Bike. Life Fitness, which is headquartered outside of Chicago in Schillar Park, Ill., is a division of Brunswick Corporation (NYSE: BC).
As the most trusted fitness equipment manufacturer in the world, Life Fitness products are used in commercial and public facilities in more than 120 countries – and even at sea, as Life Fitness cardio equipment was chosen by Royal Caribbean for their passenger fitness center on the elegant new 6,000-passenger Oasis of the Seas.
Why Consider Life Fitness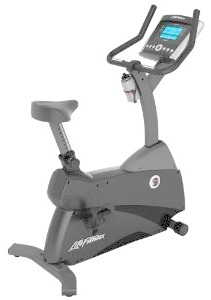 There are two key reasons to choose Life Fitness exercise bikes over other brands: quality and innovation.
As the major player in commercial equipment for many years, the company has easily entered the home fitness market with well-engineered, quality products that have placed it at the top in all categories.
Compare LifeCycle Exercise Bikes at the Online Store
As for innovation, the company owns over 50 patents, and their cardio machines feature many fitness industry firsts including touch screen technology, iPod connectivity, and the exciting new Nike + iPod compatibility.
The company also launched the Life Fitness Academy to study the science and medicine of exercise and train professionals in fitness programs.
A Look at the Bikes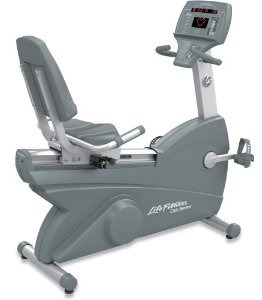 LifeCycle® is the name of the line, not just one bike. There are currently eight Upright and Recumbent frames, which feature digital heart rate monitoring, advanced and customizable workout programs, and max user weights up to 400 pounds. The warranties on Life Fitness exercise bikes include three years on parts and one-year labor.
LifeCycle® Exercise Bikes have a maintenance-free chain-drive system, self-powered alternator systems, and a Poly V belt-drive. The home Club Series Upright bike is on virtually all Best Buy lists for models priced above $2,400. It has the same silky smooth performance and ComfortCurve™ Plus seating that you will find in health club models.
A Trusted Brand in Cardio Fitness
As most exercise bike reviews by consumers and industry pros will attest to, the Life Fitness products are well built, comfortable, and extremely durable. They are pricey at around $1,400 to $2,800 but there's no argument about the superior quality of these machines. Because Life Fitness is so widely respected among health club facilities worldwide, you can shop for Life Fitness exercise bikes with the knowledge that it is literally the best bike on the market and your investment will last for many years.
Reviews
Life Fitness C1 Upright LifeCycle - We recommend the C1 Upright LifeCycle with the Advanced Console for around $1,499 as a Best Buy; one of the most comfortable stationary bikes on the market.
Life Fitness LifeCycle 9500HR Recumbent - The distinguished LifeCycle 9500HR helped to set the standard on which all other commercial health club bikes are based. Now discontinued, you can still buy this bike as a refurbished model.
Life Fitness Club Series Upright - Reviews on this model are excellent as expected. Its smooth ride is above and beyond any other upright bike you have ever tried.
Life Fitness Club Series Recumbent - Offers the guilty-pleasure comforts just like health club models costing twice as much. But do you really need a $3,000 stationary bike?
---