Schwinn Ic2 Indoor Cycling Exercise Bike
The Schwinn IC2 Indoor Cycling Exercise Bike Review – An Inexpensive, Quality Spin Bike
The Schwinn IC2 is an entry level indoor cycling bike that actually offers a lot of nice features given its extremely low price tag.
For under $300 you get a heavy flywheel, endless levels of resistance and enough adjustability to satisfy most users.
If you're looking for a home exercise bike for light use that won't break the bank, the IC2 is worth considering.
Let's get into our review...
Schwinn IC2 - The Bike
Equipped with an electronic performance monitor, you get constant readouts of time, distance, RPMs, speed, and calorie count on the LCD computer which operates on two AAA batteries.
The IC2 is very lightweight but stable, with multi grip handles, a padded seat and toe clip pedals.
Here are the most important specs for you....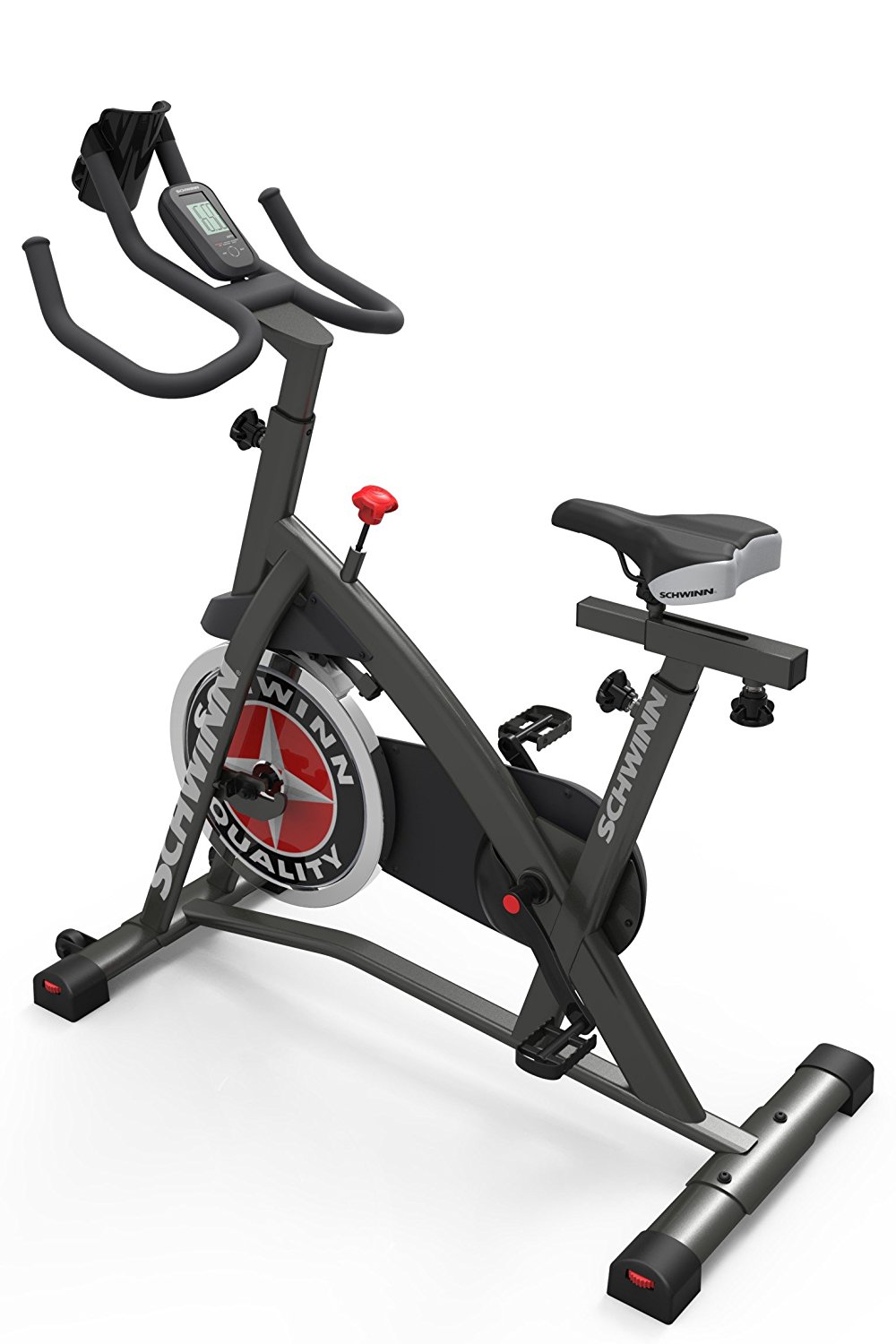 31-pound flywheel
Infinite resistance levels
Multi-position handlebars
Oversized, adjustable pedals
250-lb user weight capacity
Water bottle holder
Dimensions/Wt: 45"L x 23"W x 49"H / 83 pounds
Warranty: 5 years frame, 1 year parts/electronics, 90 days labor
Check out the Schwinn IC2 Indoor Cycling Bike On Sale Now!
The Buzz
The Schwinn IC2 has been one of the most popular indoor cycling bikes for some time, as it does provide a very good workout and will help you reach your fitness goals.
It's not as advanced as the up-level IC3 model, but it has everything that it needs.
Let's take a look at the pros and cons...
The Pros
There are several components to note on the Schwinn IC2 Indoor Cycling exercise bike, such as the long-lasting wool felt pad on the brake that provides smooth and even resistance against the 31-lb high inertia flywheel.
The frame is made with corrosion resistant steel tubing and features an outdoor cycling-inspired Q-factor (which is the ergonomic distance between pedals for user comfort).
It has fore/aft seat adjustment and multi-position handlebars so you can be comfortable riding while seated or standing, and the pedals have toe cages for more strenuous hard pedaling sessions.
The only complaint is that the seat is not all that comfortable so you will have to budget for a replacement seat or buy a gel cover.
If you don't, you might get discouraged and stop exercising if you can't stand to be in the saddle for more than a few minutes.
The Cons
It's hard to complain about a bike that costs under $300, but there are some things worth mentioning.
It's missing a tablet holder, which the new IC3 does have.  It is also very light and can get a bit wobbly at the highest intensity levels.
Another issue, present on all Schwinn exercise bikes, is the subpar warranty.  You only get 5 years on the frame, 1 year on electrical and parts and a measly 90 days labor.  
Even at this price that's not great coverage, which is why we recommend Schwinn's extended service plans of 3 or 5 years.  It's worth the added expense to avoid issues down the road.
IC2 Exercise Bike Review - Bottom Line
For very light use by an average size rider, the Schwinn IC2 a perfectly capable exercise tool.
It gives you unlimited resistance levels, a well-weighted flywheel, good amount of adjustability and some extra features not typically found on similarly priced bikes.
We would recommend taking a look at the up-level IC3, a newer indoor exercise bike with a heavier flywheel, more advanced display, media shelf and heavier max weight capacity of 300 lbs.
And if you're looking for something much more club quality, look at the Schwinn AC Performance bike, a very popular model that is built for heavier use.
Whichever model you end up going with, make sure you opt for the additional coverage to make up for the less than stellar manufacturer's warranty.