The Marcy Classic Upright Fan Bike – Not a Good Choice Even at Low Price
The Marcy Classic Upright Fan Bike offers a rush of cooling air flow that not only provides a breeze while you workout, the fan flywheel is also the source of the bike's resistance system.


The Bike
The user-friendly console shows workout feedback including time, distance, speed, and calories burned in either a 6-second scan mode or single readout. The computer shuts down after four minutes when not in use.
The Marcy Classic Upright Fan Bike features: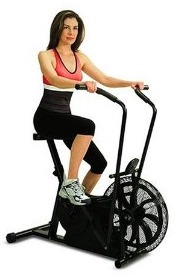 Air Resistance System
Weighted pedals w/straps
Adjustable seat height
Dual-action arms
Max User Weight: 300 lbs
Dimensions/Weight: 46"L x 26"W x 45"H / 55 lbs
Warranty: 2 yrs limited on parts
Check out the Popular Marcy Fan Bike on Sale Now!
The Buzz
Fan bikes work on the principle that, as you pedal faster, the resistance increases and it becomes more difficult, becoming a more strenuous workout.
Also, the faster rate of pedal rotation gives you a stronger breeze blowing on your body. Since there's no tension knob to dial up resistance on a fan bike, it's up to you to pedal faster if you want a harder workout. These designs also come with moving dual-action arms to provide an upper body workout.
While The Marcy Upright Fan Bike seems to be a winning design, this model is unfortunately the weakest of Marcy's line, and does not get the strong reviews that the upright and recumbent bikes do. It has an uncomfortable seat and the flywheel is just too small to provide much resistance.
Many users feel that the pedaling is too easy and offers little to no tension, even when you are giving it all you've got. If you are out of shape, this might sound like a good thing, but even then, this bike is too easy for most users.
And be aware of the noise factor: fan bikes are very noisy by their very nature so don't compare them to upright bikes that have quiet magnetic flywheel resistance.
Our Take on the Upright Fan Bike
The Marcy Classic Upright Fan Bike at $115 seems like a good deal, but for good value, spend a few dollars more and get the Body Max Rider Fan Bike for around $160.
Or if you can afford it, get the original Schwinn Airdyne Bike for just under $600. The Airdyne is practically indestructible and will last 20 years or more – it's a great value! 
Show me other Marcy Exercise Bikes