The ProForm Hybrid Trainer – A 2-in-1 Machine for Under $600
The ProForm Hybrid Trainer is a cross between a recumbent bike and an elliptical machine. It's one of the more unique offerings by ProForm, a company skilled in crafting decent workout machines at low prices.
The Bikes
This 2-in-1 machine is unlike any other cross trainers, and offers the opportunity to target different muscle groups. It truly is a hybrid machine that should get more attention, but it's at the low end of the price point, where most serious athletes don't even bother looking for a decent cross trainer.  
There is a Base and a Pro version, and the specs include: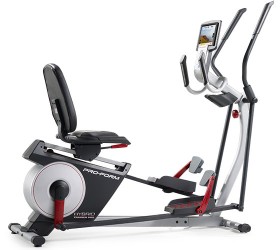 Silent Magnetic Resistance brakes
15" (Base) 17" (Pro) stride length
16-20 workout programs
Dual-Grip EKG™ Heart Rate Monitor
iFit Bluetooth capable
Adjustable, levelling feet
Padded recumbent seat
RPM meter
LCD display shows time, distance, resistance, calories burned and pulse rate
Oversized pedals adjust for recumbent cycling or elliptical training
Inertia-Enhanced Flywheel
Transport wheels
350 lb. Weight Capacity
Warranty: 5 years frame, 90 days parts & labor for the base; Lifetime frame, 1 yr parts & Labor for the Pro
Check out the popular Proform Hybrid Trainers on sale now!
The Buzz
There isn't a lot of chatter about the ProForm Hybrid Trainer on the Internet, which is a shame. It's actually a pretty good machine for anyone who wants to get in shape but has problems with arthritis or other conditions that require a low-impact workout.
Reviews across the board reveal that users like the comfort and ease of use of the Hybrid and are thrilled to get not one but two low-impact options for their money.
Most people who tried it felt that the range of workout programs and the 350 pound weight capacity were the best features, giving even those who were seriously out of shape solid workout options.
They also liked the wide range of workout programs. A few people noted that the warranty on the frame of the base model was only decent, and that the parts and labor coverage was disappointing at only 90 days.  The Pro version definitely offers a much better warranty.

Our Take on the ProForm Hybrid Trainers
The ProForm Hybrid Trainer gives people who need a low impact workout a serious combination machine that expands their exercise options with both an elliptical machine and a recumbent bike in one package.
The pedals can be easily adjusted for different users as well as the bike and elliptical options. The inertia enhanced flywheel and magnetic resistance brakes both contribute to a smooth workout.
We were disappointed in the short 15" stride (17" on the Pro is a little better), which can be too short for some taller users, but it would be difficult to lengthen the stride without somehow interfering with the recumbent bike.
The 16 resistance levels and workout programs are impressive in a machine that's just under $400, but ProForm falls short on the warranty. Just 90 days on parts and labor simply isn't good enough for a machine with this many moving parts and adjustments, and only five years on the frame lets you know that the ProForm Hybrid Trainer is meant to be a disposable piece of exercise equipment.
It's a shame, because the design could have made it a real contender for the best low-impact exercise machine on the market.
The Pro version, with 20 resistance levels and 20 workout programs, along with the stronger warranty, is probably a better buy at just $599 on sale.
Either one will give you a lot of variety with plenty of features including ICON Fitness' iFit technology, iPod compatibility, cushioned seat, the Watts Power meter, tablet holder, heart rate monitor and silent mgentic resistance.
That's certainly a lot for the price you are paying.
Show me other ProForm Exercise Bikes