Best Exercise Bikes –
Buying Guide & Reviews
Tips and Advice on Finding the Best Exercise Bike
When choosing a home exercise bike, reviews are only a part of the overall buying process. You will also want to study and compare models and makers to see what has been around for awhile and where the industry is going with innovative new designs.
The New Variety of Bikes
In your search for the best exercise bike, and before making a purchase, take some time to read about the different styles of bikes available. While all stationary bikes share basic characteristics, in that they have a riding saddle or seat, pedals, and handlebars, after that, things get a little more interesting.
To show you what we mean, here is a list of the types of exercise bike reviews we do on this site: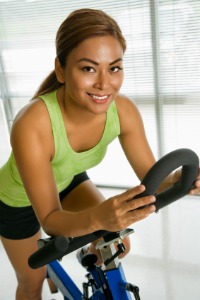 Upright exercise bikes have been around for decades and are the stationary models most people think of first. They fit like a normal bike would with a small saddle and pedals directly below the seat.
Recumbent exercise bikes have a wider, fuller bucket seat with padded lumbar back support. Also, the pedals are positioned forward under the console. They cost more than uprights but are preferred by older adults, overweight people, and patients who ride for rehabilitation.
Spinning bikes are high-intensity uprights that have a front wheel that spins. The seat is small and hard to encourage the rider to stand often while pedaling. These bikes are used in group Spinning classes at health clubs.
Dual Action bikes are uprights with the addition of moving handlebars, much like the action on an elliptical trainer. These units give the rider both an upper and lower body workout.
Mini exercise bikes aren't really bikes so much as they are leg exercisers. They have a very small frame with pedals. The user sits in a chair while pedaling.
Rehab exercise bikes - If you have joint or circulatory problems, these cycles are a great way to put both the lower and upper parts of the body in motion for an effective low impact workout.
Trainers or Rollers are bike stands that allow the rider to convert their road bike to a stationary bike, usually by taking off the front wheel and bolting it to a post, and setting the back wheel on a roller.
Who Makes Stationary Bikes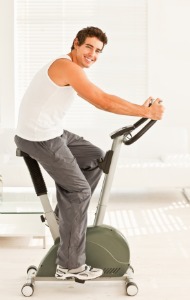 We do home exercise bike reviews on all of the major manufacturers including Body Solid, Diamondback, Endurance, Healthrider, Horizon, Kettler, LifeCycle, Life Fitness, NordicTrack, Precor, ProForm, Schwinn, and Stamina. As stationary exercise bikes are far less expensive than treadmills and elliptical trainers, these fun cardio machines range in price from $150 to $300, with a number of the best exercise bikes costing around $400 to $600. All of our reviews include a detailed list of the specs and features, comments made by users and equipment pros regarding performance and reliability, and recommendations on best buys.
Articles, Tips, and Introductions
On this site, we have articles about bikes in general and we offer reviews, as well as ideas on decent low-end models, and at what point it is time to invest in a more durable machine. Along with exercise bike reviews and the comprehensive comparison charts, we offer a buying guide and a list of what we consider the best exercise bikes of 2015, review accessories, and provide tips on workout routines and advice on maintaining your bike. We also introduce you to home ownership of commercial models as well as used (reconditioned) machines that are good buys, and offer tips on how to avoid getting ripped off when shopping for cheap bikes.
Site Map #1 | Site Map #2 | Add URL
---
Table of Contents:
Exercise bike reviews and comparison charts for upright and recumbent bikes sorted by price. Opinions and reviews from fitness experts, users and consumers. Start your search here!
The new line of AFG exercise bikes includes two hybrids and three recumbents. Hefty flywheels for smooth pedaling performance, fully adjustable seats, patented ProFILE performance tracking system.
Bladez exercise bikes do well in reviews for design, ergonomics and ease of use, sturdy frames and reliable resistance systems, even a fast half hour assembly time out of the box.
Cybex exercise bikes have a strong following among fitness trainers and health club customers. Low maintenance, highly durable construction and design, built to last a long time.
Diamondback exercise bikes are among the best recumbent and upright bikes in their price range, surprisingly affordable given the legendary name, and a delight to own.
The line-up of Endurance exercise bikes includes commercial and light commercial recumbent, upright, and spin-style bikes. Reviews of Body Solid stationary bicycles.
Epic exercise bikes are an exciting addition to the line of fitness equipment offered by this company. These bikes have low maintenance thanks to the magnetic resistance system and sealed bearings.
Fitnex exercise bikes are stylish, well designed, with decent warranties. They offer better value than many competitor models because of the level of quality delivered at reasonable prices.
HealthRider exercise bikes come in just two models, the $330 35x upright and the recumbent 35xr, which sells for $400. The bikes feature digital resistance control and silent magnetic resistance.
Horizon exercise bikes are built with first rate components, which is why you'll have to pay just a bit more for them. Reviews of Horizon upright and recumbent indoor cycles.
Kettler exercise bikes, a full line of upright, recumbent, and indoor cycles. Best-engineered designs in the industry set the bar high for quality and workmanship.
Lifecore exercise bikes have received outstanding reviews by consumers. Super quiet, stylish, compact, comfortable; an excellent investment for maintaining health and wellness.
Life Fitness exercise bikes are well built, comfortable, and extremely durable. Reviews of the legendary LifeCycle® bikes, used in health club facilities worldwide.
Lifespan exercise bikes come in 4 great looking models made with quality components and solid workmanship. Read a number of reviews if you need further confirmation of the value of these bikes.
Get in shape with Livestrong exercise bikes!Read a few reviews on the brand and you will be convinced that this Lance Armstrong-endorsed brand can help you reach your fitness goals.
Marcy exercise bikes are geared more towards participants who are new to exercise as well as senior citizens who need a compact cardio trainer for limited use of about 30 minutes per day.
The line of Nautilus exercise bikes includes two uprights and one recumbent. As value-driven machines, they are popular because of their affordable price and exceptional features.
NordicTrack exercise bikes come in just a handful of models: two recumbents, two uprights, and an indoor mechanical spinning bike with a chain drive, one of the best bikes under $400.
Precor exercise bikes for home users are the exact same bikes used in fitness centers around the world; superior bikes built with quality components and the best workmanship in the business.
Reviews on ProForm exercise bikes are average to above average. Good quality bikes at the right price: loaded with console features, adjustable for smaller/larger users for the right fit and comfort.
Schwinn exercise bikes: quality engineering, economical design, exceptional low impact cardiovascular workouts. Reviews of Schwinn upright and recumbent stationary bicycles.
The debut of Smooth exercise bikes: 6 new models including a Spinner, two semi-recumbents, two uprights, and an innovative 2-in-1 elliptical / semi-recumbent model.
Sole exercise bikes shine in areas of warranty, quality, performance and price. Own a high quality upright, recumbent or spin bike from the leading fitness equipment manufacturer.
SportsArt Fitness exercise bikes are known for quality, exceptional layout of the display console, solid warranties, great customer service and value pricing of the products.
Stamina exercise bikes come in more than a dozen models of Recumbents, Recumbent Bike/Rowers, Uprights, Indoor Cycles for spinning, folding models, and an open flywheel Air Resistance Bike.
Star Trac exercise bikes are sturdy, quiet, comfortable, backed by excellent customer service. Award-winning Spinner® bikes, uprights and recumbents offer club quality workouts.
TruPace exercise bikes come in just two models: the V320 entry-level upright and the V330, a decent low cost semi-recumbent bike. Positive remarks and feedback from consumers.
Tunturi exercise bikes, a worry-free investment for your fitness needs. Unique design, silent operation, superior component quality; is it more bike than you really need?
Vision exercise bikes are the most awarded indoor cycling products in the industry; 28 Best Buy awards over the past 14 years! One of the best health investments you can make.
Weslo exercise bikes are cheap, prices range from $99 to $249, but if that is all you can afford, then that is a lot of money to put out for an unreliable bike.
Our list of the best exercise bikes of 2015 in 3 different categories: these 6 upright and recumbent bikes made the top of the list based on price, features, warranties and consumer reviews.
Compare exercise bikes with our bike comparison charts. Make an informed decision, determine which bike offers the best investment in terms of parts quality, reliability, low maintenance and warranty.
Recumbent exercise bikes, the best solution to your cardio workout needs. The seated reclining bike is effective, compact, and suffers few if any mechanical breakdowns.
Upright exercise bikes provide low impact workouts and are more affordable than recumbent stationary bikes. Get a good workout without ever having to leave home.
Commercial exercise bikes offer superior resistance, quiet operation, adjustable saddles and handlebars. Save up to 60% on a used, reconditioned model. Reviews of leading commercial brands.
Reviews of dual action exercise bikes: the ideal bikes for weight loss, cardio conditioning, lessening arthritis pain, convenience of a home workout, challenging and sweaty exercises.
These interactive exercise bikes make you spend more time on the bike; burn more calories, get in better cardio shape. Convert any bike into a gaming bike with the XRGAMEKIT.
Mini exercise bikes are not gimmicky gadgets for lazy exercisers. People with real needs are using these pedal exercisers and motorized mini bikes with good success.
These go-anywhere portable exercise bikes are very affordable - even for those on a tight budget. Reviews of lightweight budget bikes and pedal exercisers for low-impact, non-jarring workouts.
Rehab exercise bikes for people with joint or circulatory problems; a great way to put both the lower and upper parts of the body in motion for an effective low impact workout.
Spinning exercise bikes offer a feel and ride very similar to a road bike; adjustable seat and handlebars, heavy open flywheel, unlimited resistance levels. Reviews of Spinner® indoor cycles.
Cheap exercise bikes don't have to be cheap in terms of quality; how to find an inexpensive discount bike that offers good value for the price - 6 important things to look for.
Used exercise bikes remanufactured right here in the USA. Where to find a quality used commercial bike at up to 60% off original sticker price; these refurbished models look and perform as good as new
This exercise bike buying guide helps you find a good reliable machine at an affordable price: 5 specific items to consider when shopping for recumbent, upright and other types of exercise bikes.
Most exercise bike parts are affordable and easy to replace should something break or need upgrading. Where to buy OEM parts (original equipment manufacturer parts) to ensure a precision fit.
Do exercise bike workouts at least 3 days a week or more for 30 minutes. Fat-burning, high intensity and virtual touring workout programs. Routines to challenge you; work your heart and lungs.
Exercise bike consumer reviews and comments submitted by our visitors. Rave or rant about the upright or recumbent bike you have used at home or the gym.
Reviews of stationary exercise bikes. Compare upright and recumbent exercise bikes, prices and features with our comparison charts.
This exercise bike review site is designed so that you can shop with confidence knowing you have read the most up-to-date information on a variety of models. We hope you will find our website useful.
Terms and Conditions of Use for AllExerciseBikes.net
Compensation disclosure for AllExerciseBikes.net
Comparison Charts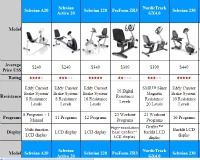 ---
Buying Guide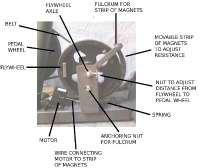 Find the right bike at the best price!
---
Workouts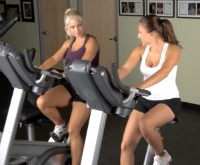 How to make the time spent exercising fun!
---
Submit Review
Rave or rant about the exercise bike you purchased online or used at the gym.