Our Wattbike Review – Worth Considering?


Wattbike was founded in the U.K. in 2000 with the goal of creating the ultimate indoor cycling experience. In the following 20+ years, the company has evolved its products while always keeping the serious cyclist in mind, which makes it no surprise that they have partnerships with several pro organizations, including the UCI Word Cycling Centre and New Zealand Rugby.
That's a great pedigree, but how does it translate for the average home exercise enthusiast?  Is this too much bike if you're just looking to get a good workout in or lose a few pounds? That's what we wondered, so we decided to check it out and see if it was worth considering for your home gym.
What is the Wattbike All About?
As the name suggests, Wattbike products are designed to measure power output in watts, a metric that is favored by serious competitive cyclists as it provides a clear picture of the energy output from your body. In other words, it lets you see exactly how much effort you're putting in when you ride.
With that goal in mind, their first offerings were commercial grade bikes. Now, they've come out with the Wattbike Atom, a sleeker and more user friendly version intended for home use that still gives you all of the precise metrics you'd expect from a Wattbike product.
At first glance, the Atom definitely does not look like your average bike, mostly because it lacks an obvious wheel. It is quite sleek and compact, however, which makes it a great fit in even the smallest workout space.
While it is small it is by no means a lightweight…literally.  This is a solid bike, with its aluminum frame sporting a heavy duty ABS plastic cover. That gives it plenty of heft so it can support users of all sizes. At the same time, it has two front mounted wheels that allow for relatively easy movement, although you won't want to be hefting it too much.
Once you have it in place, the four rubber feet on the rounded metal base provide for maximum stability on any surface.
Unlike most trainers, which require you to attach your own road bike to a base, the Wattbike Atom comes in one piece, so all you have to do is plug it in, get on and ride, which makes it extremely convenient.
With the ability to adjust the seat and handlebars both vertically and front to back, it's easy to find your comfort zone and to switch from one user to another, making it great for households with multiple users.  The millimeter gauges make it very simple to adjust and Wattbike even provides an expert bike fit calculator to help match it to the exact measurements of your road bike, which we especially appreciated.  There are built-in handles to use for vertical adjustments and Allen wrenches included for making front-to-back adjustments, all of which was very easy to do.
It comes with a standard racing saddle but it's easy to swap out so you can use whatever seat you want, another nice comfort feature.

What Kind of Technology Does It Have?

Of course, in today's market the primary feature most users look for is built-in technology and the Wattbike Atom certainly doesn't skimp on this level, although a quick glance shows you that it's clearly not on the same level as some of the popular models like Peloton with their large HD monitors and immersive workout programs.
The Atom doesn't have a monitor, but it does include a holster arm in front of the handlebars that can easily be adjusted to firmly hold your tablet or phone.
Unlike Peloton and other brands that include an extra monthly subscription fee to access their app, the Wattbike Hub app comes free with the bike, which helps offset the sticker price somewhat.
The Hub provides a good range of options, from HIIT workouts to endurance programs, climbs and training plans, all based on your individual fitness level. It provides all of the necessary data and then some, including pedal efficiency, which measures the performance of each leg so that you can adjust your balance and stroke to improve your technique.
Along with the Wattbike Hub app, you'll also get free trials of third party apps including Zwift, Rouvy and others to increase your workout experience even more.
WattBike - The Pros and Cons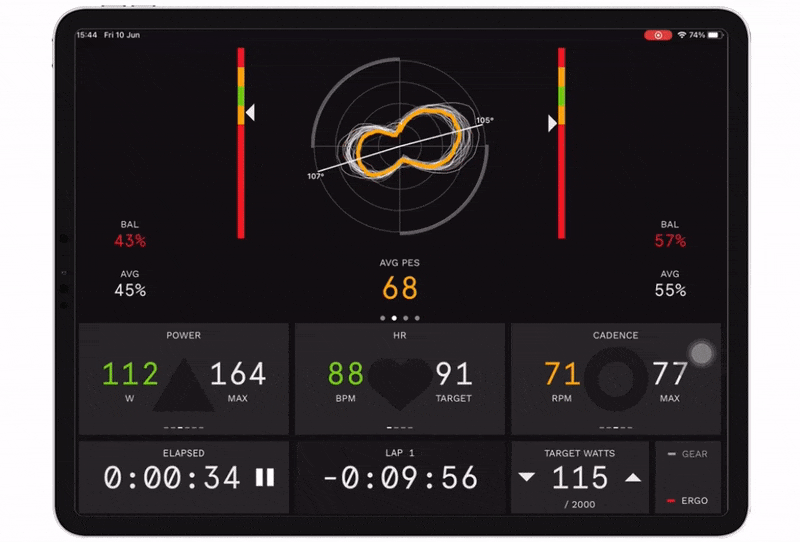 There's certainly a lot to take in with this unique training bike, but even the best things in life have their drawbacks and the Wattbike Atom is no different.
Wattbike - Pros
If you're looking for a bike that's easy to use, great looking and won't take up a lot of room in your home, then look no further. The Atom comes in one piece, requires just a few simple adjustments to find your comfort zone and has a sleek, modern look with its snazzy black and red design.  It doesn't look like your average exercise bike but that doesn't mean it's hard on the eyes.
For serious cyclists, the Wattbike Hub provides all of the data you need, from personalized training plans and workouts to instant feedback so you can gauge how you're doing and get the most out of your workout experience. With full Bluetooth capability, you can also easily track your heart rate.
The ability to connect with other popular apps like Zwift is also a big plus, as this provides even more workout options. 
While it may seem like its slim design wouldn't stand up to heavy use, that's not at all what we found. The stabilizer feet and solid build help to give it a sturdy feel during even the toughest of workouts.  We were able to power through the most challenging inclines without any wobbling or wavering, which was a definite plus.
We also loved how the Wattbike Hub was able to automatically adjust to elevation changes in virtual rides so that you can focus on your pedaling technique and power. Along with the precision electromagnetic resistance, that makes for a smooth, comfortable ride.
Wattbike - Cons
Though it has a lot going for it, we did find a couple of negatives with this bike starting, not surprisingly, with the price.
Though the Wattbike Hub app is free, the Atom still retails for around $3,400 or so, which is a considerable investment for the average consumer.  It's also worth noting that the Atom is currently only available in California, which could be somewhat of a drawback depending on your location, but hopefully that will change as the brand picks up popularity on this side of the Atlantic.
Aside from cost, probably the biggest negative we found was the gear shifting. While most exercise bikes use multiple resistance levels, the Atom features gears similar to what you'd find on standard road cycles. There are 22 gears, which can be shifted using control buttons on the handlebars.
Though this is a simple enough concept, it can be difficult for new or less experienced users to accurately adjust as they move through a particular workout program. It can also be difficult to find the buttons when you're at the height of your workout. We found ourselves stumbling around a little to locate the buttons at first, although with more use it would probably become more intuitive.
While the Wattbike Hub offers plenty of workout options and lets you track all of your data, it lacks the flash of popular brands like Peloton or NordickTrack with their interactive programs.  If you prefer having a live trainer shouting you through your workout for motivation, you won't be happy with the Wattbike experience.
Since this is a bike designed with professionals in mind, the highest gears should not be taken lightly.  These are intended to be a challenge and will likely put the muscles of average riders to the test.
As far as comfort, if you intend to spend a serious amount of time on the Wattbike Atom, you'll likely want to switch out the included racing saddle for a more comfortable seat.  We weren't on it for long before certain body parts began to feel the strain.
Finally, while the electromagnetic resistance is supposed to make it operate more quietly than many bikes, we found that the high pitched whirring of the flywheel could actually be a bit aggravating after a while.

Wattbike Atom - The Bottom Line
So with all of that in mind, is the Wattbike Atom really worth considering?  Well…that depends on what you're looking for from your exercise experience.
Certainly, with its substantial sticker price, it is not a purchase that should be taken lightly. You'll want to think long and hard before investing that kind of capital.
That being said, if you're a serious cyclist looking for a more convenient and comprehensive training tool, then the Wattbike Atom certainly has plenty to offer. With the free Wattbike Hub app you can keep track of all of your important data, including advance measurements like pedal efficiency.
Though the gear shifting provides a real road feel it can be daunting for more inexperienced cyclists to adjust through the 22 different gears on the fly, making for a somewhat choppy workout experience.
For novice cyclists or the average home exercise enthusiast just looking to get a little more out of their workouts, this may not be the best choice as you can find a fairly decent workout experience at a more affordable price.
But for the more hardcore cycling fan, it's hard to find a better or more challenging overall option than the Wattbike Atom. 

---