Precor Exercise Bikes - The Top Brand Choice for Fitness Centers

Like the rest of their outstanding cardio machines, Precor exercise bikes offer superior design to make your workout more enjoyable, comfortable, and effective.
About the Company
Precor was founded in 1980 by industrial designer David Smith as Precision Corporation. From the start, Precor earned a reputation for quality and innovation in its cardio equipment line, and later in its strength training products.
From launching the industry's first cushioned treadmill in 1990, to introducing the highly regarded Elliptical Fitness Crosstrainer™ (EFX) in 1995 and the Adaptive Motion Trainer® (AMT) in 2007, this award-winning company has distinguished itself as a leader in residential and commercial fitness equipment.
In 2002, Precor became a subsidiary of Amer Sports Corporation, the world's largest sports equipment company, and the parent of the brands Atomic, Arc'Teryx, Mavic, Suunto, Salomon, and Wilson.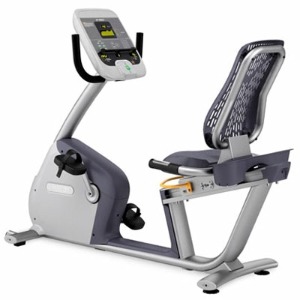 The Fitness Bikes
The Precor exercise bikes for home users are the exact same bikes used in fitness centers and health clubs around the world. These self-powered bikes require no plug-in to light up the console, and feature Precor's patented SmartRate® Heart Rate System with handlebar grip sensors, and KOPS (Knee Over Pedal Spindle) biomechanics that put the user's seat in an optimal position for more efficient pedaling.
Check out the latest Precor exercise bikes at the official store!
There are currently 4 models to choose from, two uprights and two recumbents. 
The Assurance Series
The UBK 615 Upright Bike is the entry level model, if you can call it that at just under $2,500. It features three handlebar positions, 6 preset workouts, 25 resistance levels and customizable pedals.
The RBK 615 Recumbent Bike is comparable to the UBK 615, with a step through design and comfortable, ventilated seat.  It costs around $2,445 on sale.
The Experience Series
The top of the line series consists of the UBK 835 and RBK 835 with 12 workout programs and a larger LED display.

The company recently did away with the mid-level series, consisting of the UBK 815 Upright Bike with dual-side pedals, 14 level adjustments on the seat, two-stage drive system for quieter operation, advanced LED display and upgraded frame, and the RBK 815 Recumbent Bike shares features and capabilities of the UBK 815.
Compare Prices on Precor Bikes at Amazon

All bikes have warranties that cover the frame for life, 5 years on the parts and wear items, and one-year in-home service coverage.
UPDATE:  The company recently partnered up with Mad Dogg to create a new line of Spinner bikes.  Check out our reviews here.
Built To Last
When you read any reviews on Precor exercise bikes, you will always find them judged to be superior machines that are built with quality components and the best workmanship in the business.
Not only have these efforts won Precor numerous awards year after year from numerous sources, Precor cardio machines are the top brand choice for fitness center, spas, health clubs, and hotels around the world, including more than 500 Hilton Family hotels.
If you want the best cardio equipment in your home gym, you can buy with confidence when you choose Precor.
Precor Exercise Bike Reviews
Most Popular Bikes
Precor UBK 835 Upright - A self-powered commercial model that will help you stay motivated by providing an enjoyable and comfortable daily workout.
Precor RBK 835 Recumbent - This recumbent exercise bike delivers one of the smoothest, quietest rides you can find anywhere. Whether it's for rehab, cardio health or cross-training, it is a joy to own and use.
---