Bowflex VeloCore Bike Review - Peloton Challenger
The latest addition to the line of Bowflex exercise bikes, the VeloCore takes your workout to the next level with its innovative dual mode system. This unique feature lets you use the bike as a standard stationary bike or switch into Leaning Mode, to get a truly immersive workout as you experience the true feel of the road.
While it is similar in style and has many of the same features as the Bowflex C6 & C7 Bikes, the VeloCore truly stands out with its one-of-a-kind approach to training.
Its slim, sleek look won't clutter up your house or home gym and its complete technological compatibility lets you adjust your workout to your own needs. It even allows you to access the Peloton app, so you can get the same workout at a more affordable price.
So let's take a closer look at the VeloCore and see how it compares, not only to the C6 & C7 but also to the competition.
The Bike
The VeloCore is advertised as the stationary bike that is anything but stationary and the addition of Leaning Mode certainly bears that out.
This bike is packed with a variety of other features as well, including: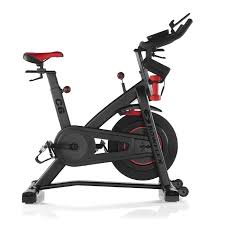 100 Level Magnetic Resistance 
Bluetooth Heart Rate Armband
Multiple App Integration
Leaning or Stationary Mode
Streaming Entertainment
16" or 22" Touch Screen Display
Dimensions: 59.8"L x 24.1"W x 52.6"H
User capacity: 325 pounds
Warranty: 2 yr mechanical, 2 yr parts, 1 yr labor
Check out the VeloCore on sale now at the official Bowflex site!

The Buzz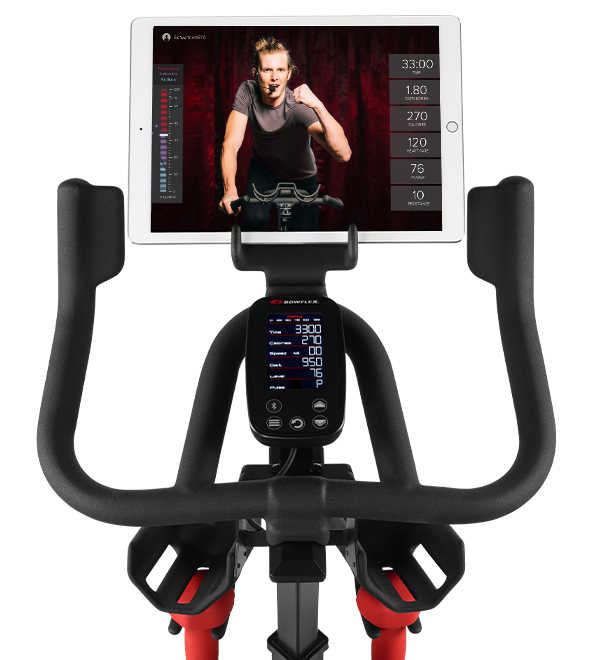 With the popularity of other interactive bikes, like those from Peloton and Echelon, it was only a matter of time before Bowflex tested the market and the introduction of their C6 Bike did not disappoint.
It combined the technological capabilities of the more expensive models with some added features that are unique to Bowflex. The VeloCore picks up where the C6 left off, adding a whole new dimension to the Bowflex line.
Of course the main difference with the VeloCore is the ability to switch from standard Stationary Mode to the more interactive and immersive Leaning Mode.
With just a simple adjustment, you have the ability to lean into the curves as you follow your favorite workout, whether taking a class led by a professional instructor or just cycling along a scenic path. The ability to rock and lean as you go makes for a more natural riding experience and lets you workout the muscles of your upper body along with your legs.
Bowflex has also expanded its workout offerings with its JRNY program. A JRNY subscription gives the user access to a range of adaptive workouts that automatically adjust with you as your needs change plus a variety of 40+ scenic rides that let you explore the world from the comfort of your own home.
You'll also have access to 75+ trainer led videos and a virtual coach who can nudge you along through your workout and help you keep on track.
Aside from the workout options, a JRNY subscription also allows users to access their accounts on a number of entertainment sites including Netflix, Hulu, Amazon Prime Video and Disney+ so you can watch as you ride.
Or if you prefer, you can access other workout apps, including the Peloton app, Zwift or others directly from your smart phone, tablet or smart TV. That's a level of flexibility that Peloton and other bikes don't offer, as most don't allow access to non-native apps.
Unlike the Bowflex C6, which only comes with easily adjustable hooks that allow you to attach a screen size of your choice, the VeloCore comes with one of two built-in consoles, either 16" or 22". The VeloCore also comes with an adjustable media rack that can easily hold any smart phone or tablet and built in Bluetooth speakers to ensure the highest quality sound.
The adjustable HD touch screen lets you easily keep track of all of your vital stats including time, distance (in km or miles), calories, burn rate (calories per minute), heart rate, cadence, resistance, and watts. With a JRNY subscription you can also monitor your interval and lean metrics. This comprehensive tracking ability lets you get the most out of your workout.
You can smoothly adjust to any of 100 resistance levels with the simple turn of an easily accessible knob so you don't have to disrupt your workout to raise or lower resistance. There are also a couple of added extras that are included with the VeloCore to enhance your workout even further. 
These include a Bluetooth armband that lets you track your heart rate and a pair of 3lb. dumbbells that conveniently store right on the bike post and can be used to give your arms and upper body a workout too.
Of course, the VeloCore is also designed for maximum comfort and features like the dual adjusting seat, adjustable handlebars and dual link pedals with toe cages for a non-slip grip ensure that the bike will comfortably fit any size rider. You won't have to worry about a sore back, butt or legs taking away from your workout with this model.
A Step Up From the Bowflex C6
As noted above, while the Bowflex C6 Bike offers many of the same features and added extras like the dumbbells and arm band heart rate monitor, there are a few notable differences between it and the VeloCore. The most prominent is the unique Leaning Mode available only on the VeloCore, but the two models also vary when it comes to both price and warranty coverage.
The C6 actually offers a considerably more sizable 10 year frame warranty along with a 3 year warranty on mechanical parts and electrical components and a1year labor warranty, compared to the VeloCore's 2 year mechanical, 2 year parts and 1 year labor warranty. You can also purchase extended warranty plans of either 3 or 5 years parts and labor for either of the VeloCore console sizes.
The price of the VeloCore varies depending on the size of the console, with the 16" coming in at $1,699 and the 22" at $2,199. The C6 is a more affordable $1,105, but the savings comes at the expense of several key features.
How does VeloCore Compare to Other Interactive Bikes?
While other brands such as Peloton, Echelon and Schwinn offer interactive bikes, there are some substantial differences when compared to the Bowflex VeloCore. Most notably, the VeloCore is the only bike on the market to offer Leaning Mode, allowing you to move more freely through your workout for a much more immersive experience.
Both Peloton and Echelon offer models with built-in apps that allow the user to access hundreds of live-streaming and on-demand classes with professional trainers but both of these makers restrict use to their own native app, which requires an additional subscription cost. 
By contrast, while VeloCore requires a subscription to their JRNY app, it also features the ability to access a number of non-native apps, including the Peloton app. This can allow users to get a Peloton level workout at a much more affordable price.
Price is the other key difference, with Peloton topping out at the high end of the spectrum with a $2,738 price tag.  Echelon has several models, which range in price from $839 to $1,239 but that savings comes at the expense of both technology (as stated above you are limited to a native app) as well as resistance, with Echelon offering only 32 resistance levels to VeloCore's 100.
The Schwinn IC4 comes in at a surprisingly affordable $899 and includes the ability to access non-native apps including the Peloton app as well as 100 levels of resistance. It falls short of the VeloCore in that it doesn't include a built-in console, instead simply providing an integrated device holder that can adjust to fit your table or smart phone.
Bowflex VeloCore Bike - Bottom Line
If you're looking for all of the technological capabilities of the more expensive models at a more user friendly price, then the Bowflex VeloCore may be the ideal choice for you. It even allows you to tap into the Peloton app or any other app of your choosing so that you can get exactly the quality workout you want with the visibility and clarity of either a 16" or 22" display.
The one thing that this bike offers that makes it stand out from the pack is the incredible immersive experience of Leaning Mode. If you're tired of your stationary bike workout being so…stationary…then switch over to Leaning Mode and power up to the next level as you hug the curves and feel each twist in the road. It's a great way to engage both upper and lower body muscles for a workout that hits all the important points.
 With free dumbbells and a Bluetooth heart rate arm band monitor included with your purchase, there's a lot to love about this model. It may be a bit pricey for some but it still provides a more affordable, and even more interactive, alternative to Peloton.
So try out the VeloCore and get the workout you want with an extra competitive edge.
Get more info and special discount prices on this bike here!