ProForm Exercise Bike Reviews – Good Quality, Attractive Features

Indoor cycling is ideal for getting fit and ProForm exercise bikes are budget priced so that anyone at any fitness level can afford to start on the road to good health.
They have a wide range of models to choose from, and they're just packed with extras you don't typically find.
Let's get into our reviews of the brand and the bikes to see what they are all about...
About the Company
ProForm is one of the brands owned by the large fitness equipment conglomerate, ICON Fitness, which also owns NordicTrack, Healthrider and Weslo.
In the case of ProForm, larger isn't necessarily better as this brand has some issues with quality control and the customer service is lacking. Both of those drawbacks can be easily corrected.
The important point is that ProForm strives to provide good quality bikes with attractive features at prices the public can afford.

The Current ProForm Exercise Bike Lineup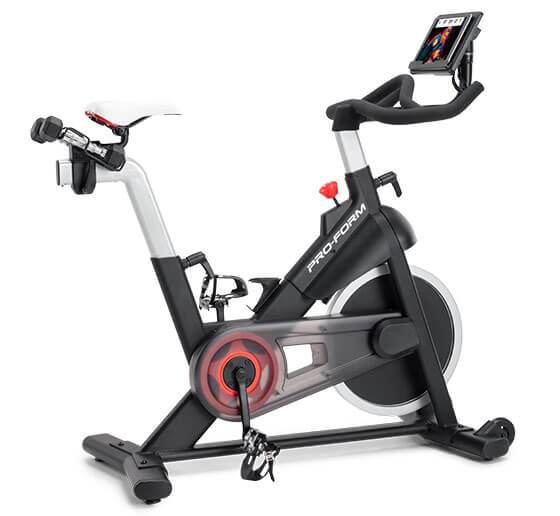 ProForm has changed up the models quite a bit over the years, and fortunately the bikes seem to be getting better and better.
The current lineup consists of the Studio Series, C Series and Hybrid Series.
Let's take a look at the entire series to see how all of the ProForm exercise bikes compare.
Studio Series

There are currently three bikes in the Studio Series.
Here you have the new Studio Bike Pro 22 and Studio Bike Pro, two of the most advanced cycles in the lineup, as well as the new Carbon CX, which replaces the previous ProForm Cycle Trainer.
These bikes give you tons of adjustability, more resistance levels, incline and decline capability as well as built in workout programs.  They come with iFit as well.
C Series

This is the newest exercise bike series in the company's lineup, consisting of the Pro C10R recumbent and the Pro C10U upright bike. These bikes recently replaced the E Series models.
These bikes up the ante with 10" full color touch displays, ActivePulse technology for optimal cardio, iFit built in, Bluetooth compatibility and workout fans.
Hybrid Trainer Series
This is a step up from the X-Trainer ProForm exercise bikes, giving you an elliptical and a recumbent bike combined in one machine.
The base Hybrid Trainer (may be discontinued) features 16 magnetic resistance levels, 16 built in workouts, upper body arms, a 15" stride, 13 lb. flywheel, adjustable seat and pedals, heart rate monitoring and a 350 lb. max weight capacity.
The mid-level XT  is nearly identical to the base Hybrid Trainer, but adds a larger tablet holder.
The top-end Pro (may be discontinued) improves upon the base and XT models with 4 additional resistance levels, 4 more built in workouts, a larger 17" stride, cushioned pedals, a 15 lb. flywheel and a stronger warranty.
DISCONTINUED MODELS

Here are some of the discontinued ProForm exercise bikes, in case you come across one of these models used.
E Series
ProForm consolidated their upright and recumbents to only one model of each.
The 8.0 EX upright has a 5" backlit display, 30 built in workouts, 16 lb. flywheel, 25 resistance levels and a 300 lb. max weight capacity.
The 440 ES recumbent  has a 5" backlit display, 32 built in workouts, 18 lb. flywheel, 25 resistance levels and a 350 lb. max weight capacity.
The up-level 14.0 EX and 740 ES are no longer available.
X-Bike Series
This is the entry level series, featuring the most basic and least expensive models the company carries.
The base X-bike features an upright frame, SpaceSaver design, 8 resistance levels, vertical seat adjustment, tablet holder, transport wheels and a 250 lb. max weight capacity.
The up-level X-Bike Duo gives you everything the base model has plus the ability to make the seat recumbent as well, an additional 6 resistance levels, iFit Coach technology, 14 built in workouts, oversized seat and adjustable console, as well as a stronger warranty.
Check out the latest ProForm Exercise Bikes on Sale Now
How Do ProForm Bikes Compare to the Competition?
When it comes to features and capabilities, ProForm and sister company NordicTrack remain ahead of the competition. Although they aren't necessarily commercial grade, the bikes come with just about everything you need to get a great workout.
NordicTrack has their own upright, recumbent and studio bikes that are very similar to what ProForm offers. You can line up the models side by side to make a determination as far as which one you prefer.
Horizon Fitness is also comparable price wise, and they have a very affordable upright and recumbent bike as well as two relatively new studio cycles. The difference with Horizon is you can use a number of different fitness apps with their bikes, as opposed to just iFit on ProForm and NordicTrack machines.
Sole Fitness is another great option for you. The quality and warranties are a bit better than most...however you don't get the touch screens and other comfort features.
So as you are looking at ProForm exercise bikes also take a look at NordicTrack, Horizon and Sole to compare offerings.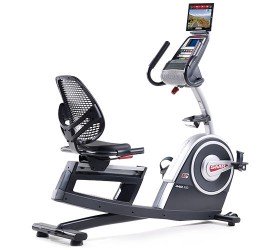 What Customers Say About ProForm Exercise Bikes
The reviews on ProForm bikes are generally very good. Most of the bikes are so inexpensive that users are realistic in their expectations and give them kudos for the strong points, particularly the features on the entry-level recumbent and upright.
ProForm exercise bikes are loaded with console features, adjustability for smaller and larger users for the right fit and comfort, and the right price.
The company has made a name for themselves over the years as the go to brand for value and features, so you really can't go wrong with any of the exercise bikes you choose.

Model Reviews
Popular Models
ProForm Pro C10R - one of the newer bikes in the series, this recumbent with a touch screen display replaced the previous 440ES model.
ProForm Pro C10U - counterpart to the Pro C10R, this is an upright bike with all of the same features as the recumbent version.

ProForm Studio Bike Pro - one of the newest models with incline capability plus a touch screen HD display with internet.
ProForm Hybrid Trainer - An unusual cross trainer that combines a recumbent exercise bike with a fully functional elliptical trainer.

Older Models
ProForm 440 ES Recumbent - the base model in the series featuring a basic, backlit display, plenty of workouts and iFit technology.
ProForm 8.0 EX Upright - iFit Coach workouts and training along with 30 built in workouts and 25 resistance levels.
ProForm Cycle Trainer -  the newest exercise bike first introduced in 2019, an affordable studio cycle with a 10" touch screen display, iFit Coach on-demand workouts and 22 resistance levels.

ProForm 14.0 EX Upright - the upper level model with internet capability and tons of workout programs and resistance levels to choose from.
ProForm 740 ES Recumbent - a feature-packed exercise bike with iFit, a 7" touchscreen with web browser, 26 resistance levels and comfort features.
ProForm X-Bikes - Entry level bikes first introduced in 2017, including two affordable models under $300.
ProForm TDF Pro 5.0 - part of the Road Series with automatic incline and decline and a 10" color touch screen.

Check out all of the newest bikes at special sale prices here
---