Recumbent Exercise Bikes – Effective, Comfortable and Safe Workouts
It might come as a surprise that recumbent exercise bikes are liked by fit athletes as well as people with sedentary lifestyles. Might you be a potential fan of the seated bike? If you don't like the discomfort of an upright stationary cycle, the recumbent may be the solution to your cardio workout needs.
These bikes are effective, compact, and are prone to few if any mechanical breakdowns. Like uprights, most recumbent exercise bikes are based on magnetic flywheels that are very quiet, and they have electronic displays to show feedback on your workout stats.
Many Positive Features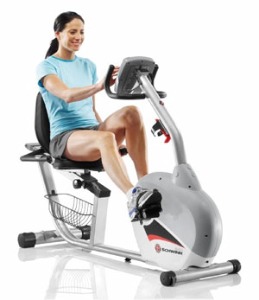 The advantages of recumbent bikes are emphasized in the comfort and safety of the design, as well as:
Wide comfortable bucket seat and a padded backrest for lumbar support.
Seniors often prefer them for the safety. Recumbent stationary bikes are lower to the floor with the legs comfortably stretched out front. The pedals are located under and at the back of the console post.
Overweight individuals are more comfortable on recumbent bikes than trying to maintain balance on uprights.
By using a bike of the proper size, the workouts should be pain-free with no stress on the knees or hips. There is little pressure on the joints due to the design of these bikes.
Recumbent exercise bikes offer good anatomical positioning! Riders on uprights tend to hunch over the handlebars due to either boredom or distraction. This bad posture places strain on the back.
Pre-programmed workouts offer a challenge and change from a manual pedaling routine.
Your hands are free to hold a book or to press a set of hand weights or dumbbells to get an upper body workout.
Wide range of resistance from zero and up to simulated uphill pedaling.
Pedaling while seated might look easy, but it can be made to be very challenging – hitting different leg muscles using different programs and settings.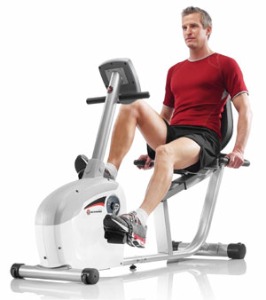 The disadvantages? None, except perhaps the cost: recumbent bikes tend to be slightly higher priced than upright exercise bikes depending on the features and resistance mechanism.
Pay Less, Get More For Recumbents
While there are commercial models that cost thousands of dollars, the good news is that residential models cost around $200 to $1000 on average, usually with Free Shipping if you buy from Internet retailers.
Another point to consider is that recumbent exercise bikes usually don't have the types of moving parts used in treadmills and ellipticals, which means that you can get a bike loaded with features, yet will still cost less than the price of a single health care premium payment. With extra wiggle room in your budget, you can afford a better exercise bike that will last 10 years or more.