All About iFit Bikes - Options, Costs & Features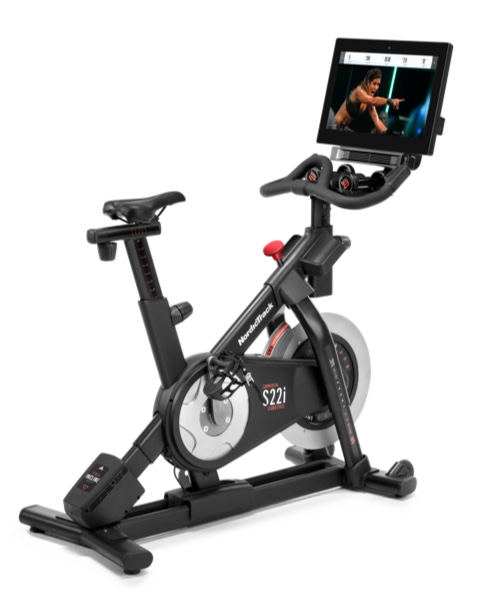 Achieving a healthy lifestyle can mean finding a balance between good nutrition and proper fitness. iFit has been helping people to reach their fitness goals since 1989, when they first began pairing technology with fitness equipment to automatically adjust settings in order to maximize your workout. 
From their earliest days, using VHS players and CD's, iFit has evolved with a series of apps that allow you to get customized workouts on a variety of exercise equipment and track your stats to improve your results.
Today's iFit programs incorporate touchscreens, Android tablets and programs like Google Maps to give you an all encompassing workout experience that you can't get anywhere else.
Pairing with some of the top makers of exercise bikes today, including NordicTrack and ProForm, iFit Bikes offers one of the most exciting and engaging approaches to fitness.
Check out the NordicTrack iFit Bikes on sale now!
Check out the ProForm iFit Bikes on sale now!
Let's jump into our review to see what iFit bikes are all about...
What is iFit All About?
iFit is a subscription-based interactive workout program found on ICON Fitness cardio machines, the most popular of which are NordicTrack and ProForm.
It's an ever evolving program with new features and capabilities being added on a regular basis. However, these are the core elements of the program:
·       Studio Classes – you can enjoy on-demand and live studio classes with expert coaches without ever leaving your home. You'll be able to keep pace with other iFit users for extra motivation to keep you moving toward your exercise goals.
·       Global Workouts – get out of the studio and on the road with a wide variety of trail rides in real world locations across the globe via Google maps. Your personal trainer will act as both coach and tour guide on these engaging rides that help to keep your workout fresh and fun.
·      Off Equipment Cross Training – you can take your workout from the bike to the floor as iFit's coaches lead you through a comprehensive cross training routine. You can do stretching, yoga, HIIT workouts and more.
·       Hands Free Training – there's no need to break up your workout by constantly adjusting resistance and incline as iFit trainers do all the work for you, instantly making adjustments based on the workout they choose for you.
We all know that boredom can kill any fitness routine. iFit is designed to beat boredom with a wide variety of programs that let you change things up and keep yourself engaged.
You can find everything from road and mountain trails to beginner rides and recovery rides. In the studio setting you can work for endurance and tempo or opt for a total body workout. Do strength training or even slow things down with yoga and stretching.
It's a full workout that every member of the family can participate in.
Which Exercise Bikes Have iFit?
Although some of the other ICON Fitness brands have iFit included, the ones that most people are interested in are NordicTrack and ProForm, as these two brands have the latest version of iFit.
NordicTrack iFit Bikes

NordicTrack currently offers six different bikes, each outfitted with one full year of iFit.
The Commercial Studio Bikes, S15i and S22i, have a range of features designed to give you a realistic, bike trail experience. The flex frame simulates the feel and movement of an outdoor cycle while the inertia-enhanced flywheel with Silent Magnetic Resistance gives a quieter, smoother ride.  
Each bike also comes with a 22" Smart HD Touchscreen with 360̊ rotation so that you can take your workout from the bike to the floor without missing a beat. They also come with a set of 3lb. dumbbells to help you get a great upper body workout.
NordicTrack's Recumbent Bike series includes the Commercial VR25 and Commercial R35 models, each with up to 26 levels of resistance and up to 25lb. inertia-enhanced flywheel with Silent Magnetic Resistance for the smoothest ride and most challenge workout you can get.
You can take advantage of everything the iFit program has to offer on up to a 7" Smart HD touchscreen with one touch controls. Extra features on all bikes in the Recumbent series include an AutoBreeze workout fan, lumbar-supported seats, ergonomic foot pedals, EasyGlide seat adjustment and an accessible StepThru design.
Finally, the Upright Series includes the Commercial VU 19 and Commercial VU 29. These bikes have a small footprint that allows them to fit in easily in any home gym space. Despite their size, they are loaded with a number of features that will help you get the most out of your workout.
The Commercial VU 19 has a 7" Smart HD Touchscreen and 32 onboard workouts while the Commercial VU 29 has a 14" Smart HD Touchscreen and 24 digital resistance levels. Both bikes feature a 19 lb. inertia-enhanced flywheel for the smoothest possible movement as well as an integrated tablet holder that allows you to watch your favorite shows or listen to music while you workout.
An auxiliary music port and dual 2" speakers let you make the most of your listening experience. The oversized cushion seat can be adjusted both horizontally and vertically to maximize comfort for every member of your family while built-in grip pulse sensors and the included heart rate monitor let you keep track of your heart rate throughout your workout. The AutoBreeze workout fan automatically adjusts to match the intensity of your workout so that you are cool and comfortable from start to finish.
ProForm iFit Bikes
ProForm offers five different bikes as well as a unique Hybrid Trainer, each able to be integrated with the iFit app to give you a full workout without leaving home.
The Studio Series, which includes the Studio Bike Pro 22, Carbon CX and Studio Bike Pro, are ProForm's top of the line models. 
Each has several features designed to maximize comfort and convenience, including:
·       An inertia enhanced flywheel with Silent Magnetic Resistance for smooth and quiet operation.
·       A fully adjustable seat and handlebars that can be moved up, down, forward or backward to ensure a comfortable fit for users of any size.
·       Interchangeable pedals and optional toe cages with straps.
·       Front-mounted transport wheels that make it easy to change locations.
·       Two 3lb. dumbbells included to help you get a full upper body workout with cross-fit training.
The Studio Bike Pro 22 has a 22" SmartSwivel HD Touchscreen that gives you a clear view whether you're working out on the bike or on the floor. It comes with a 1 year iFit Family Membership included that lets every member of your family take advantage of all the great features iFit offers and keep track of their progress to ensure they get the most out of their workout.
The Carbon CX has a large LCD Window Display and an integrated tablet holder that fits any size tablet, enabling you to watch your favorite show, listen to music or access the iFit program. It is fully iFit enabled with a 1 year Family Membership included.
The Studio Bike Pro is actually free with a 3 year iFit Family Membership. It has a 10" Smart HD Touchscreen with 180̊ SmartSwivel Design so that you can have a perfect view from the bike or the floor.
The E Series includes the 440 ES Recumbent model and the 8.0 EX Upright model.  
The 440 ES is iFit Enabled, with a 5" backlit display and an integrated tablet holder so that you can take advantage of all of your tablet's features. The EKG Grip Pulse Sensor lets you keep track of your heart rate during your workout. Silent Magnetic Resistance with 25 levels of resistance and an 18 lb. effective, inertia-enhanced flywheel maximize performance and front-mounted transport wheels make it easy to move anywhere.
The 8.0 EX is ProForms most affordable model, with a small footprint that makes it easy to fit in any workout space. It is iFit enabled and also comes with 30 onboard workouts. It has a 5" backlit display and an integrated tablet holder.
Other features include an EKG Heart Rate Monitor with two built-in hand grip sensors; a 16 lb. effective inertia-enhanced flywheel; an oversized, cushioned seat that can be adjusted both vertically and horizontally for maximum comfort; adjustable console angle that makes it easy to customize for your height; a built-in CoolAire workout fan with two speed settings; an audio auxiliary port; a water bottle holder; front-mounted transport wheels for easy movement and oversized leveling feet to keep the bike steady on any surface.
Finally, the Hybrid Trainer XT combines all of the features of the recumbent bike with an elliptical trainer for a workout experience like no other. It is fully iFit enabled, with an integrated tablet holder and a large LCD display.
It features a Watts Power Meter, 16 On-board Workouts, an EKG Grip Pulse Sensor, Adjustable pedals and console that enable you to get the most out of your workout, whether you're using the bike or the elliptical; an adjustable cushioned seat and oversized adjustable pedals for maximum comfort; a built-in water bottle holder and transport wheels for easy movement. The elliptical also has a 15" stride length and soft grip, upper body workout arms.
Check out the NordicTrack iFit Bikes on sale now!
Check out the ProForm iFit Bikes on sale now!
What are the iFit Bike Costs?
The cost can vary depending on the bike. Most bikes are iFit enabled and some come with iFit membership included in the purchase price.
For NordicTrack, all bikes currently come with a 1 year iFit family membership included in the purchase price. Bike prices range from $999 to $1999.
ProForm has more options, with the Studio Bike Pro 22 priced at $1499 with a 1 year iFit family membership included; the Carbon CX at just $599 with a 1 year iFit family membership included; the 440 ES recumbent bike is $699 and comes iFit enabled while the 8.0 EX upright bike is $799 and iFit enabled and the Hybrid Trainer XT is $599, iFit enabled.
The Studio Bike Pro is free with a 3 year iFit family membership that costs $39 a month for a total of $1,403 over the 36 months, making it an exceptionally good buy.
So depending on the bike you choose, iFit may or may not be included for free for at least a year. After that time you'll have to pay a monthly or yearly fee to continue using it.
iFit Bikes vs. Peloton & Others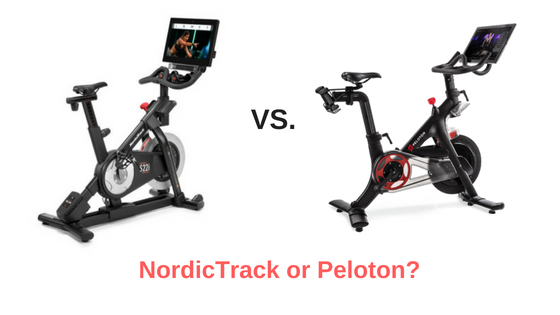 There is a lot to consider when it comes to purchasing an exercise bike and it's worth taking a look at how iFit bikes stack up against the competition. Other makers including Peleton, Echelon, MyX and Bowflex, offer their own interactive exercise experience with a range of features.
Peleton is priced similarly to iFit at $39 a month and includes built-in 24/7/365 live and preprogrammed classes led by real instructors. Unlike the iFit bikes, Peleton bikes only offer seat adjustability and their touchscreens can't be adjusted. Their pedals also require the use of specialized cycling shoes.
The MyX Bikes are more affordable at just $29 a month and it offers a workout experience designed specifically for your individual needs based on stats recorded in the MyX Zone Calibration Ride. The Star Trac bikes that are part of the MyX package have both seat and handlebar adjustment, comfortable pedals that don't require special shoes and a 360̊ swivel touchscreen. MyX also stands out with it separate coach and volume controls that make it easier to hear instructions, something Peleton lacks.
Echelon bikes come with the built-in "FitPass" workout program that offers a range of everything from yoga and stretching to kickboxing and Zumba sessions led by over 30 world class trainers as well as guest and celebrity instructors. They are slightly more expensive than the iFit bikes, ranging from $839 to $2,039 for their top model.
Bowflex currently has two bike offerings, the basic C6 Bike at $999, which is fully compatible with most of the popular cycling apps and their interactive bike, the Bowflex VeloCore, with a price of either $1699 for the 16" console model or $2199 for the 22" console model.  Both models come with the "JRNY" interactive experience that combines a full range of trainer led workouts with the ability to access all of your media accounts, including Netflix, Hulu and others directly from the touchscreen. The VeloCore's biggest draw is its "leaning mode" that really lets you get the feel of on-road cycling in your own home.
You can read more about interactive exercise bikes here.
The Bottom Line iFit Bikes
If you're looking for an immersive workout experience that will keep you challenged and motivated without breaking your budget, then iFit is the choice for you.
With a wide range of bikes available, there is something for everyone and the iFit program gives you all the variety you need to get you moving and keep you going.
The iFit bikes are fully adjustable, with swivel displays that let you take your workout from the bike to the floor with ease. You can go from warm up to cool down and let iFit's world class trainers make all of the necessary resistance adjustments for you automatically so you know you'll be getting the most out of your workout.
iFit easily stands up to the competition and its price tag makes it well worth consideration. It's the gym level workout you've always wanted without the cost or hassle.
Check out the NordicTrack iFit Bikes on sale now!
Check out the ProForm iFit Bikes on sale now!