Our MYX Bike Review - Worthy Peloton Alternative?
Working out can be a real challenge in today's hectic world. Getting to the gym may not be possible and a membership can cost you a significant amount.  Knowing how many people are interested in getting a good workout but hesitant to commit to gym membership, many of the top fitness equipment brands are now offering cycles for in home exercise. 
Peloton has been the top choice for higher end bikes but now there's a new option on the market from MYX Fitness that has people talking. MYX has taken in-home workouts to the next level with a more affordable price tag and some features that Peloton and the others don't offer.
Before you choose a home exercise bike, take a few minutes to read our review and get all the buzz on the new MYX Fitness Bike.
What is the MYX Bike All About?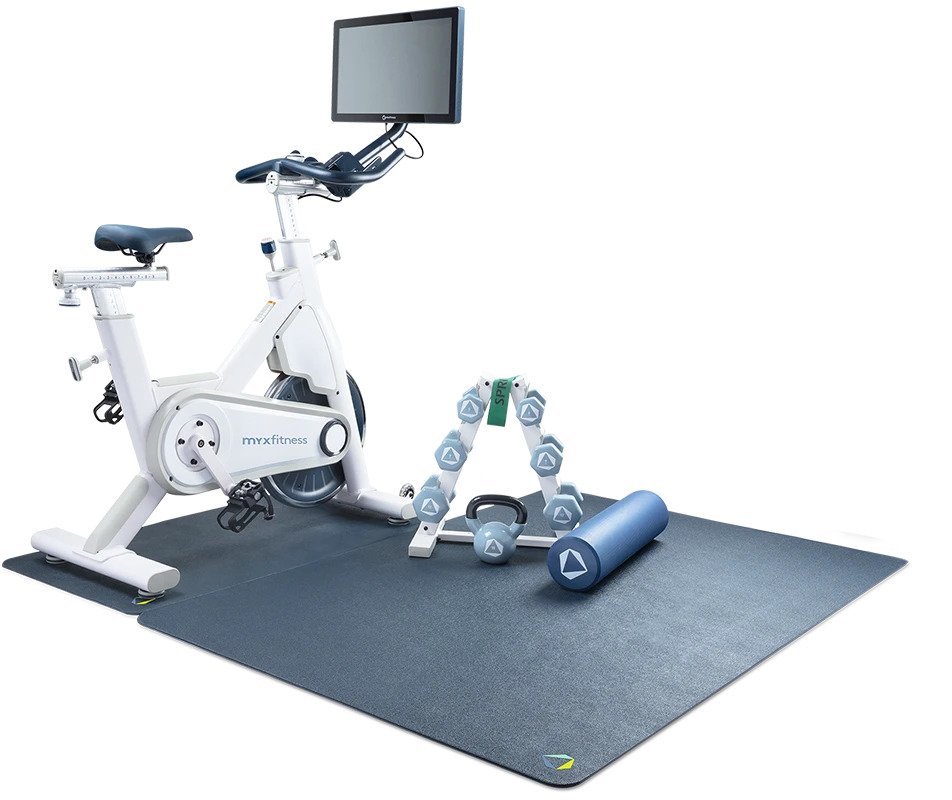 MYX brings you everything you'd expect from an exercise bike with a price tag that's much more affordable than most higher end bikes and some features you can't get from any other brand. 
There are currently two packages available from MYX: the MYX and the MYX Plus.
Each package features a compact bike made by Star Trac (one of the leading commercial cardio equipment companies in the world), a Polar OH1 Heart Rate Monitor, and motivating world-class coaches on demand with the MYX Membership. 
The MYX Plus adds extra pieces of equipment to help you get a more complete home workout.  Here's what you can expect from each package:
MYX
This is the standard package from MYX and it comes equipped with the compact Star Trac bike and a Polar OH1 Heart Rate Monitor to help keep you in your ideal zone throughout your workout.
For a separate price of $29/month, you can take your workout to the next level with a MYX Membership that puts the unique MYX training approach at your fingertips. 
The Star Trac bike has a number of attractive features, including a 360 degree swiveling, 21.5" touchscreen monitor, fully adjustable seat and handlebars to accommodate riders of any size from 4'11" to 6'8", separate coach and music volume controls to let you focus on your coach's instructions, and a compact footprint that allows it to fit easily into even the smallest of workout spaces.
MYX Plus
The MYX Plus includes the compact Star Trac bike, heart rate monitor and separate MYX membership at $29/month, as well as a stabilizing mat, 6 piece weight set with kettlebell, oversized 48" x 72" exercise mat, 24" EVA foam roller and resistance band.
With the extra equipment, you can take your workout from the bike to the floor for a more complete experience.
How Does The MYX Membership Work?
What truly sets MYX apart from other high end models like Peloton is its unique approach, which allows for a level of personalization that you can't get from any other brand. 
Starting with your MYX Zone Calibration Ride, you set your baseline heart rate and from there the system's built in algorithm calculates your three individualized heart zones based on recommendations from the American College of Sports Medicine (ACMS).
Each of your zones varies in intensity, allowing you to get the most effective training experience. Unlike many programs, MYX allows you to adjust your workout according to your own goals, so you are in complete control rather than having onboard coaches making choices for you. You're truly in the driver's seat at every step of the way. 
The system can also make recommendations for you based on the stats from your MYX Zone Calibration Ride. Using those stats, the coaches can guide you through the workout of your choice, using your specific heart zones, which vary in intensity and duration.
You can choose from a number of different workouts led by coaches that are certified heart rate performance specialists in the fields of fitness, health and dance. They're also real people who have been where you are so they're prepared to work with you 1 on 1 for an experience you can't get anywhere else.
There is more to MYX than just specialized coaching, though. MYX Media, which is also available on the bike's roomy 21.5" touchscreen, also gives you plenty of other options to choose from for your workout.
There's everything from scenic real time rides in beautiful locations around the world to conversations with wellness coaches and motivational chats with the staff of coaches to live news so you can catch up on the headlines. You can also choose from a range of musical styles with a broad selection of playlists that you can customize to your preference.

MYX Bike Pros & Cons
Purchasing an interactive indoor exercise bike can be a real investment so you need to carefully consider all of the pros and cons before making your choice. There can be any number of factors which may go in to the final decision, from budget to size to whether a specific model gives you everything you want in a workout.
The MYX System is making waves in the home exercise field and it presents plenty to consider.
Pros
Affordable – One of the biggest issues with high end exercise bikes is their price, which is what puts so many people off when it comes to Peleton. For a high end bike, the MYX System offers a lot of unique features at a relatively affordable price of $1,199 for the MYX and $1,399 for the MYX Plus.
You'll also need to pay a separate charge for the MYX Membership, but at just $29/month it's a good $10 less than similar programs from Peleton and Echelon, with a unique, personalized approach you can't get from any of the others. Plus the MYX App lets you take your workouts with you wherever you go on any of your mobile devices.
Tremendous Flexibility – Unlike most of its competition, the Star Trac bike from MYX has both an adjustable seat and adjustable handlebars, so that it can easily fit riders from 4'11" to 6'8". It also features a 360 degree swivel touchscreen so you can view the screen comfortably from anywhere in the room.
Wide Range of Workout Options – With everything from coached workout sessions to real time scenic rides, you can be sure of getting the best workout possible and all of it tailored specifically to you with MYX's heart rate calibration and cross-training approach.
Comfortable and Compact – Not only can it be completely adjusted, the Star Trac bike can also be used comfortably with any style of shoes, unlike many high end bikes which require specialized cycling shoes. It also has a compact 3'4" x 1'7" footprint that lets it fit in comfortably in even the smallest workout space. No worries here about a big, ugly piece of exercise equipment, it's designed to be small, sleek and attractive.
Cons
Difficult to Move – Despite its small size, the Star Trac bike from MYX weighs in at a relatively hefty 134 lbs. so it isn't easy to move from one place to another. It will require two people to move but once in place won't take up a lot of space.
Workouts Require Work! – There's no two ways around it, in order to get the most out of any exercise program you have to be willing to put in the commitment. That's especially true when you're paying top price for a high end bike. Fortunately, with MYX's personalization options, staying motivated and getting the most out of your workout is easy.
MYX vs. Peloton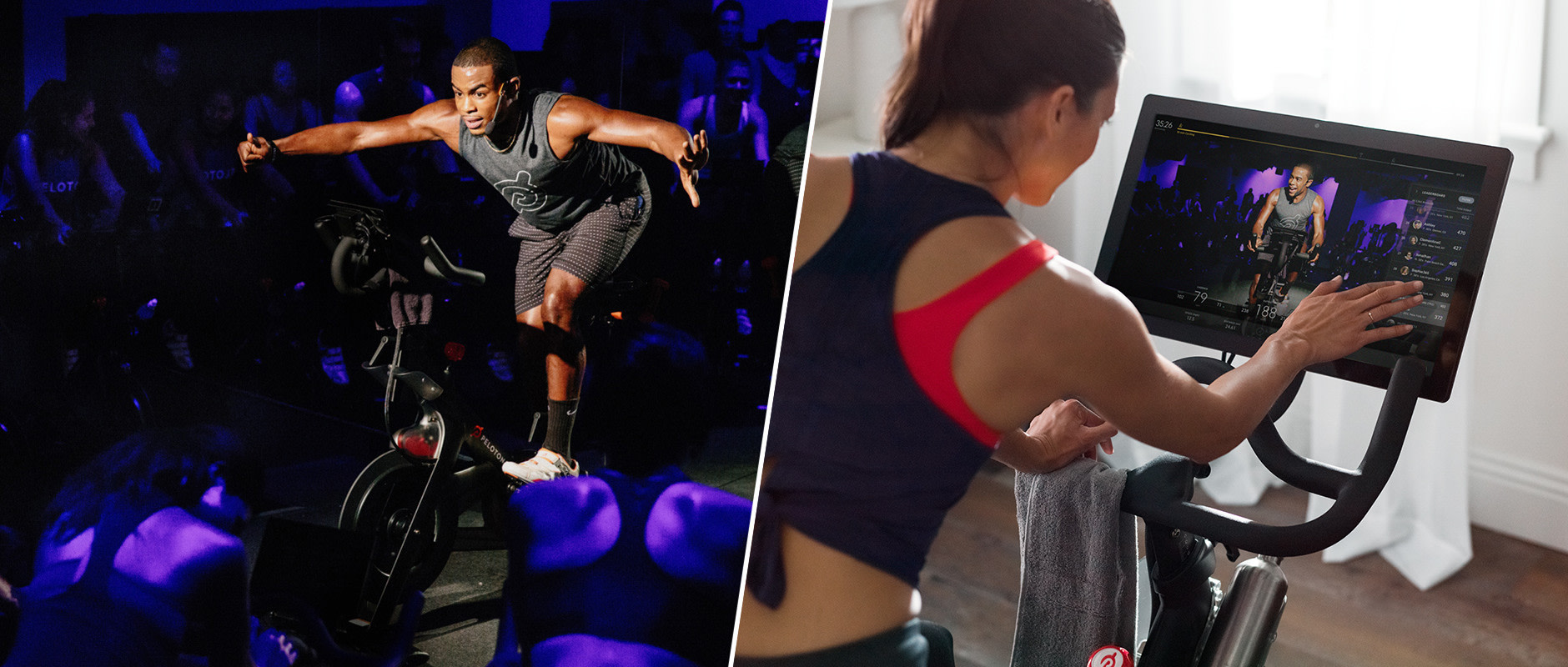 When it comes to considering high end exercise bikes, Peloton is the standard that most bikes are measured against, so it's worth taking a closer look to see exactly how MYX stands up.
What sets Peloton bikes apart is the built in 24/7/365 live and preprogrammed classes led by real instructors.
The MYX System also includes an app with coach led workouts, scenic rides and motivational programming, and it tailors everything to your individual needs based on your stats from the initial MYX Zone Calibration Ride.
It also provides a workout experience based on science, which incorporates a cross-training feel with workouts in three separate difficulty zones. Best of all, all of this comes at a price of just $29/mo, which is $10 less than Peloton's app.
When it comes to features, there are a few notable differences as well. The Star Trac bike that is part of the MYX System packages offers adjustable seat and handlebars, comfortable pedals that don't require special shoes, and a 360 degree swivel touchscreen. 
In comparison, the Peloton only offers seat adjustability and has a touchscreen that doesn't move, as well as pedals that require the use of specialized cycling shoes. 
One of the biggest differences has to do with the workout environment. The MYX Star Trac bike has separate coach and volume controls that allow you to adjust so that you can clearly hear the coaches instructions and also allows you to pause during workouts.
Peloton's touchscreen has no pause capability and does not have dual volume controls, leading to one of the biggest complaints from Peloton users, that the background music tends to drown out the coaches.
The Peloton app is fully compatible with any other indoor bike, including models from Echelon and other less expensive brands, which gives you the option to get the top of the line Peloton workout experience without paying a premium price.
It really comes down to personal preference and budget when it comes to MYX Fitness vs Peloton, Echelon or any other interactive exercise bike.
MYX Bikes - The Bottom Line
The MYX System, with its high-end Star Trac bike, is quickly finding its place among the top level bikes and with good reason.
It offers one of the more unique workout experiences, taking a cross-fit approach and tailoring each workout specifically to fit your individual stats. It also provides a selection of scenic rides, motivational programs and even the ability to watch live news while you exercise on the comfortable, fully adjustable indoor cycle.
All of this comes at a surprisingly affordable price that makes it a better deal than other high end models from Peloton and Echeleon.
With up to five individualized profiles on one MYX Membership, it's the perfect way for every member of your family to get an effective, personalized workout at home, without the hassle of going to the gym.

---