About All Exercise Bikes
We hope this site will help guide and inform you in your choice of exercise bikes. We review a wide selection of home and commercial upright, recumbent, indoor cycles and other types of stationary bikes, and make it easy to compare makes and models based on the criteria that are important to you such as price and style.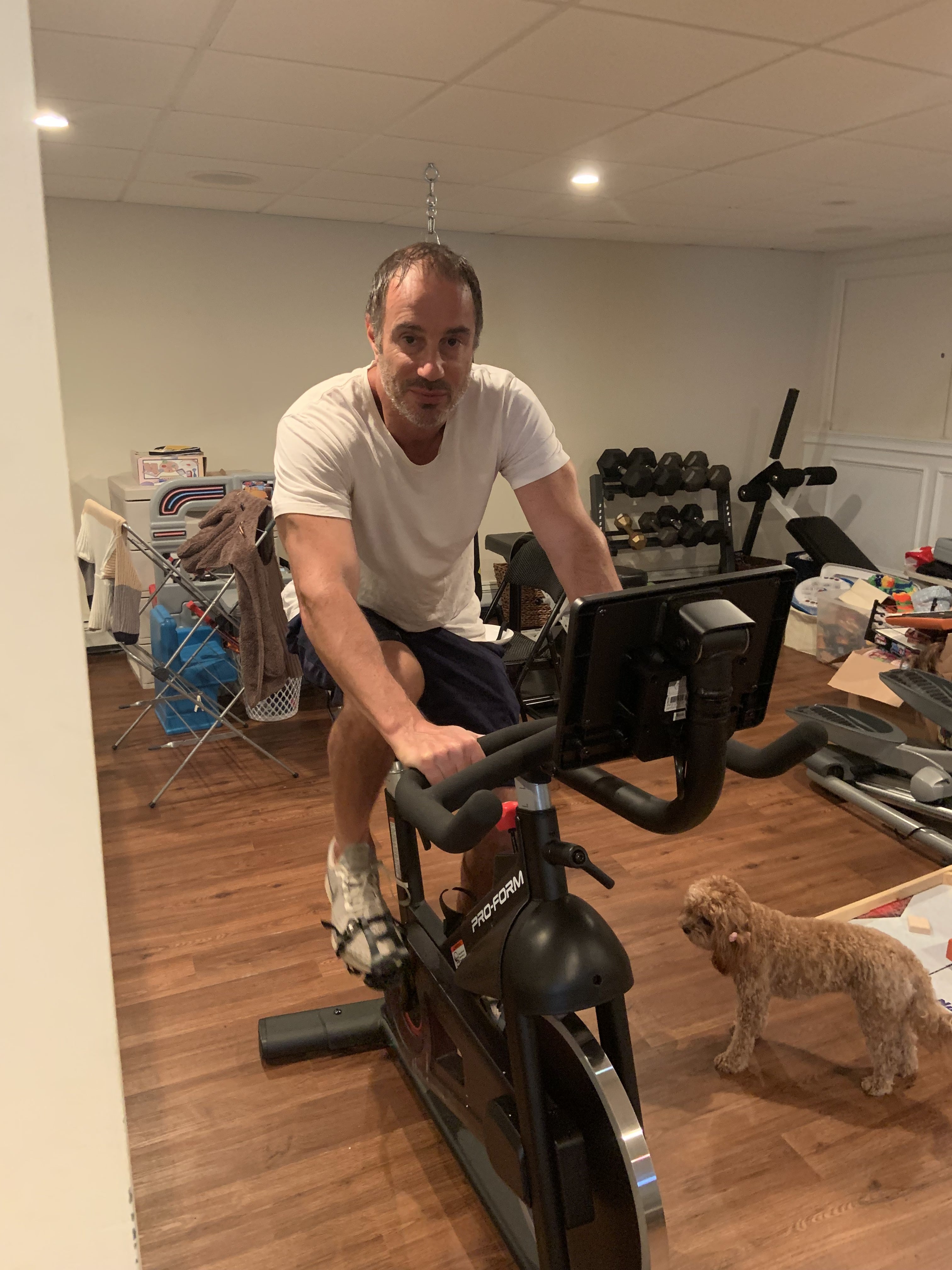 Who Are We?

I'm Dave and that's me testing out the new ProForm Carbon CX Studio Series bike. (And that's my dog waiting to get on next!)  
My team and I have over 15 years of experience testing and reviewing exercise bikes and other home cardio equipment. We've tried just about everything, from the $100 folding bikes to the top of the line Life Fitness and Precor bikes similar to the ones you find at high end health clubs.
We've written extensively for popular brands such as NordicTrack, ProForm and XTERRA, and have early access to new exercise bikes so we can get a sneak peak at what they have to offer.
Here is one of our latest articles at XTERRA Fitness, a leading provider of upright, recumbent and air bikes, as well as a whole line of treadmills, ellipticals and other cardio equipment
XTERRA Fitness Air Bikes Provide the Ultimate Full Body Workout
We're here to help you choose the best exercise bike for your budget and fitness level.
Here is a brief video of one of our latest reviews, the new ProForm Carbon CX indoor bike...
NEW REVIEW: ProForm Carbon CX
Finding the Perfect Bike
Navigating through the sales pitches of hundreds of bikes on the market might seem confusing at first, but once you decide on a budget and the type of bike that is right for you, then the real fun begins.
We've collected the history and pertinent information on all major manufacturers of exercise bikes, as well as the different models each company makes. You can read our brand reviews and reviews of the individual bikes to better understand the strengths and weaknesses of what they offer.
To simplify your search and save time, we have carefully organized it to make it easy to use. Some of the places to start first include:
Go right to our best uprights/recumbents and best indoor cycling bike pages if you want our expert's top picks in a variety of price ranges.
Read our reviews of each brand to understand a bit of their company philosophy, market share, strengths and best products, and the type of consumer they cater to.
Read our individual reviews of exercise bikes within a brand to learn which ones will fit your body profile and offer the features you are interested in. In these reviews, you'll learn what you need to know and read about pros and cons to be aware of.
Learn which brands we recommend and the reasoning why we suggest some models over others.
Exercise bikes are low-impact, non-jarring, compact in design, and more affordable than other types of cardio equipment including treadmills and elliptical trainers. If you have decided to pedal your way to fitness, you are joining millions of others who have made the same choice.
This site is designed so that you can shop with confidence knowing you have read the most up-to-date information on a variety of models. We hope you will find our website useful in your search for the right exercise bike at the right price.
If you need any help choosing a bike or have any questions about your current bike or our site, please feel free to contact us at any time.
All the best,
The Editors