Portable Exercise Bikes – Simple and Convenient to Use
There are two basic types of portable exercise bikes – those that are actually budget bikes with a seat and handlebars that are lightweight enough to move easily, and pedal exercisers which are really just a pedals-only chassis.
Small Bikes for Small Budgets
One of the attractions of these go-anywhere portable exercise bikes is that they are very affordable — even for those on a tight budget. A couple of the more popular budget bikes include: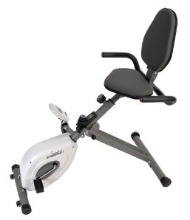 The Stamina InTone Folding Recumbent Bike ($129) is a 52-lb model which puts the user in a semi-reclining position. The padded seat and resistance are adjustable.
The Stamina InStride Cycle ($40) is another seat-less portable mini cycle that can be pedaled in forward or reverse direction. Weighing just 9 lbs, it uses a large tube frame for stability and it is often the choice for people needing help to cope with circulation and joint mobility problems.
The Confidence Fitness Space Saving Bike ($140) is one of the top bestsellers with many good reviews. It is a 41-lb folding unit with adjustable magnetic resistance.
Compare the Most Popular Portable Models at Amazon
There are also new hybrids on the market such as the New 2 In 1 Fitness Elliptical Cross Trainer & Exercise Bike ($75) which offers a seat and moving handlebars and a solid 65-lb frame. That is about as heavy as you will find among portable exercise bikes, but people love the dual-function design.
Advantages of Portable Bikes
Many people who use portable exercise bikes are busy; they can't get to the gym or get out for a walk so they exercise with a small pedal exerciser under the desk.
Other users include people who cannot use the traditional stationary bikes and need an easy alternative. A mini bike may not be ideal but it tones the muscles with a low-impact, non-jarring workout, and gets the circulatory system pumping.
Here are a few advantages of pedal exercisers over regular-size stationary bikes:
Affordability - The cost is $20 to $100 on average, though advanced models are much more.
Size - They weigh from 5 to 12 pounds and can be taken anywhere: to the office, out to the garage workshop, downstairs to the family room, or taken on the road in the RV.
Storage - Not only are they lightweight, the minis take up very little space and can be stored in a closet.
Another reason you may want to buy one of these inexpensive portables: caution. Before you shell out $400 or more on an exercise bike, you may want to test yourself and make sure you can get in the habit of exercising so that it won't turn into a clothes rack.
Here are a couple of mini portable exercise bikes to look at: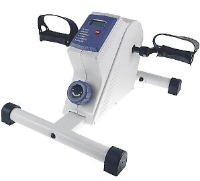 The Isokinetics Pedal Exerciser ($20) and the Isokinetics Folding Exerciser ($44) are easy to care and take anywhere. They offer adjustable tension as well as anti-skid foot pads so it can be used on a floor or table top.
The Isokinetics Deluxe Pedal Exerciser ($75) uses nylon band resistance and comes fully assembled. The pedal height tops out at 10.5" so it will fit under any desk for handy and discrete exercising anytime you want.
The Isokinetics Magnetic Pedal Exerciser ($90) is a top-of-the-line model that uses a quiet magnetic resistance system with a dial control to adjust the amount of resistance. Like the more inexpensive pedal exercisers, this unit can also be placed on a table and used for arm exercises.
Finding the Right Bike
These handy portable exercise bikes are simple to use and very convenient. They provide hours of exercise to help you feel better while improving circulation, flexibility, and range of motion if used on a regular basis.
One caution: the cheaper ones tend to have a jerky motion and do not offer much pedal resistance. Be sure to read reviews from current owners before you make a purchase.