Compare Exercise Bikes - Make an Informed Decision
When you need to compare exercise bikes before you make your purchase, you want to read all of the pros and cons in order to make the most informed decision. Beyond price and brand name, there are a few factors to consider that will be applicable to your home situation.
Where to Start?
Not every bike is ideal for all people. On this site, we compare exercise bikes by separating our comparison charts to match uprights against uprights, and compare recumbent exercise bikes to other recumbents. Comparing them against each other would be a little like comparing apples to oranges.
Other than the bike's frame type, here are some features to look for.
Comparing Features
Along with weighing the pros and cons of upright exercise bikes to recumbent exercise bikes, you should note the frame style such as whether the bike has an open step-through frame for easy mounting, or a center bar that will require you to swing a leg over the frame.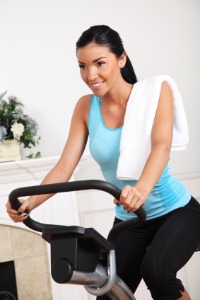 The frame size may come into play if you have a small space in your room or apartment. Generally, uprights take up less space than recumbents, and even then, some uprights are more compact than others.
As with any bike, road or indoor, the comfort of the seat is very important. The seat position (height and distance from the handlebars) should be easily adjustable on most bikes to fit any size user. Most exercise bikes have contour seats but will also fit a better upgrade saddle with more padding, a wider profile, etc.
For a recumbent bike, the backrest should support the lumbar region of the back, and the lower seat should be wide enough that a large user will be comfortable without the side handlebars pressing against the outer thighs.

Upright Exercise Bike Comparison Chart

Recumbent Exercise Bike Comparison Chart

The pedals may include adjustable straps or toe clips, but all pedals should be comfortable and stable under a fast pedaling pace.
When you compare exercise bikes that offer additional console features, look for things such as a cooling fan, reading rack, and MP3 plug-in with speakers. The display need not be fancy but it should provide accurate readouts for time, distance, speed, resistance level, and heart rate monitoring.
The warranty will range from 90 days on parts and labor, and up to 5 years to lifetime on the frame and certain parts.
Design, Mechanics, and Quality
By reading several reviews you should be able to learn enough to compare exercise bikes and determine which ones are right for you. If possible, it is also a good idea to read about the company's reputation for quality as well as customer service. By reading about the experience of others, you are better able to determine if you can get technical assistance and parts in a timely manner.
From there, you can narrow your choices down to two or three models and determine which offers the best investment in terms of parts quality, workmanship, reliability, low maintenance, warranty, and other factors. With the right bike, you will enjoy years of pedaling pleasure to maintain your weight and overall health.