Interactive Exercise Bikes Take Your Workouts Into Overdrive
If fun is an important factor in your workouts, interactive exercise bikes will be more to your liking than traditional stationary uprights that don't do anything except ... pedal, and tell you how much time you have spent pedaling.
The solution is to take your workout time into overdrive! Forget the TV and doing the same boring thing workout session after workout session; you can actually look forward to the fun and games during your riding time. Video games are a great distraction and make the time go by quickly. By playing, you'll even spend more time on the bike, thus burning more calories and getting in better cardio shape in the process.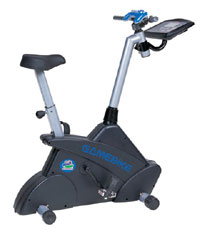 But we aren't talking about riding a bike while balancing the controller to play Wii, PlaySlation, or Xbox. The real fun is with actual interactive exercise bikes such as the GameBike, which is built specifically for racing and driving gaming.
With its integrated game controller, you steer with the handlebars and control speed through the pedaling. The exercise bike utilizes variable magnetic resistance for a smooth quiet ride. When you plug it into a PlayStation game console in place of a game controller, you can ride along on the Tour de France, drive across sand dunes on an ATV adventure, or drive race cars through city streets – all done virtually, of course.
Compare the Most Popular Interactive Bikes at Amazon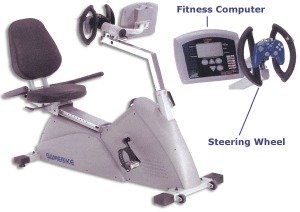 If you find an upright uncomfortable, you can opt for the Expresso Recumbent with bucket seating.
Interactive Games with Your Own Equipment
You can use your own stationary cycle and turn it into an interactive game bike with the highly configurable XRGAMEKIT. This kit comes with three wireless devices: a bike pod that senses your pedal speed and forward/reverse directions, a steering pod that senses your head tilt angles and more, and the PC interface. The XRGameKit converts all your real world motions into the computer input signals for the game. It runs on Windows 2000, XP, Vista, or Windows 7.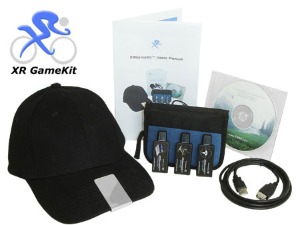 It is easy to install:
Clip the Bike Pod onto the pedal arm
Clip the Steering Pod onto a baseball cap (included)
Plug the PC Interface into your computer
The XRGameKit gives you precise control over your "vehicle." For example, in the flight simulators, simply make the plane go up or down just by tilting your head forward or back. In addition to the air combat games, the XRGameKit works with many more games since it simulates a keyboard, mouse, and game controller. Fast response times, high resolution, and hands-free precision steering are just a few of the benefits. Here's a sample of what you can play: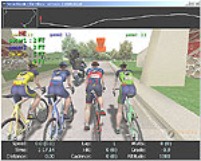 Driving and Racing Games
Google Earth
Virtual Worlds
RPG (Role Playing Games)
MMORPG (Massive Multiplayer Online Role Playing Games) 
Movie players like Netflix, YouTube, and Windows Media Player
There are literally hundreds of PC games to choose from
Affordable and Fun
With the SRGameKit, you can access superior gaming technology for a fraction of the price of buying one of these interactive exercise bikes. It works with any bike and with a PC configured with Windows. In fact, it will also work with any PC games, which cost much less than Wii, PS3, and Xbox 360 games. You don't even have to be a hard-core gamer as even novices who want something different from routine workouts will find the SRGameKit a breeze to install and start playing.