Interactive Exercise Bikes
Interactive Exercise Bikes Take Your Workouts Into Overdrive
Perhaps the biggest new trend in home exercise these days is live and on-demand training with certified personal trainers. Interactive exercise bikes, treadmills, ellipticals and rowers are all the rage, especially now as more people are choosing to forego the gym and work out in the comfort of their own home.
There are some, like Peloton, that have everything built into the bike so you can just hop on and start training. Others require a tablet that rests on the console.
Either way, you can tap into a library of on and off the bike workouts for beginners, pros and everyone in between, and make your cardio training not just more effective, but more enjoyable as well.
Let's take a look at the current interactive exercise bikes to see what they are all about...
The Current Interactive Bike Lineup
Peloton
No discussion of interactive bikes would be complete without mentioning the innovator and perhaps the most popular of the brands, Peloton.
There have been other companies who have tried to make interactive training work to varying success, but Peloton really came up with the right formula. And with everyone forced to work out at home during the COVID pandemic, their sales absolutely exploded.
Peloton currently offers two models: the more affordable Peloton Bike and the newer, higher end Peloton Bike +. Both have large touch screen displays that give you access to thousands of Peloton classes, both live and on-demand.
The Bike costs around $1,895 on sale and the Bike + is $2,495 on sale, and the monthly fee is $39 to use the Peloton App. 
(Note these are the prices as of this writing...they may change by the time you read this as they have various sales throughout the year)
The live classes are what separates Peloton from most of their competitors, and you can view your stats and compete against others as you would at the health club. But they also offer on-demand classes which are great as well, so you can work out on your own schedule.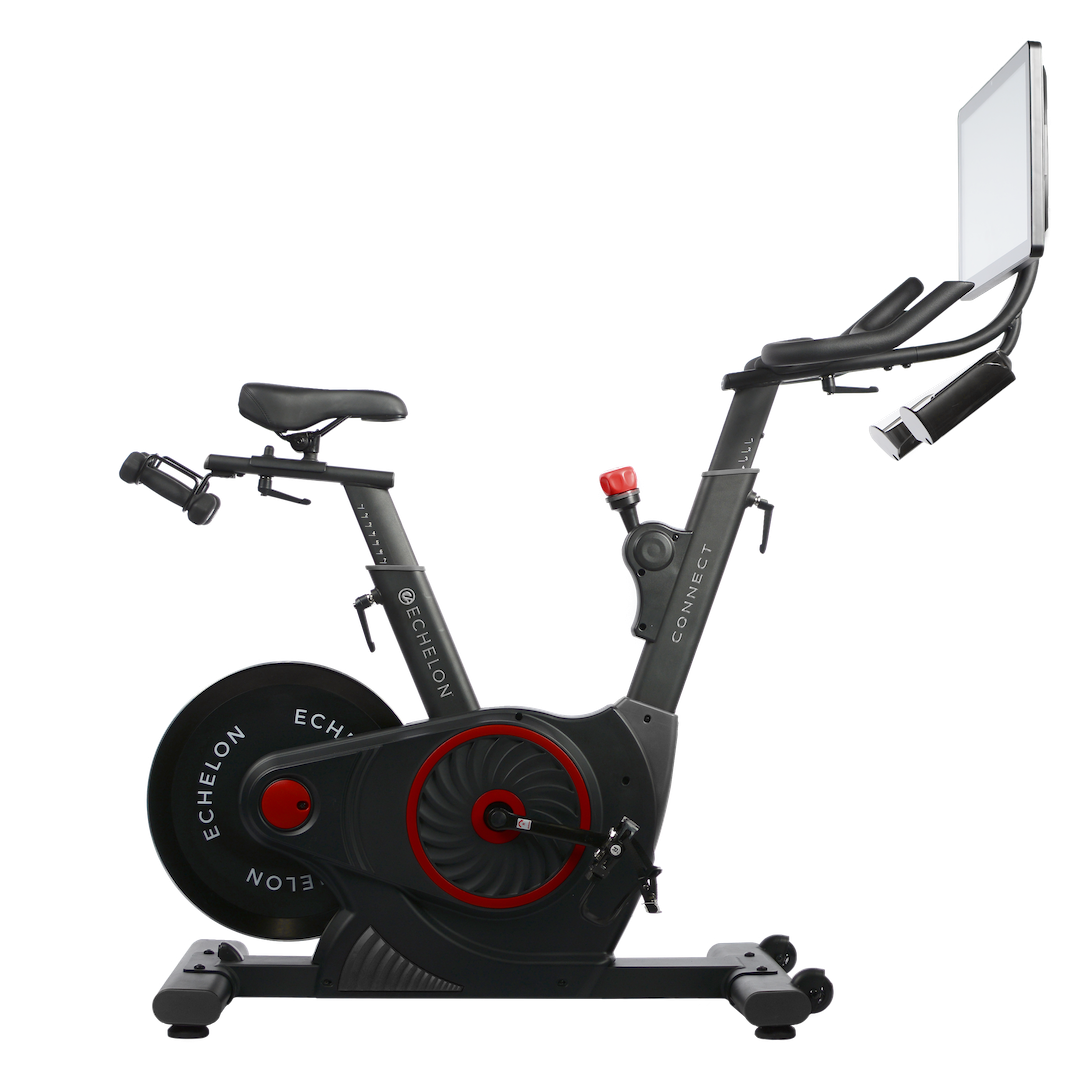 Echelon
Perhaps the closest current competitor to Peloton as far as offerings is Echelon. (You can view our Echelon vs. Peloton comparison here)
Echelon also offers live and on-demand classes, although not as many currently as Peloton offers.
The main difference is the cost, and Echelon offers 5 different models to choose from as opposed to the two offered by Peloton. 
You have the EX-1 LE, EX-3, EX-5, EX-5S and the newer top of the line EX-7s. They range in price from $999 to $2,199 so they are a bit more affordable than the Peloton bikes. The monthly membership is currently the same as Peloton's, at $39, but I'm sure that will change as the competition heats up.
So the Echelon Bike is going to be the more affordable option, except for the new Echelon EX-7s, which is currently over $2,000.
MYX Fitness
One of the newest entrants in the race is MYX Fitness, which also offers a more affordable alternative to the Peloton Bikes.
MYX has just one bike currently, costing around $1,199. So it's kind of right in the middle of what Echelon offers, but more affordable than both of the Peloton bikes.
The main difference here is that MYX does not offer live classes, just on-demand classes, which means you can access them on your own time and don't have to worry about missing a live one. The monthly cost is currently $29 per month, which is $10 less than what Peloton and Echelon charge.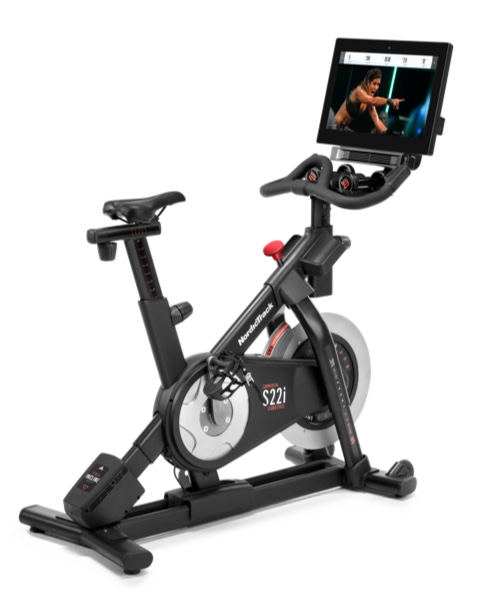 NordicTrack
You can't talk about interactive workouts without mentioning NordicTrack,  which has been offering their iFit workout program for years now on their exercise bikes, treadmills, ellipticals and rowing machines.
The difference with NordicTrack exercise bikes is that they come with a lot of extra features and capabilities.
There are currently two bikes in the NordicTrack Commercial Studio Cycle Series, the S15i and the S22i.
The bikes cost $1,599 and $1,999, respectively, so comparable to the Echelon and MYX Fitness bikes and cheaper than their Peloton counterparts.
IFit recently added live classes to the mix, so they're competing more directly with Peloton and Echelon in that regard.
What separates the Commercial Studio Cycles are incline and decline capability, which you don't get elsewhere, and higher max weight capacities. iFit also gives you a ton of extras like tracking and sharing, nutrition and sleep recommendations and other features that you don't find elsewhere.
As of this writing iFit was free for one year with purchase of a new S15i or S22i, which is better than what the competitors are currently offering.
(Note that sister company ProForm also has a Peloton competitor with its Studio Bike Pro and new Studio Bike Pro 22)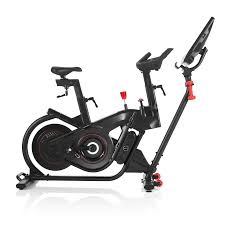 Bowflex
Another relatively new entry into the interactive exercise bike game is Bowflex, a well-regarded name in the industry and makers of the popular Max Trainers and TreadClimbers.
Bowflex recently introduced their version of NordicTrack's iFit, called JRNY, a similar program with on-demand training, workout tracking, Bowflex radio and much more.
They currently offer two Bowflex VeloCore Bikes that compete directly with Peloton and the others, one with a 16" touch screen, the other with a 22" touch screen.
Bowflex takes things a step further than NordicTrack, with streaming ability available as well and compatibility with other apps, including the Peloton app.
They also offer leaning capability, 100 resistance levels and a Bluetooth heart rate armband...none of which can be found on competitor exercise bikes.
There are other smaller players who have emerged, like Carol Exercise Bike, an Ai-powered indoor cycle, and we will be reviewing those as well as we learn more about their offerings.
Which Interactive Bike Should You Choose?
When it comes to choosing an exercise bike with on-demand or live workouts, it really comes down to your preferences and your budget.
If money is no object and you just want the best quality machine as well as live and on-demand classes, then the Peloton Bike or Bike + is definitely a good option for you.
If you want to save a little money on the bike, take a look at Echelon and MYX Fitness...they don't currently offer as many workouts as Peloton does, but they are perfectly good bikes and you'll have plenty of workout options.
If you want something with incline and decline training and a higher max weight capacity than Peloton, then consider NordicTrack and Bowflex. Both iFit and JRNY offer you a lot more than the Peloton app currently does.
We'll be keeping an eye on this space to see if any other competitors pop up. Given its huge popularity, there's bound to be some other players throwing their hat in the ring.